The Nebraska Democratic Party is collecting coats and food for families in Nebraska. We believe in living our values through actions. Over the past year, we collected hygiene products for Veterans, welcome baskets for new immigrants, supplies for hurricane survivors and household items for Native American families.
When you make a donation to the coat and food drive, we encourage you to share a picture on FB and Twitter with tags #NebDemsCare and #DemsForYou.
You can purchase a coat or food from the Wish List: http://a.co/13nfsH9
We are working with community groups and County Parties to distribute the items to families. We are collecting coats and food until our next State Central Committee meeting, February 3rd.
Both food and coats are needed–one of our Democratic leaders Sandi Skorniak, let us know, that she volunteers at three different food pantries and families are being turned away because of the high demand. Thank you also to Preston Love with Black Votes Matter and John Ewing working with local schools to identify kids who need coats.
Drop Off Locations:
Lincoln: NDP, 201 North 8th Street, #210 (open 9am-5pm, Mon-Fri)
Omaha: Black Votes Matters, 2518 North 24th (open 9am-5pm, Mon-Fri)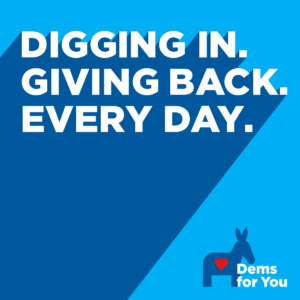 The Nebraska Democratic Party is partnering with the national DNC on their #DemsForYou project where Democrats engage in community service projects. We know that no bumper sticker slogan will fix the mess our country is in. That's why Democrats are rolling up our sleeves to give back to our communities. Democrats lead with our values, and that means giving back to the communities that have given so much to us.