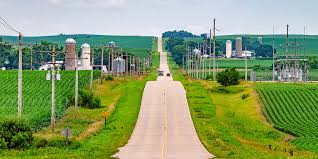 The Nebraska Democratic Party is committed to representing and serving the best interests of our rural communities across the state. Rural Outreach means helping Nebraskans living in rural communities by engaging and supporting the community through our state and county parties. Part of our mission is to provide the information and tools necessary to keep our towns and villages growing, sustainable, self-sufficient, and vibrant.
Mobile Office:
The NDP Mobile Office Project is designed to help our party better communicate with and serve our communities. The offices will allow us to provide our local parties with a comprehensive and professional kit that can be used for outreach through fairs, parades, voter registration drives, and more.
America the Beautiful Plan:
The Biden administration's America the Beautiful plan supports voluntary locally led conservation efforts by providing support and incentives for conservation efforts by farmers, ranchers, and community and nonprofit organizations.
Rural Bill of Rights:
The Rural Nebraska Bill of Rights outlines our party's goals and efforts to help our agricultural producers and small towns profit and thrive. 
Frank LaMere Grassroots Fellowship:
The Frank LaMere Grassroots Fellowship Program was developed to continue the work of Dr. Frank LaMere, a member of the Winnebago nation and first associate chair of the NDP. The program trains and hires grassroots organizers who share in Frank's values of hope, hard work, and persistence.
Letters to the Editor:
Sign up to join our team helping write letters to the editor! One way we push back on GOP right-wing attacks is to talk about what Dems stand for in our local papers with local, authentic messengers!