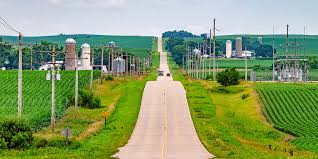 The Nebraska Democratic Party is committed to representing and serving the best interests of our rural communities across the state. Rural Outreach means helping Nebraskans living in rural communities by engaging and supporting the community through our state and county parties. Part of our mission is to provide the information and tools necessary to keep our towns and villages growing, sustainable, self-sufficient, and vibrant.
Blog by Chair Kleeb:
Democrats Can and Are Winning in Rural Communities
The Inflation Reduction Act:
FACT SHEET: How the Inflation Reduction Act helps rural communities
Mobile Office:
The NDP Mobile Office Project is designed to help our party better communicate with and serve our communities. The offices will allow us to provide our local parties with a comprehensive and professional kit that can be used for outreach through fairs, parades, voter registration drives, and more.
Read more about how to get a mobile office for your event.
America the Beautiful Plan:
The Biden administration's America the Beautiful plan supports voluntary locally led conservation efforts by providing support and incentives for conservation efforts by farmers, ranchers, and community and nonprofit organizations. Chair Jane Kleeb provides an explanation on the 30×30 plan below.
Read more about the 30×30 Plan.
Rural Bill of Rights:
The Rural Nebraska Bill of Rights outlines our party's goals and efforts to help our agricultural producers and small towns profit and thrive. Nebraska is one of a growing number of state who created a Rural Bill of Rights within our party structure. Other state parties who created Rural Bill of Rights include Missouri and Kansas.
Read more about Nebraska's Rural Bill of Rights.
Midwest Rural Conference:
The NDP's Agricultural and Rural Council hosted the 2021 Midwest Rural Conference. There were three great speakers:
The Politics, Myths, and Realities of Rural School Consolidation: Paul Theobald




Breaking Through: Rural Healthcare and the ACA: Cynthia Nunlaey




30 x 30, The Actual Plan vs the Republican Disinformation Machine: John Hansen
Block Captains:
Serving as a Block Captain means you are responsible for connecting with 50 voters in your community to elect Democrats up and down the ballot. We adapt the model for Rural Captains, Apartment Captains and Dorm Captains. We provide materials and trainings for our Block Captains.
Sign up to become a Block Captain.
Frank LaMere Grassroots Fellowship:
The Frank LaMere Grassroots Fellowship Program was developed to continue the work of Dr. Frank LaMere, a member of the Winnebago nation and first associate chair of the NDP. The program trains and hires grassroots organizers, with a focus on rural communities, who share in Frank's values of hope, hard work, and persistence.
Questions and Ideas:
In addition to the rural outreach above, we have a candidate training program, campaign staff network and voter engagement support for our county parties with programs like Vote-by-Mail. Send an email to info@nebraskademocrats.org with any questions or ideas.