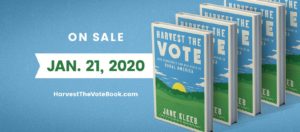 NDP Chair Jane Kleeb's new book, "Harvest the Vote: How Democrats Can Win Again in Rural America," was released Tuesday by HarperCollins Publishers.
The book — in the works for more than a year — offers a sweeping argument for why the Democrats shouldn't turn away from rural America, a voting bloc Chair Kleeb says has long been ignored and forgotten by the national party.
Chair Kleeb is an experienced grassroots organizer, manager, political strategist and nonprofit entrepreneur. She is a leader who deeply understands the need to connect issues that rural and urban communities are facing to politics in order to win elections in Nebraska and other rural states. Kleeb started her term as the Nebraska Democratic Party Chair in December 2016.
"Harvest the Vote" has already received wide critical acclaim:
"Jane Kleeb sounds the alarm for national Democrats to wake up to rural issues: start with 'the Farmers' Bill of Rights,' pay attention to rural health care, especially mental health services, as Republican policies have closed rural hospitals. 'Show up with ears open and mouths closed.' That's the way to win and that's the way to govern." — Sherrod Brown, U.S. Senator from Ohio
"Jane Kleeb knows Democrats have solutions that will help families no matter where they live. What I learned through organizing in Indian Country is that one-on-one conversations matter, and people in underrepresented communities need to know that our democracy includes them." — Deb Haaland, U.S. Congresswoman from New Mexico
The book is available in hardcover and audio for purchase through HarperCollins, Amazon and elsewhere.
Chair Kleeb's "Harvest the Vote Book Tour" begins on Sunday, Jan. 26 at 1 p.m. at the Bookworm in Omaha, continues Jan. 30 at 5:30 p.m. at the Hastings Public Library in Hastings, NE, and Feb. 1 at 4 p.m. at the Francie & Finch Bookshop in Lincoln before heading to other states.
Harvest The Vote Book Tour Dates.
Share images of the book and endorsements on Facebook and Twitter.


###