Congratulations to our successful Democratic candidates, who will help us maintain our 17-seat firewall against Republican extremism in the Nebraska Legislature.
The NDP congratulates this strong group of Democrats who won their 2022 races and helped us hold our 17-seat firewall against Republican extremism in the Nebraska Legislature.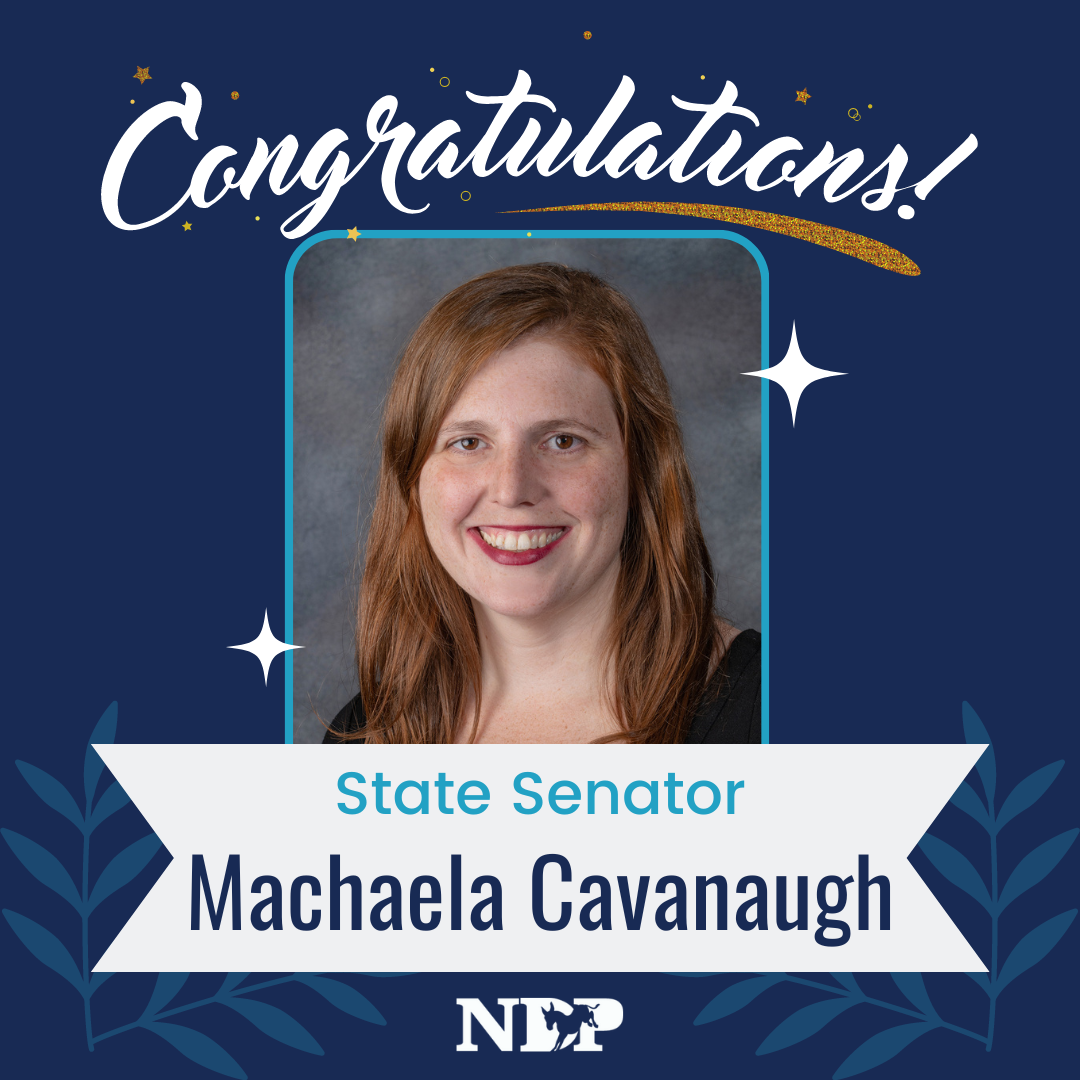 "We just defeated a ban on abortion in this state, and we will do it again. I have been and will remain focused on the very real issues facing my constituents, and will continue to use my power as a senator to lift them up instead of taking away their rights."
Sen. Machaela Cavanaugh, LD6, was first elected to the Nebraska Legislature in 2018. She serves on the Health and Human Services Committee as well as the Transportation and Telecommunications Committee as well as the Interstate Compact for Adult Offender Supervision. She was a 2020 National Conference of State Legislatures Maternal and Child Health Fellow and a 2019 National Conference of State Legislatures Early Learning Fellow. She has a bachelor's degree from the  University of St. Thomas and a master's degree from the  University of Nebraska at Omaha.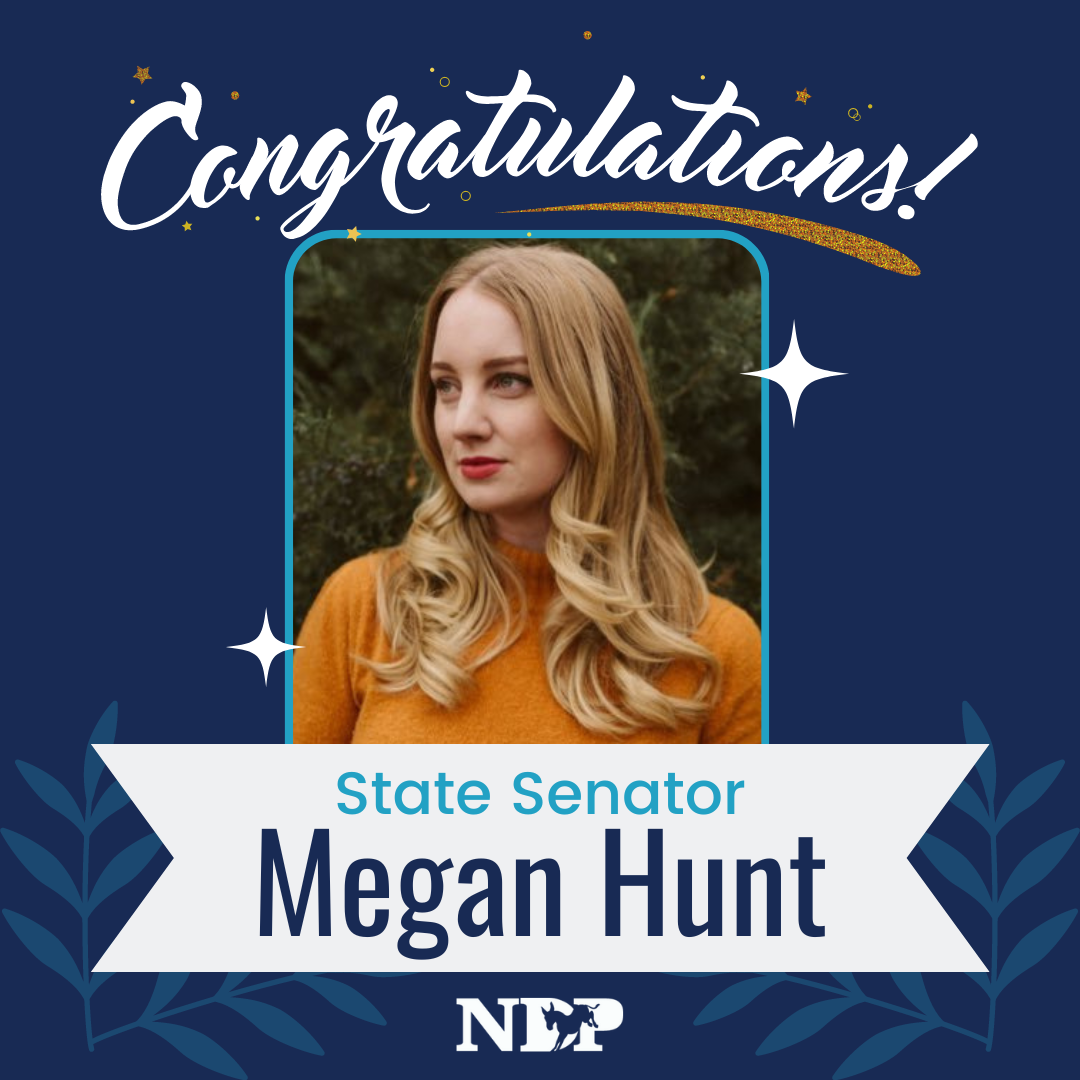 "I am here thanks to the votes of Democrats, Republicans, Independents, and everyone in between. In our nonpartisan legislature I work with everybody to improve the quality of life here in Nebraska, and I'm honored to be trusted with the opportunity to do that for four more years."
Sen. Megan Hunt, LD8, was first elected to the Nebraska Legislature in 2018. She has a bachelor's degree from Dana College. She is the founder of Hello Holiday; founder and vice president, Safe Space Nebraska; and co-founder of Majorette. She is a member of Friends of Planned Parenthood and a trustee of the  Business Ethics Alliance. She is a former board member of Omaha Area Youth Orchestras, 2013-17. In 2016, she won the Omaha Jaycees Ten Outstanding Young Omahans award and was named in 2011 by the Midlands Business Journal 40 Under 40 and in 2010 to Shout Magazine's 30 Under 30.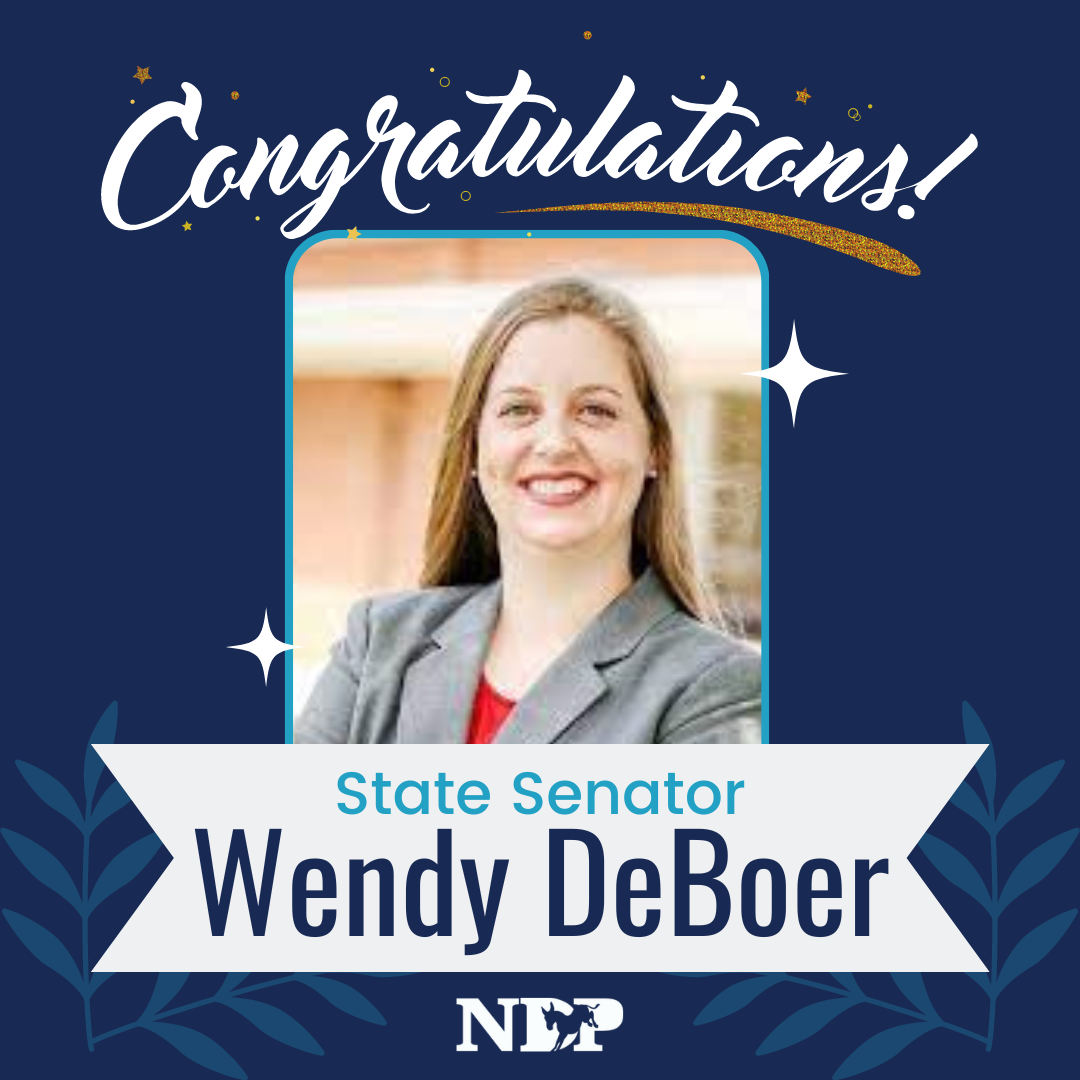 "I … want to express my deep honor and gratitude that the people of District 10 have again put their trust in me. I will continue to give my entire heart and everything I have to try to be the best senator I can possibly be for everyone in our district and throughout Nebraska."
Sen. Wendy DeBoer, LD10, was first elected to the Legislature in 2018. She serves on  the Judiciary, Transportation and Telecommunications and Rules committees as well as the Legislature's Planning Committee. She has a bachelor;s degree from Hastings College and law degree from the University of Nebraska College of Law, and master's degrees from the University of Nebraska at Omaha, the Lutheran School of Theology at Chicago and Syracuse University.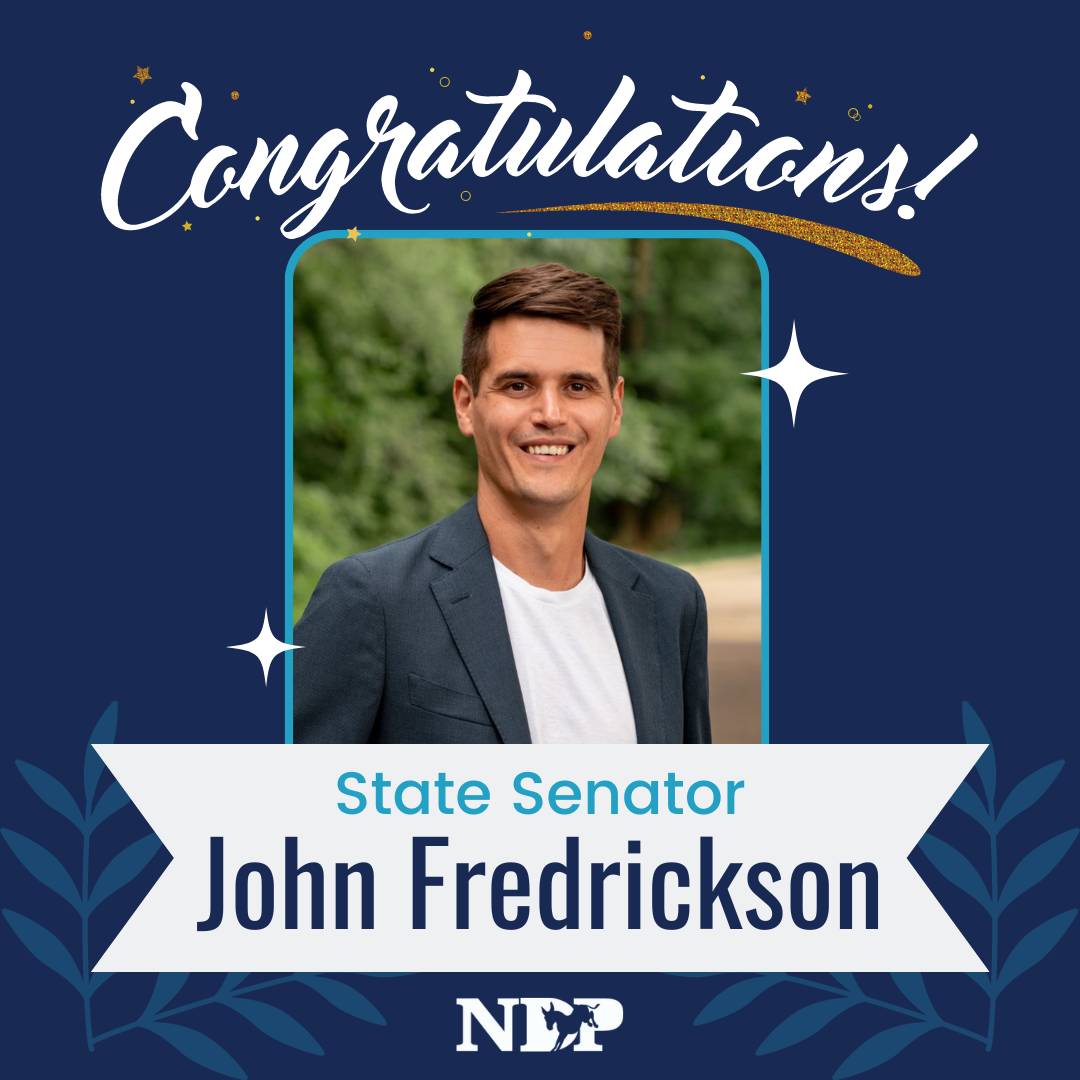 "I am honored to be trusted by the voters of District 20 to represent them in the Legislature. We have significant challenges to tackle as a state, and I look forward to serving Nebraskans over the next four years. Ensuring affordable and accessible mental health resources, strong public education, and ensuring the Good Life is a place for everyone will continue to be my top priorities."
Sen.-elect John Fredrickson, LD20, is a mental health professional and educator. He has spent the last 10 years helping people overcome challenges through his work as a mental health provider and teaching the next generation of social workers as an adjunct professor at Columbia University. He started his career at Callen-Lorde, a Federally Qualified Health Center that serves the LGBTQ community. He later served at NYU's Student Health Center as a senior clinician, and then opened his own private practice, where he currently works with people from all backgrounds He earned a bachelor's degree in social work from New York University and a master's degree from Columbia University. 
"I'm elected to represent everyone in the district, not just those who voted for me and I'm ready to start working with my colleagues to improve life for Nebraskans everywhere."
Sen.-elect George Dungan, LD26, currently serves as a Lancaster County defender.  George holds a law degree from American University, where he served in the Domestic Violence Legal Clinic representing the interests of people escaping violence, especially women and children.  He also has experience with local government, serving on the Lincoln Pedestrian Bicycle Advisory Committee, and on the Board of Trustees of the Lincoln Bar Association. He was inducted into the Teammates Hall of Fame for his work mentoring youth.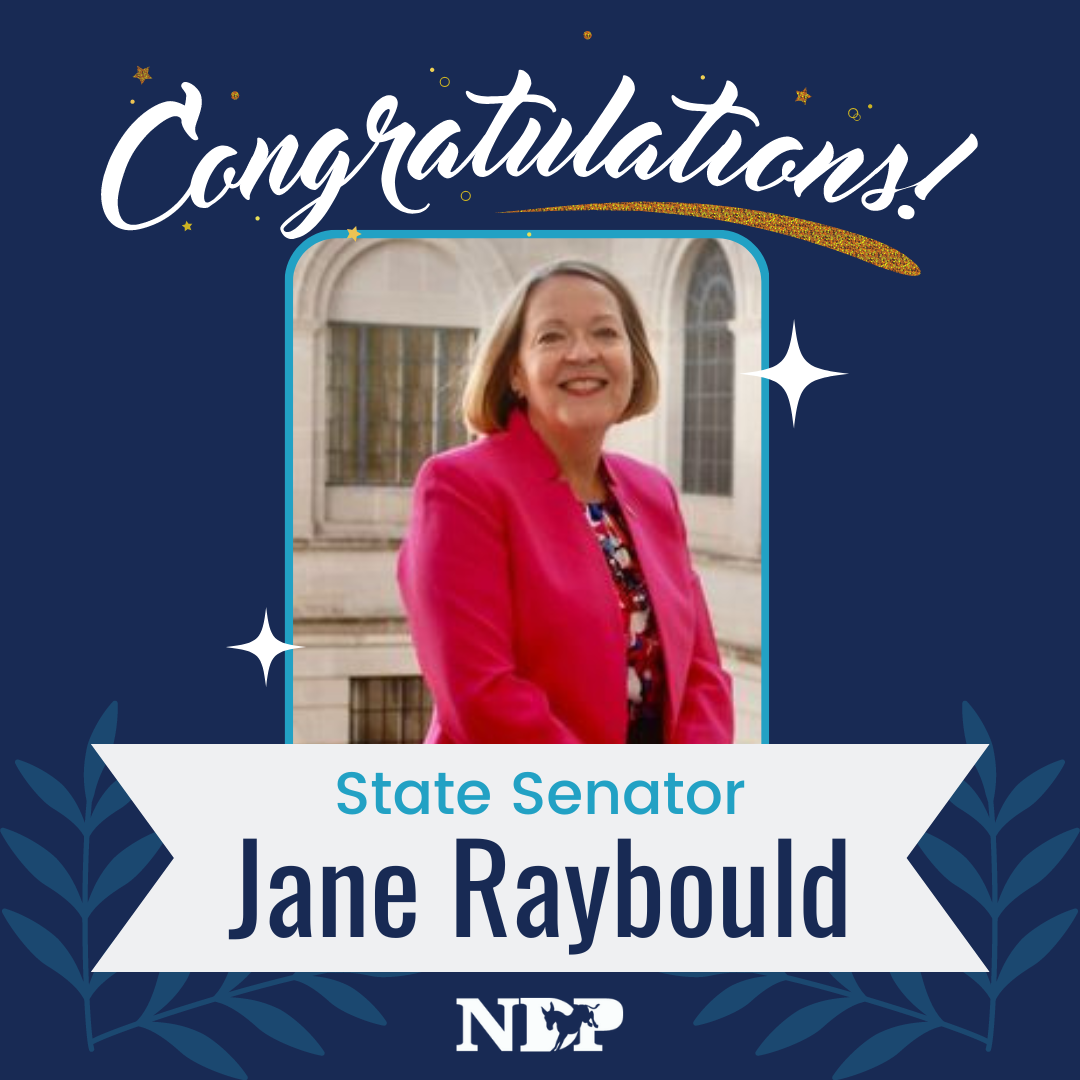 "I'm so very grateful and humbled by the steadfast support of the voters in my district.  I'm honored to continue my public service for our community, county and now our state."
Sen.-elect Jane Raybould, LD28, currently serves on the Lincoln City Council, where she was first elected in 2015. She previously served as Lancaster County Commissioner. A fourth-generation Nebraskan, Raybould helps run the grocery business her parents started more than 58 years ago. B&R Stores Inc. and its 22 locations of Super Saver and Russ's Markets across the state. She has a long history of community service and has served in many volunteer capacities for local nonprofits as well as a member of the Board of Directors of the Lincoln Chamber of Commerce.
"When we work together, we can make positive change. I promise to keep working hard every day to deliver for North Lincoln families and build a better, brighter future for our state. Together, we will work to ensure that Nebraska is a place where everyone has the opportunity to succeed and everyone knows that they belong."
Sen.-Elect Danielle Conrad, LD46, was a member of the Legislature from 2007 to 2015. when she left due to term limits. She has been executive director of ACLU Nebraska and an attorney for the Nebraska Appleseed Center for Law in the Public Interest. Conrad earned her bachelor's degree and her J.D. from the University of Nebraska-Lincoln in 2000 and 2003, respectively. 
Democratic lawmakers who did not stand for election in 2022 and who are part of the strong, 17-member firewall:
Carol

Blood, LD3

Mike

McDonnell, LD 5
Tony Vargas, LD7
John Cavanaugh, LD9
Terrell McKinney, LD11
Justin Wayne, LD13
Lynne Walz, LD15
Anna Wishart, LD27
Eliot Bostar, LD29
Jen Day LD49