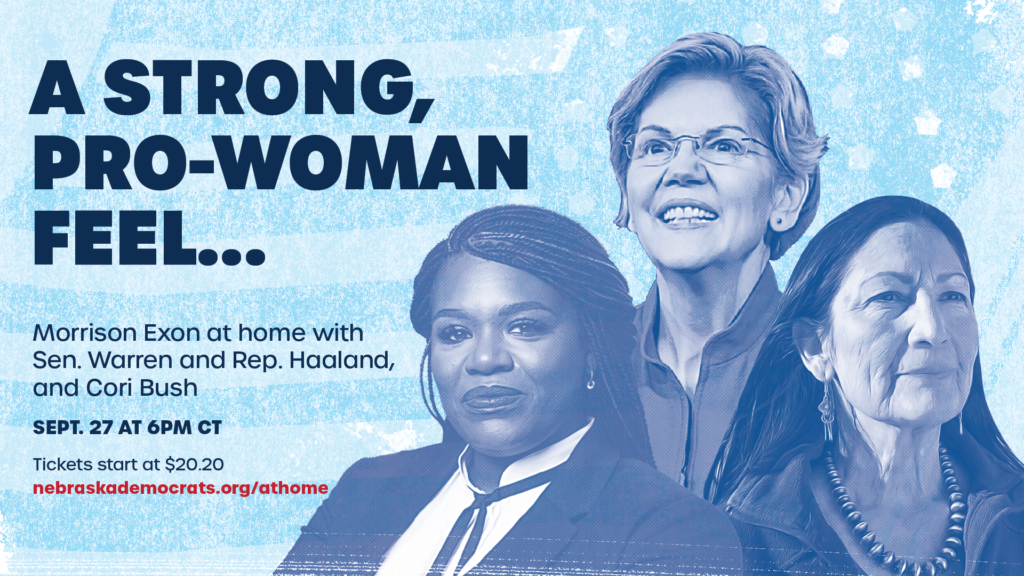 Event Info for Ticket Holders
Check your email for the link to get into the event on Sunday. Please follow the instructions in the email.
Check out the program for the event, including sponsors and special drink recipes we created just for this event!
If you have trouble getting into the event or have other questions, please call (402) 326-5733 or email [email protected]
Join Us for the Morrison Exon 
Our Morrison Exon annual fundraising event is happening right around the corner — this Sunday, Sept. 27  in fact — and we have some exciting news!
Cori Bush, a nurse, pastor, single mom and Ferguson-made activist running to represent Missouri's 1st Congressional District will join us to help raise funds for the Candidates of Color Fund and the Frank LaMere Grassroots Fellows.
Get your tickets to this powerful event — tickets start at $20.20.
The 2020 Morrison Exon Event is on September 27, 2020
VIP Receptions, 5:30 p.m. CT
Main Event with Keynote Speakers and Awards, 6 p.m. CT
As you know, Sen. Elizabeth Warren and Rep. Deb Haaland will keynote the event with a conversation on key issues facing our state with State Sen. Kate Bolz and Kara Eastman, two dynamic congressional candidates who are going to make history together when they become the first women to represent NE1 and NE2.
The theme this year is "At Home with Nebraska Democrats."
VIP Tables and Monthly Donors
Purchase Tickets and VIP Tables
Monthly Donors: If you are a monthly donor over $50 per month, there is an option on the ticket page to claim your free ticket.
VIP Tables: The VIP table, since virtual, will be a little different this year. For a VIP table, at $1,000 donation, you get 10 tickets to the main event and you get a private VIP gathering just for your table with a Nebraska elected official or candidate. You are given the option when you purchase the table on ActBlue to give us names of officials or candidates you prefer. All 10 guests also get a signature event item sent to their home.
VIP Ticket: A single VIP ticket will get you into a pre-gathering with other VIP ticket holders that will be with party leaders and several elected officials. You also get a signature event item mailed to you.
Sponsorship Packages
If you would like to be a sponsor of the event, please email Jim Rogers. We create packages to the meet the sponsors needs.
Morrison Exon Volunteer Awards
During the Morrison Exon event, we present awards to hard-working volunteers, elected officials and party leaders.
We also are proud to announce our annual award winners to be honored during the Morrison Exon program:
Carrie Howard Sunshine Award: Yolanda Chavez Nuncio
Anne Boyle Young Democrat Award: Lincoln City Councilman James Michael Bowers
Bob Kerrey Volunteer Award, 1st Congressional District: Nebraska Young Democrats President Emma Craig
Bob Kerrey Volunteer Award, 2nd Congressional District: Denise Blaya Powell and Leanne Prewitt, Founders of Women Who Run Nebraska

Bob Kerrey Volunteer Award, 3rd Congressional District: Wayne County Chair Kris Kinzie
State Senator Courage Award: Sen. Carol Blood
Ben Nelson County Party Volunteer Award: Lancaster County Chair Janet Chung
State Party Chair Award: Sen. Justin Wayne, OPS Board Member Kimara Snipe, Black Caucus Chair Precious McKesson, Jasmine Harris and Alisha Shelton
Frank LaMere Hall of Fame Award: Rules Chair Trevor Fitzgerald

ABOUT THE ME AWARDS
State Party Chair Award
Nominations are not accepted for this award. The State Party Chair designates a person in the Party for this annual award.
Carrie Howard Sunshine Award
Nominees should be individuals who are dedicated to improving both the Nebraska Democratic Party and their community as an ally to our Democratic values. The award is open to any ally working or volunteering in the community and do not have to be serving in a party role. This award is given in honor of Carrie Howard, sister of Senator Sara Howard and daughter of Senator Gwen Howard.
Anne Boyle Young Democrat Award
Nominees for this award should be a young person (using the age criteria of the Young Democrats which is under 35-years-old) honored for their exceptional volunteer activities and participation within the Nebraska Young Democrats organization and the State Party. Commissioner Anne Boyle was the first woman to serve on the Public Service Commission and served three, six-year terms beginning in1996. Boyle was our State Party Chair from 1998 to 2001. Boyle was committed to lifting young people up and mentoring fellow Democrats.
Bob Kerrey Volunteer Award
Nominees for this award should be volunteers who personify the spirit of the Nebraska Democratic Party. The award is given to an individual who is tireless in supporting the Nebraska Democratic Party, county parties and candidates' campaigns within District 1, 2, and 3, respectively. An award is given to one volunteer per Congressional District. An award is given to one volunteer per Congressional District. Bob Kerrey served our state as Governor from 1983 to 1987, as a U.S.  Senator from 1989 to 2001 and was a candidate for the Democratic presidential nomination in 1992. Kerrey served our nation on the 9/11 Commission and was awarded the Medal of Honor for his service during Vietnam as a Navy SEAL.
Ben Nelson County Party Volunteer Award
Nominees should be a County Party volunteer who has worked tirelessly to promote the activities and values of the Democratic Party in their county. Nominees should demonstrate a dedication to service, integrity, the organizing of their county party infrastructure, and support for local Democratic candidates. Senator Ben Nelson served our state as Governor from 1991 to 1999  and as U.S. Senator from 2001 to 2013. Nelson founded the CHIP program ensuring kids in our state had access to health insurance. A champion for the environment and property rights, Nelson denied a nuclear waste dump from being built in the Sandhills.
Frank LaMere Hall of Fame Award
Nominees should be a former or current elected County Party officer, State Party officer or an elected official who are dedicated to the principles of the Nebraska Democratic Party and who have contributed above and beyond the call of duty to the Nebraska Democratic Party along with local issues that impact the state and national level. This is the highest award given by the Nebraska Democratic Party. Frank LaMere was the first Native American to serve as a DNC member and he founded both the state and national Native American Caucus. LaMere was the longest serving Native American on the DNC. He was a delegate to the Democratic National Convention seven consecutive times from 1988 to 2012. LaMere also served as the NDP's First Associate Chair. LaMere dedicated his life to social justice and helped close down illegal beer sales at Whiteclay, NE, just across the border from the Pine Ridge Indian Reservation.