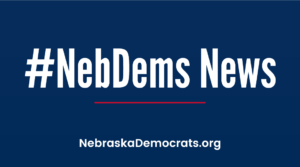 We all KNEW that President Trump would be acquitted in the Senate of obstruction of Congress and abuse of power — not because he is innocent, but because the cabal that is the Republican Party has turned into a cult of loyalists.
Nearly all of them — including Sens. Ben Sasse and Deb Fischer — voted to acquit, except for one Williard "Mitt" Romney of Utah.
This was not lost on The New Yorker's Andy Borowitz, who mused: "Scientists Baffled By Appearance of Spine in Otherwise Invertebrate Species."
Cue our old friend, Esquire scribe Charles Pierce:
This vote has been in the bag since January of 2017, because the Republican Party is now entirely the subservient house elf of El Caudillo del Mar-a-Lago. The president* was acquitted on both articles of impeachment. But, at the very least, he cannot claim it was solely a partisan vote. Romney saw to that.
Moreover, Romney stood out among his fellows as someone who at least took the whole business seriously. Mitch McConnell gave a meretricious speech that was slimy even by his standards. Lamar Alexander spent the weekend explaining that the president* had done a bad thing and that he would be chastened by the experience. (Alexander also brought his dog, Rufus, into the discussion, and I think Rufus has a better grasp on reality than his owner.) Young Ben Sasse was of similar mind, as was Susan Collins …
What a pack of timorous jackals they are. The president* was acquitted on both articles — the first by 52 to 48 and the second by 53 to 47, as Romney swung back on the article charging that the president* had obstructed Congress.
There is a reason why Dante consigned to the vestibule of hell those people who maintain neutrality in times of moral crisis. They neither enter hell nor deserve heaven …
After the past month, hell's going to need a bigger vestibule.
Just 270 days until the election, folks — not that anyone is counting.
***
If you need some comic relief, Bill Maher and Co. made a little video showing an anti-Trump ad they'd like to see.
See it here. It's worth a watch.
***
If you or someone you know is thinking about running for office, the Nebraska Democratic Party's guide gives you a step-by-step process to see what offices you are eligible to run for based on your address, how to see who currently holds the seat, how to file, and lastly, all the filing deadlines.
Our team can always meet with you to answer questions and to help you get started. Just email [email protected] and a team member will get back to you.
***
The Democratic National Committee has approved the NDP's Delegate Selection Plan for the 2020 Democratic National Convention.
The NDP will send 33 delegates to the national convention in Milwaukee.
Automatic delegates are NDP Chair Jane Kleeb, First Associate Chair Richard Register, National Committeeman Ron Kaminski, and National Committeewoman Patty Zieg.
An additional 29 national delegates will be selected at the NDP State Convention, which will be held June 5-7 in Omaha at the Downtown Marriott.
Read the DSP here and see how to become a delegate.
Also, we are conducting Delegate 101 Trainings across the state for people to learn the process to become a delegate.
That includes two this Sunday in Lincoln and Grand Island!
***
Join fellow Dems tomorrow in Omaha for a Big Blue Canvass to help Allison Heimes, the candidate for the District 39 seat in the Nebraska Legislature.
***
Tonight is the eighth Democratic Presidential Debate at St. Anselm College in Manchester, New Hampshire.
Join fellow Democrats at the Debate Watch Party in Omaha.
***
Remember to request your Vote-By-Mail application if you want to vote from home in the May 12 Primary Election. We have all the links to the forms and dates for voter registration and more on our Voting Center.
***
We leave you this week with a rendering by Clay Jones on House Speaker Nancy Pelosi tearing up her copy of the State of the Union Address.
–By Kevin O'Hanlon/NDP Communications Director
NOTE: If you'd like to receive #NebDems News via email, just let us know by sending a note to: [email protected]
###
IMPORTANT DATES
Feb. 7: 8th Democratic Presidential Debate
Feb. 8: Big Blue Canvass in LD39 in Elkhorn
Feb. 9: Delegate 101 Training in Lincoln
Feb. 9: Delegate 101 Training in Grand Island
Feb. 15: Big Blue Canvass in LD31 in Omaha
Feb. 18: Delegate 101 Training with College Democrats in Omaha
Feb. 19: 9th Democratic Presidential Debate
Feb. 20: NDP Chair Jane Kleeb speaks to Holt County Democrats
Feb. 22: Big Blue Canvass in LD49 in Gretna
Feb. 25: 10th Democratic Presidential Debate
Feb. 29: Block Captain Training: Leap into the 2020 Elections!