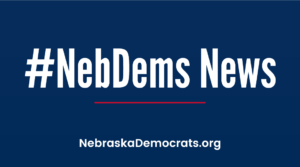 News that President Trump has tested positive for COVID-19 has turned the presidential race upside down — including raising the question of whether his final two debates with Joe Biden will go forward.
But folks who watched the first debate on Tuesday learned three things.
Trump was awful. Trump was horrifying. And Trump continues to prove his words and actions are an insult to the American people.
Trump bullied and interrupted his way through the entire evening.
From 
Variety:
Trump never relented from this posture. His interruptions were so frequent — and rude — that they turned the entire debate into a train wreck.
From 
Esquire's Charles Pierce:
This is something that happened: in the very first segment of the very first presidential debate of 2020, the challenger, a former Vice President of the United States, already had called the incumbent president* of the United States a liar and a clown, and he told him to shut up. And he was right to do all three things.
From the AP: The first debate between President Donald Trump and Democratic challenger Joe Biden deteriorated into bitter taunts and near chaos Tuesday night as Trump repeatedly interrupted his opponent with angry — and personal — jabs that sometimes overshadowed the sharply different visions each man has for a nation facing historic crises. … Trump refused to condemn white supremacists who have supported him, telling one such group known as Proud Boys to "stand back, stand by."
Sunday marks just 30 days until Nov. 3. Please vote.
***
The NDP has designed Voter Guides showing all of the Democrats running for office in all 93 Nebraska counties. We also include the ballot initiatives and constitutional amendments.
Just click here to find your local Democratic Voter Guide.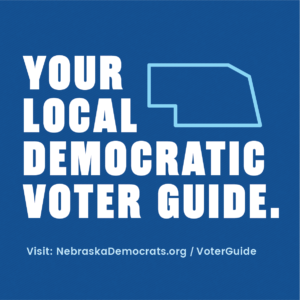 ***
If you have any questions about voting, including how to register to vote or request a Vote-by-Mail ballot, simply visit the NDP Voting Center.
***
You can help us elect Democrats by writing postcards to voters!
We have several options:
Create your own postcards and we will email you a list of names.
Pick up a packet at one of our offices:
— The Lincoln office is at 3701 O St., Suite 200 and is open M-F from 10 a.m. to 6 p.m.
— The Omaha office is at 5418 S. 27th, Suite 6 and is open Tuesday and Thursday from 10 a.m. to 6 p.m.
If you are in greater Nebraska and want to involve a few friends, we can mail a packet with a larger number of postcards and names.

Sign up here for exact information.
You also can write postcards to voters while we watch the Presidential and Vice Presidential Debates. Sign up here if you'd like to join our zoom call during the debates.
Questions? Send an email to: [email protected]
***
Sign up for our 100,000 Calls Across Nebraska — Oct. 10-18 — when we will phone bank voters to turn out the vote for Democrats!
It's easy! Sign up here!
***
Candidates: If you want to seek an endorsement from the Latinx Caucus, fill out this form.
If you want to seek an endorsement from the Women's Caucus, send an email: [email protected]
***
Preston Love, longtime community leader and political advocate, has announced he will be the Democratic write-in candidate for U.S. Senate in the Nov. 3 election. Love is endorsed by the Nebraska Democratic Party.
Voters can simply write Love on the write-in line and fill in the oval next to his name under the U.S. Senate portion of their ballot.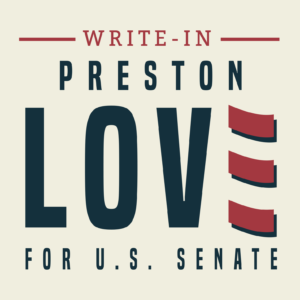 ***
Join us this weekend at one of our Yard Sign Drive-Thru Parties where we distribute yard signs for Vice President Joe Biden, Sen. Harris and our strong Nebraska candidates.
You can simply drive up and we will place the signs you want in your car.
We only have a limited amount left. So with this round of yard-sign events, we ask that when you come to pick up your sign you choose one of these actions:
1. Take a Postcard Packet we have prepared for you to write short notes to voters. The packet includes 30 postcards, labels and a sample message to write. You provide the postcard stamps and mail them!
OR
2. Make a $20 donation for signs.
Oct. 4: Lincoln, 11 a.m. to 1 p.m., NDP Office: 3701 O St.
Oct. 4: Omaha, 3 to 5 p.m., IBEW Hall, 13306 Stevens St.
Questions? Email [email protected]
NOTE: We are no longer distributing yard signs during the week at our Omaha and Lincoln offices.
***
The NDP has started a series of Welcome-to-the-Party online events geared to new voters. We will answer all your questions about voting and how to get involved. You can type your questions in the chat or ask them live.
***
Make sure you register to vote and request a Vote-by-Mail ballot at the NDP Voting Center.
Please share the above link with friends and family!
***
Get your Biden and NDP swag at the NDP/Shirts 101 store!
***
We leave you this week with a rendering by John Deering.
–By Kevin O'Hanlon/NDP Communications Director
NOTE: If you'd like to receive #NebDems News via email, just let us know by sending a note to: [email protected]
###

IMPORTANT DATES

Oct. 4: Omaha Biden Yard Sign Drive-Thru Party
Oct. 4: Lincoln Biden Yard Sign Drive-Thru Party
Oct. 6: Welcome-to-the-Party Call
Oct. 7: Vice-Presidential Debate
Oct. 7: Watch the debate and help Dems!
Oct. 10-18: Phone Bank for Dems:100,000 Calls Across Nebraska
Oct. 13: Welcome-to-the-Party Call
Oct. 15: Second Presidential Debate
Oct. 15: Watch the debate and help Dems!