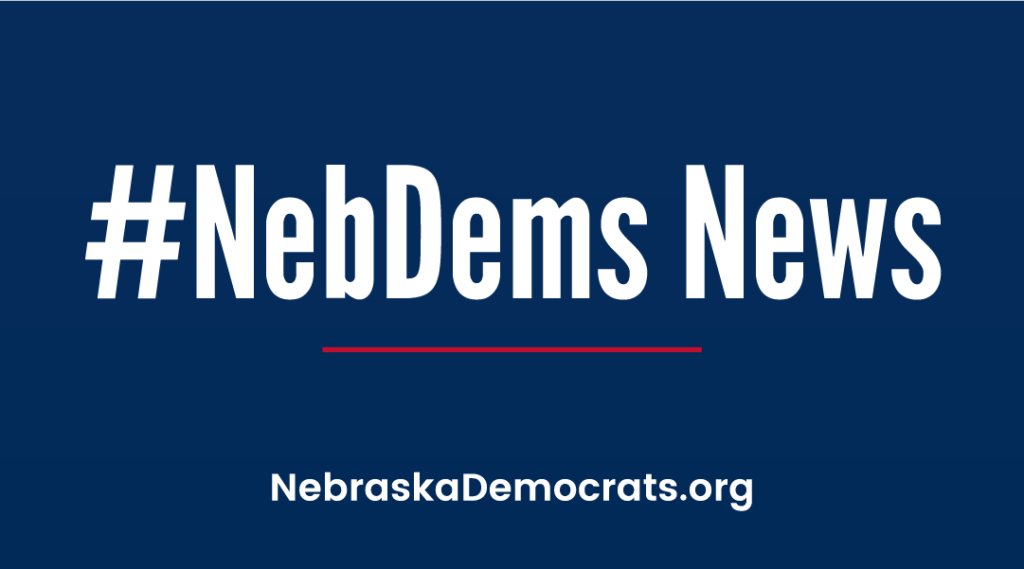 Well, well, well, look who's back after years of merciful silence.
Yes, folks, Republican Don Stenberg — former Nebraska attorney general and treasurer who ran unsuccessfully for U.S. Senate in 1996, 2000, 2006, and 2012 — has resurfaced.
Stenberg recently inflicted his opinion on the masses in a guest editorial in the Nebraska Examiner, in which he seems to have deluded himself into believing that former President Trump is somehow going to slither back into the White House.
Stenberg sets the table with a pronouncement that the U.S. Justice Department will have great difficulty prosecuting Trump, who after leaving office stowed a tranche of classified and top-secret documents at his Mar-a-Lago estate that were recovered during an FBI raid on Aug. 8.
Opined Stenberg: First of all, The Presidential Records Act, 44 U.S.C. chapter 22, gives every former president the legal right to access all of his presidential records, including classified records. The crimes listed in the search warrant only apply to documents and records that are illegally possessed. Since the former president has a legal right to access the documents, they are not illegally possessed so there is no violation of the crimes listed in the search warrant.
Trump's legal team claims he declassified documents, saying it was his right to do so without the "bureaucratic entanglements" of the executive branch. But experts say if you take Trump at his word, the secretive nature through which he would have declassified those records is itself problematic, as The Hill's Rebecca Beitsch reported, quoting Asha Rangappa, a lecturer at Yale University and a former FBI special agent.
"If he did, and he did it in the way that he claims he did, that's actually not really the flex he thinks it is. It actually suggests that he had a nefarious purpose," Rangappa said.
Alas, Stenberg concludes his turgid screed with this:
So, it is very likely that Trump will legally prevail. And, according to recent polls, if he runs for president in 2024, he will likely win the Republican nomination. And in the general election it may be that energized Trump voters and people of goodwill who are appalled at the political weaponization of the U.S. justice system, will elect President Trump to a second term as president of the United States.
Rub a lamp and make a wish, Don.
***
The inaugural Kerrey Nelson Gala is taking place on Oct. 14 in Omaha!
Each year the Nebraska Democratic Party celebrates elected officials, candidates, party leaders and grassroots volunteers that build our party. For about two decades, the annual event was called the Morrison Exon fundraiser in honor of Gov. Frank Morrison and Sen. Jim Exon.
In 2022, the NDP decided it was time to honor two of our current party titans — Sen. Bob Kerrey and Sen. Ben Nelson — and re-named the annual event the Kerrey Nelson Gala.
CLICK HERE FOR TICKETS AND SPONSORSHIP TABLES.
***
The NDP and local parties are holding Yard-Sign Drive-Thru parties this Sunday, Sept. 18 in Omaha, Papillion, Bellevue, Lincoln and Fremont!
Join in and get yard signs for your favorite Democratic candidates and get information on how to register to vote and apply for a vote-by-mail ballot for the Nov. 8 election.
Click on an event for details:
Yard Sign Event in Omaha

Yard Sign Event in Papillion

Yard Sign Event in Bellevue

Yard Sign Event in Lincoln

Yard Sign Event in Fremont
***
Applause broke out, and some tears were even shed Monday, as Malcolm X was voted in as the next inductee to the Nebraska Hall of Fame. It was the third time the civil rights leader — who was born in Omaha– had been nominated, and he was inducted on a 4-3 vote. Ron Hull, the chairman of the committee and a longtime public television broadcaster, cast the deciding vote, saying that Malcolm X continues to have influence worldwide with his story of transformation and reformation.
"All men are created equal, but we have to be reminded of that, because people have to fight for these rights all their lives … and that's one reason my vote goes for Malcolm X," Hull said.
***
In case you missed it, Rep, Don Bacon was deemed one of 10 most vulnerable House incumbents by Roll Call this week.
It's already been a rough cycle for House incumbents, and the midterm elections are still 55 days away.
Fourteen lost reelection bids, including five who were on the previous list of the chamber's most vulnerable. They fell in primaries where redistricting or increasingly dogmatic electorates doomed them. Now with primaries (mostly) behind them, House incumbents and their big-spending outside allies are in full general election mode. Roll Call's 10 most vulnerable House members, six Democrats and four Republicans, face a shifting landscape that seems more favorable for Democrats than it was a few months ago but still tilts toward the GOP.
GO Tony Vargas!
***
The Nebraska Democratic Party's Coordinated Campaign is building a team of strong, experienced team members to help elect candidates in CD2. Nebraska's 2nd Congressional District (CD2) is located in the Omaha metro area and includes some parts of suburban Sarpy County and all of Saunders County.
Apply now! The positions pay $25 an hour!
***
The NDP collaborated with graphic artist Justin Kemerling for a new four freedoms poster series. These will be available at the Kerrey Nelson dinner for VIP tickets-holders and for sale.
Right to Reproductive Freedom.
Right to the Future.
Right to Knowledge.
Right to Vote.
***
You can now request to vote by mail for the Nov. 8 election! Fill out this form and we'll help you get a ballot.
***
And speaking of the general election, see all of our great Democratic candidates!
***
If you want to keep up on NDP happenings and get our weekly blog as well as our daily News Clips and Talking Points, just send an email to kevin@nebraskademocrats.org
***
Help build the NDP and become a Monthly Donor to help us help Dems win in 2022 and beyond! We need your help!
***
Join us on a Welcome-to-the-Party call!! We cover topics such as voter registration and redistricting.
The next call is Sept. 20 Sign up here.
If you have suggestions for topics to cover, please email gina@nebraskademocrats.org.
***
Sign up to join our Block Captain program! You get assigned 50 voters in your neighborhood to reach out to. We provide the training and materials. You provide about 2 hours in September and 2 hours in October to help elect Dems!
Sign up here for an NDP Block Captain Training!
***
Get your NDP swag at the NDP/Shirts 101 store! There are lots of designs from which to choose.

***
We leave you this week with a rendering by Mike Luckovich.
–By Kevin O'Hanlon/NDP Communications Director
NOTE: If you'd like to receive #NebDems News via email, just let us know by sending a note to: info@nebraskademocrats.org
###
See NDP events here.

IMPORTANT DATES
Various Dates: Zoom Phone Banks for Democrats!
Sept. 15: Meet Danielle Helzer, candidate for State Board Of Education in South Sioux City
Sept. 17: March with Blood for Governor at the AppleJack Festival Parade in Nebraska City
Sept. 17: March with Blood for Governor at the Gothenburg Harvest Festival Parade
Sept. 17: Meet Danielle Helzer, candidate for State Board Of Education in Wayne
Sept. 18: Lancaster County Dems Yard Sign Drive-Thru
Sept. 18: NDP Yard Sign Event in Omaha
Sept. 18: NDP Yard Sign Event in Papillion
Sept. 18: NDP Yard Sign Event in Bellevue
Sept. 18: NDP Yard Sign Event in Fremont
Sept. 18: Candidate Forum in Scottsbluff
Sept. 20: Canvass in Elmwood with Sarah Slattery for Legislature
Sept. 22: NDP Block Captain Training
Sept. 24: Omaha Women's Movement for Equality
Sept. 24: Lancaster County Democratic Party Camp Democrat
Sept. 24: Patty Pansing Brooks for Congress Husker Volleyball Day of Action – Lincoln
Sept. 24: Walk With Team Helzer in the Palmer Fall Festival Parade
Sept. 24: Rally for Reproductive Rights in Omaha
Sept. 24: Meet candidates at Douglas County Dems Beer and BBQ 2022
Sept. 27: Jane Raybould for Legislature Fundraiser
Sept. 27: Canvass in Greenwood with Sarah Slattery
Oct. 1: Lancaster County Dems Chili Cookoff
Oct. 4: Democratic Congressional Campaign volunteer leader training workshop
Oct. 4: Canvass in Murdock with Sarah Slattery
Oct. 13: CD2 debate
Oct 14: Inaugural Kerrey Nelson Gala
Oct. 15: State Central Committee meeting
Nov. 8: General Election