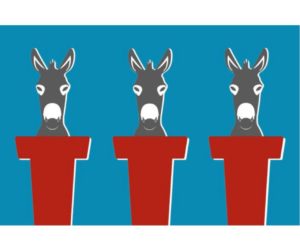 Join fellow Nebraska Democrats at a TV Watch Party for the 10th Democratic Presidential Debate on Tuesday, Feb. 25.
It's the last debate before Super Tuesday and you can stream it live on CBS and BET from South Carolina. In attendance at the debate will be Jane Kleeb, Nebraska Democratic Party Chair; Precious McKesson, NDP Constituency Director; Sharlette Schwenninger,, NDP Women's Caucus Chair; Richard Register, NDP First Associate Chair, Janet Stewart, former NDP Women's Caucus Chair; Charlene Ligon, NDP Secretary; and Stephanie Matejka, NDP State Convention Chair.
Omaha
Hosted by Nebraska Democratic Party, Swing Left Omaha, Greater Omaha Dems, Nebraska Young Dems and UNO College Dems.
7 to 10 p.m.
B bar, 4330 Leavenworth St., Omaha
There will be pizza provided and drinks available at the bar.
Lincoln
Hosted by Nebraskans for Pete Buttigieg
6:30 to 9:30 p.m.
The Eatery, 2548 S 48th St., Lincoln
Feel free to bring a friend. All party affiliations welcome.
Please RSVP by clicking here.
Hastings
Hosted by Adams County and the Nebraska Democratic Party
6 to 9 p.m.
First Congregational United Church of Christ, 2810 W 7th St., Hastings