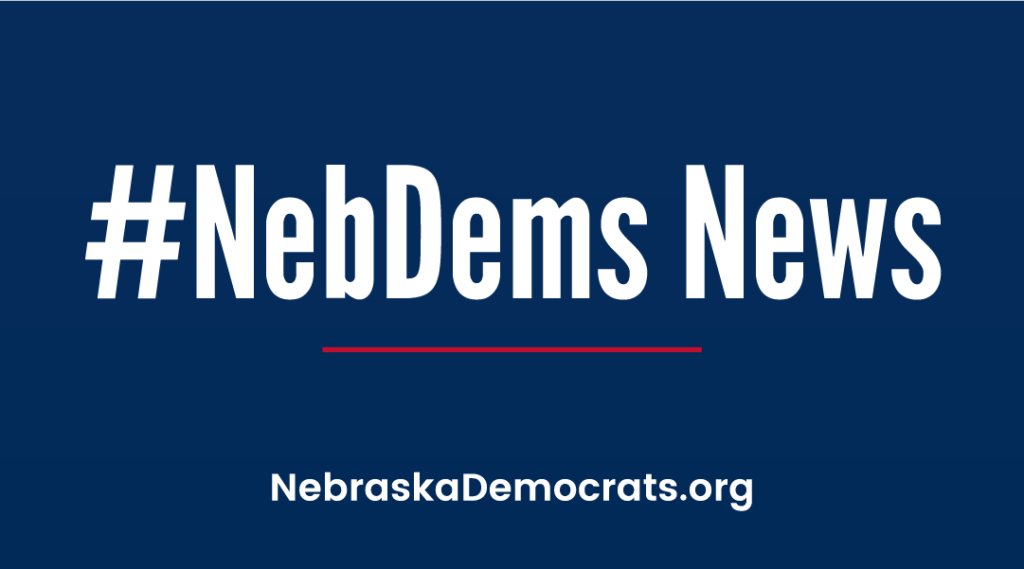 Gov. Pete Ricketts got a deserved dressing down this week for his recent comments objecting to the playing of "Lift Every Voice and Sing" before University of Nebraska basketball games.
As addressed in the space last week, the playing of the song, often referred to as the Black national anthem, began last season when the National Association of Basketball Coaches encouraged schools to play it, along with "The Star-Spangled Banner" before games "as a show of unity and education."
Ol' Pete saw it as a chance to score political points with his Trumpian base by calling the song divisive: "If athletic programs are going to play other 'anthems' before games, what has historically been a moment of patriotic pride will become nothing more than a series of political gestures that will divide Nebraskans based on their identity rather than bringing us together."
Cue the Omaha World-Herald editorial board:
"Shadowed beneath Thy hand / May we forever stand
"True to our God / True to our native land / Our native land."

Gov. Pete Ricketts finds this divisive.

We disagree and, while we understand his political motive all too well, are saddened that the governor has taken to weighing in on every single cultural issue.

Even a song.

Ricketts' comments were as divisive as they were needless. Were he seeking a solution, rather than scoring cheap political points, he could have reached out to the athletic department behind the scenes. But solution and sensitivity clearly were not his goals.

Ricketts' regrettable choice to put politics before equality and inclusion deepens the division that is tearing at our national fabric. We would be better served if our leaders instead chose to promote healing.

Hear, hear.
***
Sen. Patty Pansing Brooks of Lincoln announced Monday that she will seek the Democratic nomination for eastern Nebraska's 1st District House seat now held by embattled nine-term Republican Rep. Jeff Fortenberry.
Pansing Brooks will complete her term-limited eight years as a member of the nonpartisan Legislature at the end of next year.

***
The Morrison-Exon event, our annual fundraiser where we celebrate the volunteers and party leaders who build and grow the Nebraska Democratic Party, was a huge success last Saturday.
We gave out awards to some great Democrats at the event: State Senator Courage Award: Senator Machaela Cavanaugh; Carrie Howard Sunshine Award: Meg Mikolajczyk; Anne Boyle Young Democrat Award: Ben Cass; Bob Kerrey CD1 Volunteer Award: Chris McCoy; Bob Kerrey CD2 Volunteer Award: Dulce Sherman; Bob Kerrey CD3 Volunteer Award: Marci Docekal; Ben Nelson County Party Award: Terry Sigler; Anne Boyle Young Democrat Award: Ben Cass; State Party Chair Kleeb Award: State AFL-CIO President Sue Martin; and Frank LaMere Hall of Fame Award: Preston Love.
***
President Biden on Monday signed into law a sweeping $1.2 trillion infrastructure measure, notching an achievement that had long eluded his predecessor in the White House, Donald Trump. The legislation, which will bring $3 billion to Nebraska, is aimed at improving the country's roads, bridges, pipes, ports and Internet connections. Trump had repeatedly tried and failed to secure a bipartisan infrastructure deal.
In addition, the House on Friday passed his Build Back Better plan, which now goes to the Senate.
***
Union workers at the Kellogg's plant in Omaha and across the country remain on strike against cuts to benefits earned by hard work and years of service to the company, threats to move jobs to Mexico, and treatment of new hires.
– The National Farmers Union continues its campaign to fight corporate consolidation that has forced small ranchers to sell cattle at a loss, while the four major meatpacking corporations hike up prices at the grocery store.
Will you stand with them? Add your name to the petition now.
From the Nebraska AFL-CIO: Please consider helping out our BCTGM Local 50G brothers and sisters on strike at Kellogg's. The strike is almost at 50 days. As you know, groceries are one of the first areas that people cut back on when income is tight. Please consider helping supply the strikers in need with the items listed on the attached Food Drive flyer. There are two drop points:
BCTGM Local 50G offices, 8984 J Street, Omaha
United Steel Workers Local 286, 5724 Seward Ave., Lincoln
***
If you want to get our daily compilation of the top news and DNC talking points PLUS our weekly blog, just send an email to kevin@nebraskademocrats.org
***
Help build the NDP and become a Monthly Donor!
You can help us help Dems win!

***
Our series of training for campaigns, led by state Sen. Carol Blood, continues.
The next session is Nov. 28: Participatory Democracy in Campaigns.
***
Save the date — Dec. 9 — for a Black Votes Matter and partners Town Hall, with special guest Sen. Terrell McKinney! Topics will include criminal justice, prison reform and Rescue Plan Act spending.
***
Join us on a Welcome-to-the-Party call!! We cover topics such as voter registration and redistricting. We also will be giving our caucuses and councils the floor to talk about their goals and how you can get involved.
The next call is Nov. 30 Sign up here.
If you have suggestions for topics to cover, please email gina@nebraskademocrats.org.
***
Get your NDP swag at the NDP/Shirts 101 store!
There are lots of designs, including some terrific Jomaha/Blue Dot swag!
***
We leave you this week with a rendering by Mike Luckovich.
–By Kevin O'Hanlon/NDP Communications Director
NOTE: If you'd like to receive #NebDems News via email, just let us know by sending a note to: info@nebraskademocrats.org
#NebDems News will not be published next week because of the holiday. Enjoy your Thanksgiving!
###

IMPORTANT DATES

Nov. 21: Blood Drives Across Nebraska — La Vista Event
Nov. 23: Greg Gonzalez for Douglas County Sheriff campaign kickoff
Nov. 28: NDP Training — Participatory Democracy in Campaigns
Nov. 30: Welcome to the Party — Interfaith Council
Dec. 6: Jay Pitts for Lancaster County Sheriff campaign kickoff