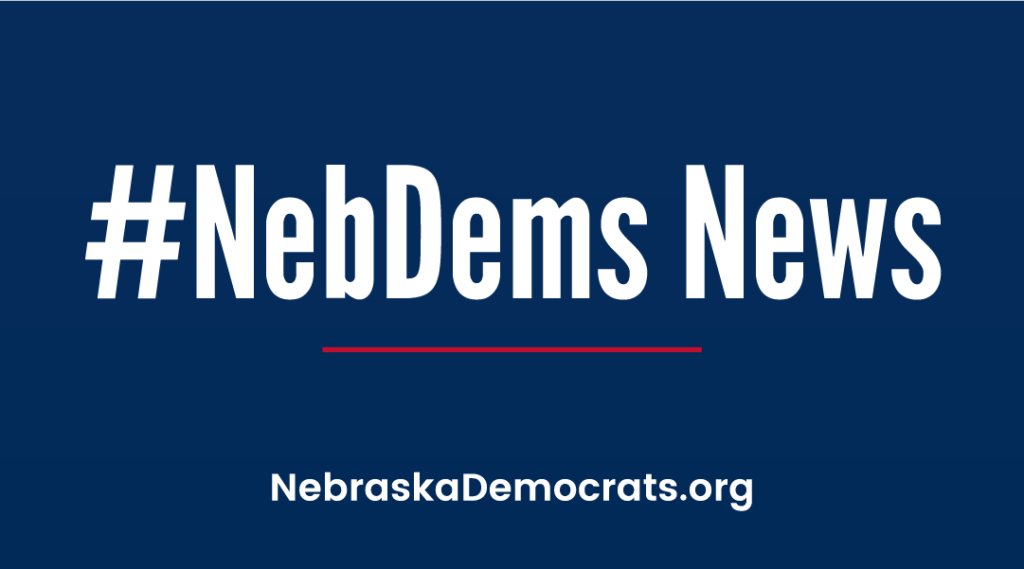 Spineless GOP House members — including Don Bacon, Jeff Fortenberry and Adrian Smith — held a cowardly vote Wednesday to remove Rep. Liz Cheney from her party leadership role after she urged the party to reject former President Donald Trump's continual lies about the secure election that led to President Biden's victory.
House members ousted Cheney on a "voice" vote, meaning there is no public record of how each voted. In case you haven't noticed, the GOP has gone around the bend and down a rabbit hole of dysfunctional denial.
Alas, Esquire's Charles Pierce penned some astute words on the situation.
I do not find the event as signifying as many of my colleagues do. In truth, all the Republicans in the House did was swap out one No. 3 in their leadership roster for another, and brawls in the monkey house bore me. In addition, there was nothing remotely surprising about anything that happened. After all, people were throwing roses in Cheney's path for all of her long trudge towers Golgotha in the meeting room on Wednesday for months now.

House Minority Leader Kevin McCarthy demonstrated that he is Washington's highest ranking invertebrate lifeforms, as if that's any kind of shock any more. The only lesson I can see emerging from this prolonged slapfight is that, now, the Trump Republican Position is that Joe Biden was not really elected president, and the Moderate Republican Position is that Biden actually was elected, but with the tacit understanding that he not act like he was elected president. That job was left to Mitch McConnell and Prime Minister Joe Manchin.
So Liz Cheney lost her gig as everyone knew she would. The prion disease that gave her a political career goes merrily on.
***
The Democratic National Committee (DNC), Association of State Democratic Committees (ASDC) and state parties, including the Nebraska Democratic Party, have announced a historic four-year agreement that will guarantee more investment into Democratic state parties' infrastructure than ever before. At a minimum, this investment will provide $23 million to state parties as part of Democrats' 2022 midterm strategy, and creates a first-of-its-kind program to focus additional investments in historically red states to build on Democrats' 57 states and territories strategy.
Chair Kleeb was part of the negotiating team encouraging more resources into red states. The agreement will establish a brand-new, seven-figure "Red State Fund" that puts Republicans on defense and builds tailored programs for traditionally Republican states.
***
Democrats kept their 4-3 majority on the seven-member city council in Omaha after Tuesday's city election.
In District 1, Pete Festersen was re-elected to his seat. In District 2, Democrat Juanita Johnson won. In District 3, Danny Begley won the seat being vacated by fellow Democrat Chris Jerram, who did not seek re-election. And in In District 4, Vinny Palermo was re-elected to his seat.
"Our state and county party, along with our strong Democratic candidates, are fighting for the issues fellow Nebraskans care about–good-paying jobs, clean energy, affordable health care, racial equity, rebuilding our economy and responding to the COVID pandemic with science. We intend to build upon the Jomaha Blue Dot and the city council results as we head into the 2022 election cycle," said NDP Chair Jane Kleeb on the strong showing for Democrats on the city council.
***
If you are thinking about running for office, we urge you to sign up for this GREAT training on Saturday, May 15: "Crafting your Campaign Budget," hosted by Sen. Carol Blood and other guests.
Having a clear understanding of the amount of money you will need to raise, where you will need to spend that money and how to make sure your campaign follows your strategy is key to campaign success. Join us as we walk you through the step-by-step process so you can hit the ground running.
***
The House has already passed the Equality Act, and now it's up to the Senate to take a stand for equal rights and dignity, no matter who you love or how you identify. Add your name here and take a stand for what's right.
***
If you are interested in helping write a couple of Letters to the Editor — or even a guest op-ed — over the next year or so, please sign up here to help us support Democrats and our ideas.
The LTE Program is fairly new, but we've had some early success.
We can help give you pointers and show you how to submit your letter!
***
Help build the NDP and become a Monthly Donor!
Some 550 Democrats ran in races across Nebraska in 2020 and had a 71 percent win rate. Many of the services we offered those candidates were bolstered by our Monthly Donors.

***
Welcome to the Party calls have resumed! We are excited to cover topics like city elections, voter registration and the Legislature. We also will be giving our caucuses and councils the floor to talk about their goals and how you can get involved.
The next call is May 18 and will discuss the upcoming legislative redistricting.
If you have suggestions for topics to cover, please email gina@nebraskademocrats.org.
***
Get your Biden and NDP swag at the NDP/Shirts 101 store!
The store now features some terrific Jomaha/Blue Dot swag!
***
We leave you this week with a rendering by Drew Sheneman.
–By Kevin O'Hanlon/NDP Communications Director
NOTE: If you'd like to receive #NebDems News via email, just let us know by sending a note to: info@nebraskademocrats.org
#NebDems News will be on vacation until Friday, May 28.
###
IMPORTANT DATES

May 15: Candidate Training: Crafting Your Campaign Budget
May 18: Welcome to the Party call
June 4-5: NDP State Central Committee meeting