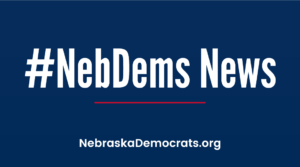 President Trump still won't accept it, but the Electoral College on Monday certified the results of the Nov. 3 election, making Joe Biden President-elect and Kamala Harris Vice-president-elect.
And in 33 days, they will be sworn into office and we can all happily swear off Trump.
Precious McKesson became the first African-American on either side of the political aisle to cast an elector ballot in Nebraska. She is also the first woman to cast an elector vote for a Democrat in Nebraska since the state switched to awarding electoral votes to the winner of each congressional district in 1992.
It was a moving ceremony at the state Capitol, where McKesson proudly cast her ballot.
The Omaha World-Herald on Tuesday published a piece written by McKesson on what it meant to cast her vote.
If you missed it, READ IT HERE.
Onward to 2021!
***
The World-Herald also took a deserved swipe at Gov. Pete Ricketts, Attorney General Doug Peterson and U.S. Reps Jeff Fortenberry and Adrian Smith for supporting the embarrassing absurd "Stop the Steal" Texas lawsuit that asked the U.S. Supreme Court to overturn election results in four key swing states.
Show of hands: Who believes that Texas would have sued over how Georgia or Michigan conduct their elections if Donald Trump had won a second term as president?

Or that Nebraska supported the lawsuit because our governor, attorney general and secretary of state are more concerned that other states follow technicalities of their own laws than our top officials are with states' rights or federalism?

Yet, presented with that scenario at a news conference before the U.S. Supreme Court dismissed the case — would Nebraska have been involved were Joe Biden not the winner? — Gov. Pete Ricketts insisted our interest wasn't political and he just wants other states to follow their laws.

Bull.

***
Here at the Nebraska Democratic Party, we know it's been hard for families this year during the pandemic, and this holiday season we would like to assist our communities in any way we can.
Thanks to our awesome donors, we will provide holiday meals to families in need in three cities (Hastings, Omaha, and Lincoln). Not only are we helping families, we are also supporting small businesses that have been impacted by the pandemic.
Meals will be provided by Big Mama's Kitchen, Odyssey, and The Venue. Meals will serve a family of four, with a dessert.
If you want to DONATE for the meals, please visit this page.
***
President-elect Joe Biden has tapped Democratic Rep. Deb Haaland of New Mexico, to serve as the first Native American interior secretary in a historic pick for a department that oversees the country's vast natural resources, including tribal lands. A member of Pueblo of Laguna, the 60 year-old Haaland would become the first descendant of the original people to populate North America to run the Interior Department. It marks a turning point for a 171-year-old institution that has often had a fraught relationship with 574 federally recognized tribes.
"Her focus always would be protecting the land," NDP Chair Jane Kleeb told Bloomberg News in an interview before Biden made his selection. Haaland "will take that department in a completely new direction."
Rep. Haaland appeared on our virtual Morrison Exon event earlier this year with U.S. Sen. Elizabeth Warren.

***
You can help swing the balance of the U.S. Senate!
Two GOP incumbents, Sens. David Perdue and Kelly Loeffler, are facing runoffs against Democrats: Jon Ossoff facing Perdue and the Rev. Raphael Warnock facing Loeffler. If Ossoff and Warnock win, the Senate will become evenly split, 50-50, with Vice President Kamala Harris holding the tie-breaking vote.
Click here to do your part to help!
***
Join the nearly 14,000 Nebraskans urging Gov. Pete Ricketts to institute a mask mandate to save lives!
                                                                        ***
Get your Biden and NDP swag at the NDP/Shirts 101 store!
The store now features some terrific Jomaha swag! And don't forget to check out our Black Friday Sale!
***
We leave you this week with a rendering by Bill Bramhall on Trump's aforementioned refusal to concede the election, with a nod to "Thelma and Louise."
–By Kevin O'Hanlon/NDP Communications Director
NOTE: If you'd like to receive #NebDems News via email, just let us know by sending a note to: [email protected]
###

IMPORTANT DATES
Dec. 21: R.J. Neary for Omaha Mayor Holiday Fundraiser
Jan. 9: SCC meeting
Jan. 12: Welcome to the Party call
Jan. 20: President-elect Joe Biden and Vice President-elect Kamala Harris inauguration
Jan. 26: Welcome to the Party call