A recent letter to the editor in the Lincoln Journal Star astutely noted that U.S. Rep. Mike Flood — in his CD1 race against Democratic state Sen. Patty Pansing Brooks — has morphed into an extremist MAGA Republican.
"Mike Flood is taking some extreme positions on issues we all care about. He's begun to sound like a ventriloquist's dummy whose lips are flapped from somewhere outside Nebraska."
To wit, in his recent debate with Pansing Brooks (who he referred to as "Pansing Brooks Pelosi"), Flood joined his MAGA Republicans in taking a broadside at President Biden's plan to give limited loan forgiveness to student borrowers, who are saddled with crippling debt. (Never mind that the GOP has embraced trillions in tax breaks to huge corporations.)
It should be noted that Flood's business had $840,306 of a federal loan forgiven during the COVID-19 crisis.
The ginned-up fury over the student loan forgiveness is being championed by the likes of U.S. Rep. Lauren Boebert, which was recently detailed by New Yorker satirist Andy Borowitz.
Representative Lauren Boebert blasted President Biden's student-loan-forgiveness program, claiming that it would lead to "rampant education."
"This proposal is maybe the most reckless ever set forth by a President," she said. "It will lead to rampant education and wonton [sic] learning."
Attributing nefarious motives to the proposal, Boebert charged, "President Biden wants to educate as many people as possible, so they'll become Democrats."
Boebert described a nightmare scenario in which "everyday Americans start using words you'll have to look up in the dictionary. I don't want to live in an America like that."
The Colorado lawmaker added that there needed to be "tougher controls" on college students' purchase of books, including background checks and a ten-day cooling-off period.
***
The inaugural Kerrey Nelson Gala is taking place on Oct. 14 in Omaha!
Each year the Nebraska Democratic Party celebrates elected officials, candidates, party leaders and grassroots volunteers that build our party. For about two decades, the annual event was called the Morrison Exon fundraiser in honor of Gov. Frank Morrison and Sen. Jim Exon.
In 2022, the NDP decided it was time to honor two of our current party titans — Sen. Bob Kerrey and Sen. Ben Nelson — and re-named the annual event the Kerrey Nelson Gala.
CLICK HERE FOR TICKETS AND SPONSORSHIP TABLES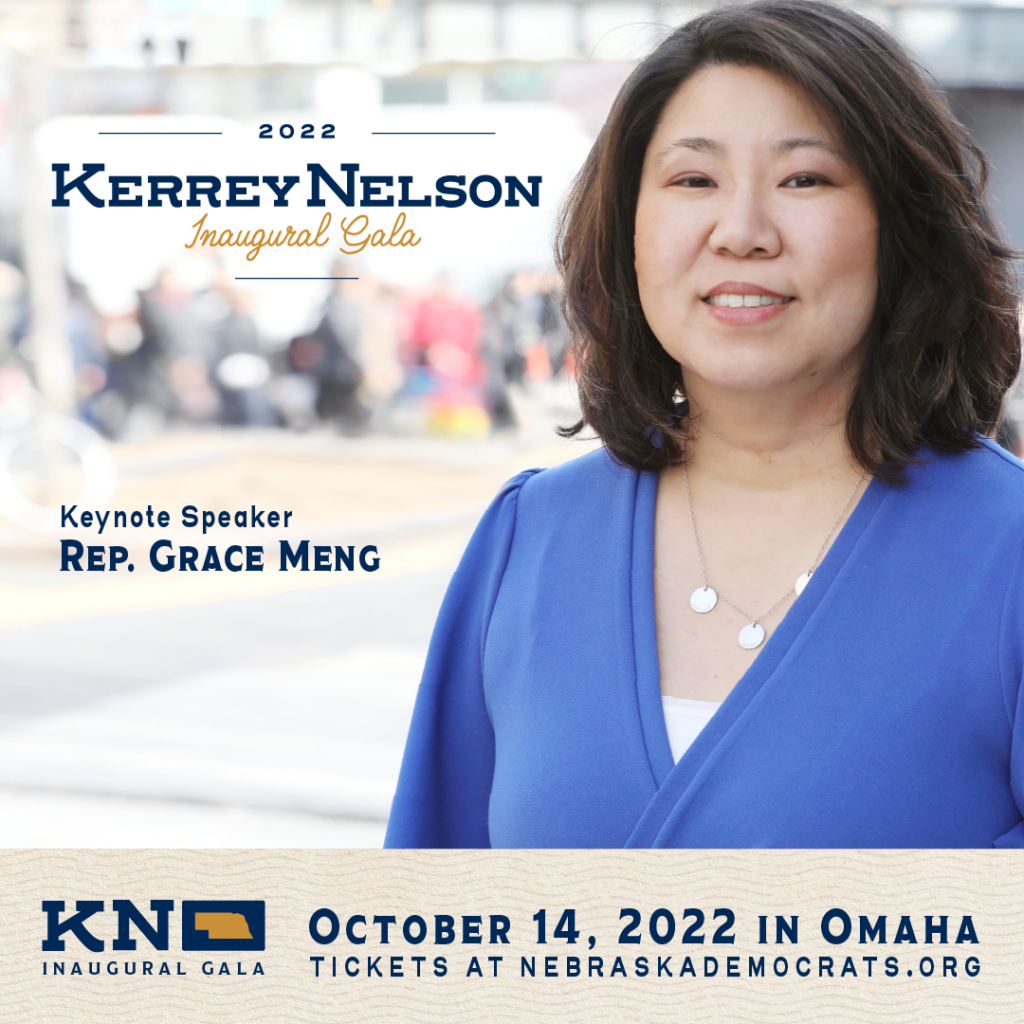 ***
Nebraska CD1 Congressional Candidate Patty Pansing Brooks has released her first television ad for the general election.
Pansing Brooks is the first candidate in this congressional race to go up on TV during the general election cycle. The ad highlights her bipartisan approach and how she will work with Democrats and Republicans to bring change to Washington – just as she has in Nebraska.
***
The NDP designed Voter Guides showing all of the Democrats running for office in all 93 Nebraska counties so you know who the Dems are in the partisan and nonpartisan races. We also include the ballot initiatives and constitutional amendments.
Just find your county below and click on the link to see your county's Voter Guide.
You can use your Voter Guide as you fill out your Vote-by-Mail ballot, bring Voter Guide with you if you are voting early in-person at your county election office or take it with you if you plan on voting in-person on Nov. 8 at your local polling location.
If you have any questions, email info@nebraskademocrats.org.
***
Democratic Sen. Carol Blood is hosting town halls across Nebraska to discuss the real issues faced by hardworking Nebraskans. Regardless of political affiliation, all Nebraskans are welcome to the public town halls.
You deserve a governor willing to answer the hard questions. This is especially important since her opponent is unwilling to participate in public debate. Rural Nebraskans need to consider how their votes are taken for granted by candidates who don't honor them enough to show up.
***
Get ready for debates in the CD1 and CD2 races!
Democratic state Sen. Patty Pansing Brooks and Rep. Mike Flood have one more debate scheduled in their CD1 race on Oct. 2.

Democratic state Sen. Tony Vargas and Republican Rep. Don Bacon have two debates scheduled in their CD2 race on Oct. 13 and Oct. 16.
NOTE: The CD2 debate on Oct. 13 is the only one open to the public, but a ticket purchase is required. Tickets will be sold by the Omaha Press Club for $19 per person and includes lunch. For reservations call 402-345-8008 or email Christine at opcchristine@gmail.com.

SEE DETAILS.
***
The Nebraska Democratic Women's Caucus is getting ready to make endorsements. Registered Democrats who are candidates running in the Nebraska 2022 General Election may apply for the endorsement and /or other support of the Nebraska Democratic Women's Caucus. Endorsement Forms may be obtained by emailing ndpwomenscaucus@gmail.com. Please request a form by TODAY, 9/30.
***
The Nebraska Democratic Party's Coordinated Campaign and several candidates are looking for canvassers to go door-to-door to distribute literature and talk to voters.
The jobs pay $25 an hour. Training for the position is paid at the hourly rate.
Hours are flexible.
Please fill out this form and someone with our team will be in touch. Please spread the word with others you may think want to be paid $25 an hour to canvass for Democrats!
Any questions? Email info@nebraskademocrats.org..
***
The NDP collaborated with graphic artist Justin Kemerling for a new five freedoms poster series. These will only be available at in-person fundraisers around the state. These will be available at the Kerrey Nelson dinner for VIP tickets-holders and for sale.
Right to Reproductive Freedom.
Right to the Future.
Right to Knowledge.
Right to Vote.
Right to Safety
***
You can now request to vote by mail for the Nov. 8 election! Fill out this form and we'll help you get a ballot.
***
And speaking of the general election, see all of our great Democratic candidates!
***
If you want to keep up on NDP happenings and get our weekly blog as well as our daily News Clips and Talking Points, just send an email to kevin@nebraskademocrats.org
***
Help build the NDP and become a Monthly Donor to help us help Dems win in 2022 and beyond! We need your help!
***
Join us on a Welcome-to-the-Party call!! We cover topics such as voter registration and redistricting.
The next call is Oct. 4 Sign up here.
If you have suggestions for topics to cover, please email gina@nebraskademocrats.org.
***
Sign up to join our Block Captain program! You get assigned 50 voters in your neighborhood to reach out to. We provide the training and materials. You provide about 2 hours in September and 2 hours in October to help elect Dems!
Sign up here for an NDP Block Captain Training!
***
Get your NDP swag at the NDP/Shirts 101 store! There are lots of designs from which to choose.

***
We leave you this week with a rendering by Mike Luckovich.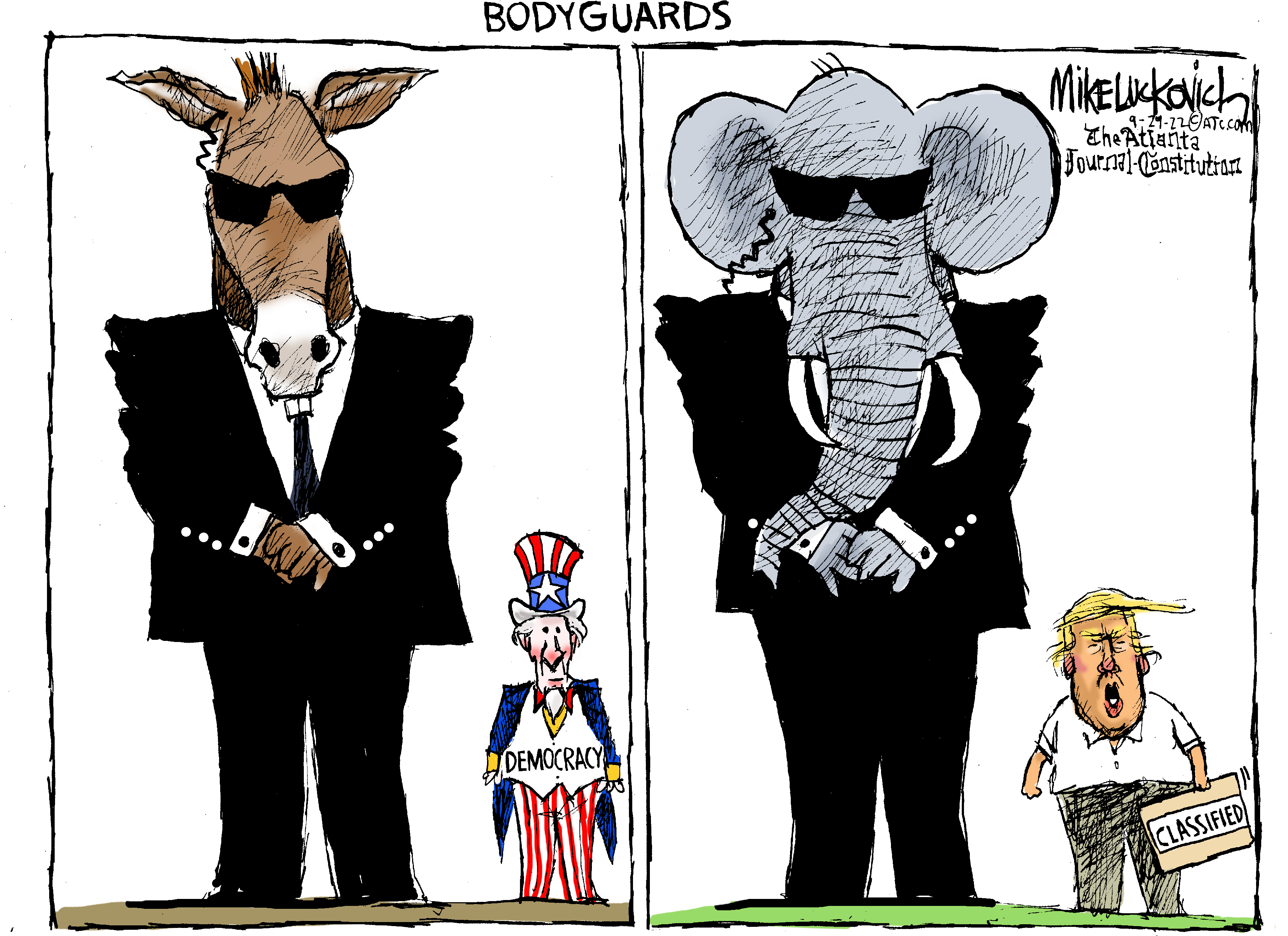 –By Kevin O'Hanlon/NDP Communications Director

NOTE: If you'd like to receive #NebDems News via email, just let us know by sending a note to: info@nebraskademocrats.org
###
See NDP events here.

IMPORTANT DATES
Various Dates: Zoom Phone Banks for Democrats!
Sept. 30: Tecumseh Town Hall – Blood for Governor
Oct. 1: Columbus Town Hall – Blood for Governor
Oct. 4: March with Nebraskans for Carol Blood at the Chadron SC Homecoming Parade
Oct. 1: Lancaster County Dems Chili Cookoff
Oct. 1: Walk With Team Helzer In The Harvest of Harmony Parade
Oct. 1: March with Carol Blood at the Grand Island Harvest of Harmony Parade
Oct. 1-2: Patty for Congress Day of Action
Oct. 2: Norfolk Town Hall – Blood for Governor
Oct. 2. Debate Watch Party – Patty Pansing Brooks for CD1 Lincoln Headquarters
Oct. 4: Democratic Congressional Campaign volunteer leader training workshop
Oct. 4: Canvass in Murdock with Sarah Slattery
Oct. 4: Meet Danielle Helzer Candidate For State Board Of Education
Oct. 5: Event with Patty Pansing Brooks in Bellevue
Oct. 7: McCook Town Hall – Blood for Governor
Oct. 8: Hastings Town Hall – Blood for Governor
Oct. 8: Conversation with Patty – Seward
Oct. 9: Falls City Town Hall – Blood for Governor
Oct. 11: Canvass in Eagle with Sarah Slattery
Oct. 13: CD2 debate
Oct 14: Inaugural Kerrey Nelson Gala
Oct. 15: State Central Committee meeting
Oct. 16: Debate Watch Party with Tony Vargas!
Oct. 18: Canvass in Avoca with Sarah Slattery
Nov. 8: General Election