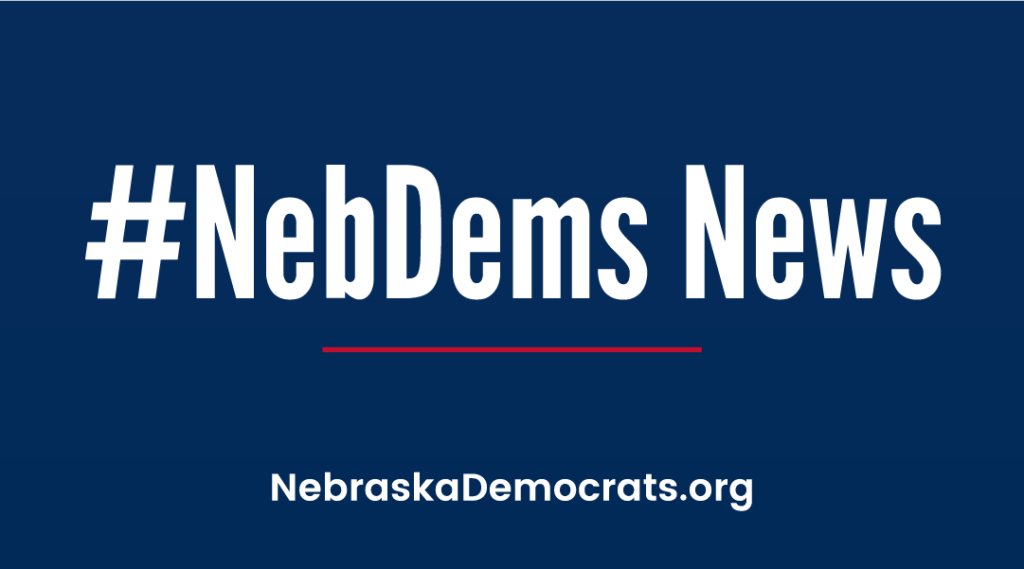 The Republican Party is pitching a high-flying hissy fit the likes of which we haven't seen since Nebraska Sen. Ben Nelson strode onto the floor of the U.S. Senate in 2009 and cast the deciding vote to approve the Affordable Care Act, which came to be known as Obamacare.
The legislation gave health care to tens of millions of Americans who previously could not afford it. And Republicans went apoplectic.​
Well, the GOP is now throwing a full-blown tantrum over the recent passing of President Biden's Inflation Reduction Act, which will fight climate change and lower health-care costs for millions of Americans.
We defer to this blog in the Daily Kos, "Democrats-Deliver-While-The-GOP-Is-In-Disarray:"
The contrast between the Democratic and Republican parties has been on display the last few weeks, putting the voters' choice this fall into sharp relief. While the Democrats passed landmark legislation that will help millions of Americans, the GOP attacked law enforcement and pursued unhinged conspiracy theories.
Every single Republican who voted against the Inflation Reduction Act (including all of Nebraska's congressional contingent) voted against:
— Lower prescription drug prices
— Lower healthcare costs
— A fairer tax system
— Tackling the climate crisis
— Lowering energy costs
— Creating good-paying jobs"
Biden's 2022 summer:
— gas prices cratering
— Zawahiri dead
— unemployment at historic low
— 86% drop in COVID deaths
— gun safety bill passed
— clean energy bill passed
— veterans bill passed
— drug price cap bill passed"
All of this is good news for Nebraska Democrats. Patty Pansing Brooks, Tony Vargas and Carol Blood all support lower prescription drug prices and insurance premiums. They will stand up to the special interests and the radical right.
It's progress v. radicalism in 2022. Freedom is on the ballot in 2022. Vote for Carol Blood for governor! Vote for Patty Pansing Brooks in Nebraska CD1! Vote for Tony Vargas in Nebraska CD2! Vote for David Elise Nebraska CD3!
Remember, Democrats deliver. Republicans obstruct.
***
Big news! The inaugural Kerrey Nelson Gala is taking place on Oct. 14 in Omaha!
Each year the Nebraska Democratic Party celebrates elected officials, candidates, party leaders and grassroots volunteers that build our party. For about two decades, the annual event was called the Morrison Exon fundraiser in honor of Gov. Frank Morrison and Sen. Jim Exon.
In 2022, the NDP decided it was time to honor two of our current party titans — Sen. Bob Kerrey and Sen. Ben Nelson — and re-named the annual event the Kerrey Nelson Gala.
CLICK HERE FOR TICKETS AND TO NOMINATE SOMEONE FOR AN AWARD.
***
Thank you to everyone who joined The Lancaster County Democratic Party at Camp Democrat last weekend! Lincoln Mayor Leirion Gaylor Baird who donated her time and expertise at face painting!
We were also joined by some of our amazing Democratic candidates: Stacie Sinclair for Lower Platte South NRD, Subdistrict 5, Kristi Egger for Lancaster County Public Defender, Luke Peterson Lower Platte South NRD Director, Subdistrict 7, Lin Quenzer for Clerk of District Court of Lancaster County, James Michael Bowers, Rachel Garver For Lancaster County Treasurer, Jane Raybould and Jay Pitts for Sheriff!
***
In case you missed it, the NDP posted a recent blog highlighting what the Inflation Reduction Act will do for rural communities.
***
Join the Democratic Congressional Campaign Committee and Team Tony on Aug. 28 for a special Sunday canvassing event to prepare for the fall get-out-the-vote push.
***
You can now request to vote by mail for the Nov. 8 election! Fill out this form and we'll help you get a ballot.
***
And speaking on the general election, see all of our great Democratic candidates!
***
If you want to keep up on NDP happenings and get our weekly blog as well as our daily News Clips and Talking Points, just send an email to kevin@nebraskademocrats.org
***
It's county fair, festival and parade season, and the NDP has launched a Mobile Office project designed to help our party better communicate with and serve our communities across the state.
The Mobile Offices will allow us to provide our local parties with a comprehensive and professional kit that can be used for fairs, parades, voter registration drives and more.
They are available to county parties, affiliated caucus and policy councils and other Democratic operatives across the state.
Each Mobile Office contains a canopy tent for outdoor use, parade banner, table, comprehensive collection of literature, a wide range of basic tabling items, first aid kit and optional display components upon request.
Fill out the NDP Mobile Office request form!
***
The NDP Coordinated Campaign is hiring Organizers to work in the Second Congressional District area (Douglas, Saunders, part of Sarpy).
Please send your resume and cover letter to info@nebraskademocrats.org. #NebDems
***
Join Senator Carol Blood on Aug. 30 for another great NPD training! Subject: Measure What We Treasure; How we can use certain metrics and data to better reach voters and budget campaign expenses.
***
Help build the NDP and become a Monthly Donor to help us help Dems win in 2022 and beyond! We need your help!
***
Join us on a Welcome-to-the-Party call!! We cover topics such as voter registration and redistricting.
The next call is Sept. 6. Sign up here.
If you have suggestions for topics to cover, please email gina@nebraskademocrats.org.
***
Sign up to join our Block Captain program! You get assigned 50 voters in your neighborhood to reach out to. We provide the training and materials. You provide about 2 hours in September and 2 hours in October to help elect Dems!
Sign up here for an NDP Block Captain Training!
***
Get your NDP swag at the NDP/Shirts 101 store! There are lots of designs from which to choose.

***
We leave you this week with a rendering by Mike Luckovich.

–By Kevin O'Hanlon/NDP Communications Director
NOTE: If you'd like to receive #NebDems News via email, just let us know by sending a note to: info@nebraskademocrats.org
###
See NDP events here.

IMPORTANT DATES
Various Dates: Zoom Phone Banks for Democrats!
Aug. 26: Patty Pansing Brooks- Husker Volleyball Day of Action
Aug. 28: Team Vargas/DCCC Day of Action
Aug. 28: Royers for Legislature Drive-thru Petition Signing
Aug. 28: Patty Pansing Brooks- Day of Action
Aug. 30: Douglas County Democratic Party Candidate Meet and Greet
Aug. 30: Weekly Tuesday Phone Bank
Aug. 30: NDP Campaign Training with Sen. Carol Blood
Sept. 6: Danielle Helzer for State Board of Education Kickoff
Oct 14: Inaugural Kerrey Nelson Gala
Sept. 6: Danielle Helzer for State Board of Education Kickoff
Sept. 6: Welcome to the Party call
Sept. 22: NDP Block Captain Training
Nov. 8: General Election