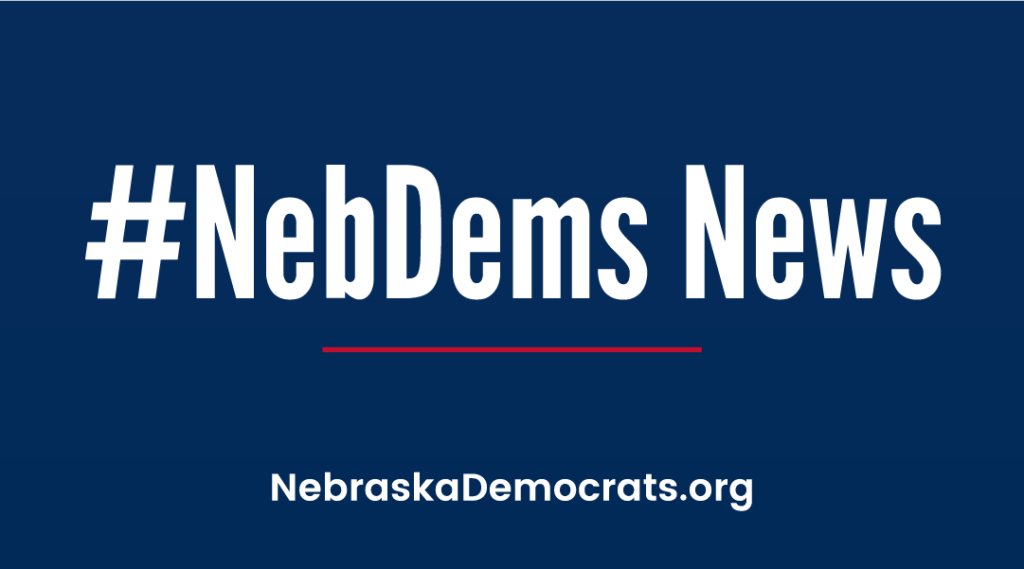 We figured Melody Ell would have a few words for Sens. Ben Sasse and Deb Fischer after last weekend. So we asked her.
And, boy, did she.
Ell is a paralegal in Lincoln. Her son, Nathan, has had Type 1 diabetes since he was three and is insulin dependent. And she watched in horror as Senate Republicans on Sunday did Big Pharma's bidding and successfully stripped a $35 monthly price cap on the cost of insulin for many patients from the sweeping Inflation Reduction Act that was passed.
The insulin cap is a long-running ambition of Democrats, who want it to apply to patients on Medicare and private insurance. Republicans left the portion that applies to Medicare patients untouched but stripped the insulin cap for other patients.
Ell noted that Eli Lilly, Novo Nordisk and Sanofi produce 96% of the world's insulin for human use. Their specific insulin brands have risen in price exorbitantly. Eli Lilly's Humalog, for example, has increased 1,219 percent since it was launched in 1996.
"I was hopeful when the $35 copay cap was introduced recently for the privately insured. However, Senators Deb Fischer and Ben Sasse don't care about my son's life-threatening situation. I'd like them to think about this scenario:
A single mother is trying to help her son complete his high school and college career, all while trying to pay the high-cost premium for his health insurance. Her son will suffer a painful death beginning within 12 hours without insulin. Insulin is as crucial as air. Before that insulin is covered by insurance, a deductible of several thousand dollars needs to be met. The insulin is a minimum of $1,500.00 monthly. That is on top of the method to get the insulin into his body, and thousands of dollars for an insulin pump and supplies. All of this is to simply try to stay alive. Can you imagine how helpful it would be to this mother and son if a copay cap on insulin was $35? It would actually be life changing and, more importantly, life saving."
Forty-three Republicans, including Deb Fischer and Ben Sasse, did not care about this scenario. They voted to keep insulin at $1,500/month instead of $35. Today, every Republican is asking you to be outraged that gas was $5 instead of $3. In the GOP world, $1,500 for lifesaving insulin is fair play, but $5 for gas is an outrage.
I have been fighting for my son who, through no fault of his own, has this life threatening condition. I'll never give up. Vote them all out."
A splendid idea.
***
The Legislature won't reconvene for a special session this year to consider further restrictions on abortion, Gov. Pete Ricketts said Monday, keeping Nebraska's current 20-week ban in place. In a statement, Ricketts said Speaker Mike Hilgers informed him 30 state senators agreed to return to the Capitol for a special session — well short of the 33 needed to break a filibuster on any abortion-related legislation.
Lawmakers were expected to call a special session after the U.S. Supreme Court reversed the Roe v. Wade decision in June, paving the way for state legislatures to ban abortions.
Said NDP Chair Jane Kleeb:
"The majority of Nebraskans support keeping access to abortion legal. Governor Ricketts and his radical Republicans do not have the votes to further infringe on our privacy and rights to make our own health decisions. Voters have an opportunity to defend legal access to abortion at the polls this November by electing more Democrats to the Legislature, Congress and the governor's office."
***
And she called out Reps. Don Bacon, Mike Flood and Adrian Smith for not supporting the bill.
"Bacon, Flood and Smith should be ashamed for not supporting this legislation, which is now the law of the land," said McKesson, who was at the White House for the signing ceremony. "They voted to hold American jobs hostage in favor of China."
***
You can now request to vote by mail for the Nov. 8 election! 
Fill out this form
and we'll help you get a ballot.
***
And speaking on the general election, see all of our great Democratic candidates!
***
The NDP has launched a "Flip that Bacon" website to target Rep. Don Bacon's 2nd District congressional seat this year.
The Democratic Congressional Campaign Committee has CD2 as one of its 22 competitive House districts that are either open or held by Republicans.
Click here to go to the Flip that Bacon site.
At the bottom of the home page is a timeline slider listing Bacon's gaffes and horrible votes and positions during his time in office.
Also, click here to download and share Flip that Bacon graphics on social media!

***
If you want to keep up on NDP happenings and get our weekly blog as well as our daily News Clips and Talking Points, just send an email to kevin@nebraskademocrats.org
***
It's county fair, festival and parade season, and the NDP has launched a Mobile Office project designed to help our party better communicate with and serve our communities across the state.
The Mobile Offices will allow us to provide our local parties with a comprehensive and professional kit that can be used for fairs, parades, voter registration drives and more.
They are available to county parties, affiliated caucus and policy councils and other Democratic operatives across the state.
Each Mobile Office contains a canopy tent for outdoor use, parade banner, table, comprehensive collection of literature, a wide range of basic tabling items, first aid kit and optional display components upon request.
Fill out the NDP Mobile Office request form!

See our Rural Outreach page.
***
The NDP Coordinated Campaign is hiring Organizers to work in the Second Congressional District area (Douglas, Saunders, part of Sarpy).
Please send your resume and cover letter to info@nebraskademocrats.org. #NebDems

***
Join Senator Blood on Aug. 30 for another great NPD training! Subject: Measure What We Treasure; How we can use certain metrics and data to better reach voters and budget campaign expenses.
***
Help build the NDP and become a Monthly Donor to help us help Dems win in 2022 and beyond! We need your help!
***
Join us on a Welcome-to-the-Party call!! We cover topics such as voter registration and redistricting.
The next call is Aug. 23. Sign up here.
If you have suggestions for topics to cover, please email gina@nebraskademocrats.org.
***
Sign up to serve as a Block Captain–you get assigned 50 voters in your neighborhood. We provide the training and materials. You provide about 2 hours in September and 2 hours in October to help elect Dems!
Sign up here for an NDP Block Captain Training!
***
Get your NDP swag at the NDP/Shirts 101 store! There are lots of designs from which to choose.
***
We leave you this week with a rendering by Mike Luckovich.
–By Kevin O'Hanlon/NDP Communications Director
NOTE: If you'd like to receive #NebDems News via email, just let us know by sending a note to: info@nebraskademocrats.org
###
See NDP events here.

IMPORTANT DATES
Aug. 12: Sarpy County Democrats Legacy Dinner
Aug. 13: Join Sen. Patty Pansing Brooks for Congress at the Cass County Fair Parade
Aug. 14: Sarah Slattery for LD-2 General Election Kickoff
Aug. 14: Blood For Governor General Election Kick-Off Celebration and Fundraiser
Aug 14: Join Sen. Patty Pansing Brooks for Congress at the Columbus Days Parade
Aug. 16: Weekly Tuesday Phone Bank
Aug. 18: Help Douglas County Democrats Write Postcards for Candidates
Aug. 20: March with Blood for Governor At The Arrows to Aerospace Parade
Aug. 23: Welcome to the Party call
Aug. 28: Team Vargas/DCCC Day of Action

Oct 14: Morrison Exon event
Sept. 22: NDP Block Captain Training
Nov. 8: General Election