The Nebraska Democratic Party is launching a statewide voter engagement program in conjunction with the DNC, titled Resistance Summer. The link to the DNC website for this project is here: https://resistsummer.com/
Donate to help support this grassroots project.
All Summer the plan is to knock on doors, make calls, and hold events to reach out to communities all over the state. We hope to re-engage them with the party and build an infrastructure for the future. We are hiring three organizers, one in each Congressional district. We need to reconnect with people of every background to make sure we are representing everyone and expanding our Party.
Below is the job description, if you know anyone that is interested please have them email a cover letter and resume to jacob@nebraskademocrats.org by June 9, 2017. We are making hires by June 16 so staff are prepared to attend the national training in DC on June 26-28, 2017.
You can read more about the joint DNC and State Party Resistance Summer project here: https://resistsummer.com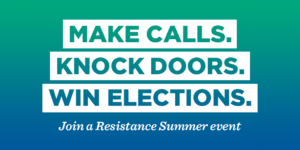 Resistance Summer Organizers
The Nebraska Democratic Party is looking for Summer Interns as Resistance Summer and Party Builder Organizers. The NDP is hiring up to three full-time, paid, summer interns as Resistance Summer and Party Builder Organizers from June through August. We are looking for driven, responsible, and resourceful individuals, who can meet deadlines and are goal-oriented. We will place the organizers in rural and urban communities.The organizers will be recruiting volunteers, knocking on doors, making calls, registering voters, holding rallies and community meetings as a part of a national re-engagement program.
The Resistance Summer Organizers will work hand and hand with our county parties and caucuses.
This is a great learning experience for those who want to be engaged in party-building and grassroots organizing. You will work with our team and get trained by the national DNC.
Previous experience preferred but not required. Organizers are paid up to $2,000 a month stipend.
To apply send a resume and cover letter to jacob@nebraskademocrats.org.
The Nebraska Democratic Party provides equal employment opportunities (EEO) to all employees and applicants for employment without regard to race, color, religion, sex, national origin, age, disability or gender. In addition to federal law requirements, The Nebraska Democratic Party complies with applicable state and local laws governing nondiscrimination in employment in every location in which the company has facilities. This policy applies to all terms and conditions of employment, including recruiting, hiring, placement, promotion, termination, layoff, recall, transfer, leaves of absence, compensation, and training.