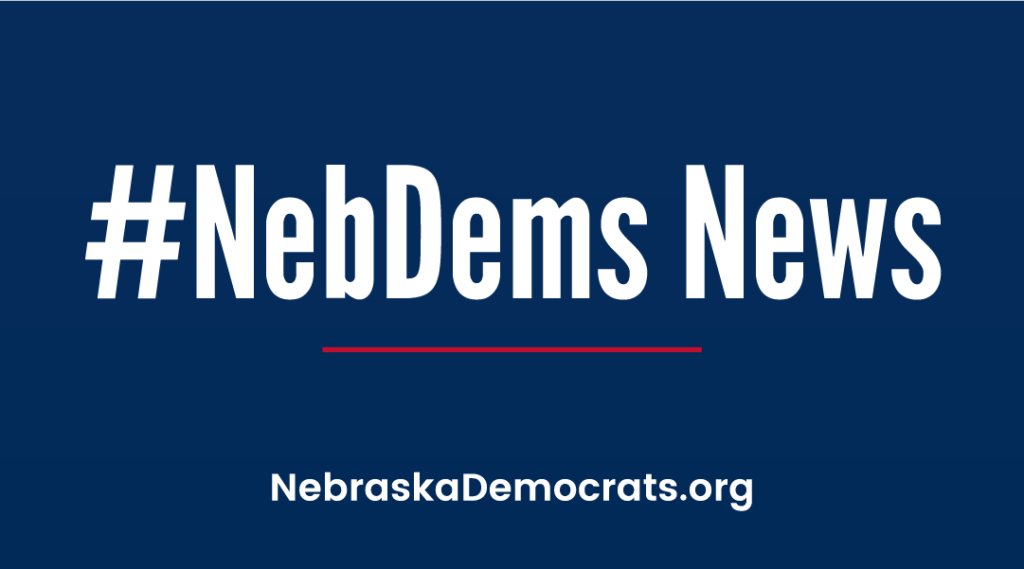 Gov. Pete Ricketts and many in the Republican Party have made lying a full-time avocation. From the 2020 election to the Jan. 6 Capitol insurrection to the Make America Beautiful plan, they just can't stop lying.
So much so that it seems former president Donald Trump is having a bit of trouble finding a publishing house for his memoir.
This should not come as a shock, as reported by Daniel Lippman and Meridith Mcgraw in Politico this week.
Almost five months after leaving office, major publishing houses still are wary of publishing a book by former President Donald Trump, even though a post-White House memoir would almost assuredly be a best-seller.
Their reluctance is driven by several factors, though the underlying fear is that whatever Trump would write wouldn't be truthful.
"[I]t would be too hard to get a book that was factually accurate, actually," said one major figure in the book publishing industry, explaining their reluctance to publish Trump. "That would be the problem. If he can't even admit that he lost the election, then how do you publish that?"
"It doesn't matter what the upside on a Trump book deal is, the headaches the project would bring would far outweigh the potential in the eyes of a major publisher," said Keith Urbahn, president and founding partner of Javelin, a literary and creative agency. "Any editor bold enough to acquire the Trump memoir is looking at a fact-checking nightmare.
There is, of course, an easy way to alleviate those concerns: Publish it as fiction.
***
The NDP has launched a "Flip that Bacon" website to target Rep. Don Bacon's 2nd District congressional seat in 2022.
The Democratic Congressional Campaign Committee has CD2 as one of its 22 competitive House districts that are either open or held by Republicans.
"We are building a winning coalition of voters to flip the CD2 seat red to blue," said NDP Chair Jane Kleeb. "Rep. Bacon pretends he is a moderate using all sorts of fake talking points. Bacon's voting record reflects his true values of turning his back on assistance to small businesses and families as well as women experiencing violence. Nebraskans do not like fake bacon and we intend to keep Don accountable."
Click here to go to the Flip that Bacon site.
At the bottom of the home page is a timeline slider listing Bacon's gaffes and horrible votes and positions during his time in office.
Also, click here to download and share Flip that Bacon graphics on social media!

***
The White House announced the 30×30 proposal called America the Beautiful — putting 30 percent of the nation's land and water in conservation status by 2030.
And to counter the tripe about the plan being spread by Ricketts and others, the NDP has launched a series of "Burgers and Beers" sessions to talk truth about the America the Beautiful plan.
See where the next meetings are or request one in your area!
Read NDP Chair Jane Kleeb's blog about the plan here.
***
"That man is a success who has lived well, laughed often and loved much. who looked for the best in others and gave and gave the best he had."
–Robert Louis Stevenson

Please join us for the 2nd Frank LaMere Memorial this Sunday, June 20 at noon at the St. Augustine School Gym in Winnebago, Neb.
LaMere, a member of the Winnebago Nation of Nebraska and first associate chair of the Nebraska Democratic Party, died in 2019 after a brief fight with cancer, leaving a legacy of leadership on myriad social justice issues.
LaMere, 69, was a stalwart advocate of justice, standing on the front lines to protect and advocate for Indian children, addressing police brutality against Indian people, fighting against alcohol sales near the Pine Ridge Indian Reservation and leading on countless other issues, including the battle against the proposed Keystone XL Pipeline. He stood up to violence against those most vulnerable while bringing diverse voices to the table.
***
Nebraska Stonewall Dems Celebrate Pride Month!
"Happy Pride Month from the Nebraska Stonewall Democrats! We honor all of the activists and dreamers, who laid the framework for equality across generations though this work is far from over. Equity is the destination and we are all on this journey. We honor the vibrance, diversity, and profound community of our LGBTQIA2S+ family not only for this month but always."
–Sarah Cohen Walker, Stonewall Democrats Chair
June 18-19: Star City Pride Lincoln
July 9-10: Heartland Pride Omaha
Order your Nebraska Stonewall T-shirt here!
***
The Nebraska Democratic Party's Women's Caucus is taking applications through July 1 for the Helen Boosalis Inspiring Women Scholarships. The caucus will be awarding three scholarships of $500, one in each congressional district, to young Democratic women who are either entering college this fall or current college students. The caucus has introduced a non-traditional student scholarship this year for Democratic women of any age pursuing an education at any educational institution. Information and how to apply can be found here.
Applications should be sent to [email protected].
***
The NDP is launching a Mobile Office project designed to help our party better communicate with and serve our communities.
The offices will allow us to provide our local parties with a comprehensive and professional kit that can be used for fairs, parades, voter registration drives, and more.
These offices are available to county parties, affiliated caucus and policy councils, and other Democratic operatives across the state.
As a grassroots initiative, the project relies on the leadership and participation of local leaders, and persons and groups looking to request a Mobile Office should be prepared to return the office or help deliver it to its next location.
A Mobile Office will contain a canopy tent for outdoor use, parade banner, table, comprehensive collection of literature, a wide range of basic tabling items, first aid kit, and optional display components upon request.
Fill out the NDP Mobile Office request form!
***
Our series of training for campaigns, led by state Sen. Carol Blood, continues.
Sign up for the next session on July 25: Crafting Your Campaign Strategy. Learn how to set your campaign goals for ultimate campaign success.
***
Join the NDP for a night of fun and trivia! Five rounds of trivia questions ranging from current politics, past politics, Nebraska history and so much more. Grab your team of six, or if you are solo, we will match you with other solo players.
When: July 8th, 2021
Time: 6:30 p.m. to 8:30 p.m.
Via Zoom
***
The House has already passed the Equality Act, and now it's up to the Senate to take a stand for equal rights and dignity, no matter who you love or how you identify. Add your name here and take a stand for what's right.
***
If you are interested in helping write a couple of Letters to the Editor — or even a guest op-ed — over the next year or so, please sign up here to help us support Democrats and our ideas.
We can help give you pointers and show you how to submit your letter!
***
Help build the NDP and become a Monthly Donor!
Some 550 Democrats ran in races across Nebraska in 2020 and had a 71 percent win rate. Many of the services we offered those candidates were bolstered by our Monthly Donors.

***
Welcome to the Party calls have resumed! We are excited to cover topics like, voter registration and redistricting. We also will be giving our caucuses and councils the floor to talk about their goals and how you can get involved.
The next call is June 29.
If you have suggestions for topics to cover, please email [email protected].
***
Get your Biden and NDP swag at the NDP/Shirts 101 store!
The store now features some terrific Jomaha/Blue Dot swag!
***
We leave you this week with a rendering by Bill Bramhall.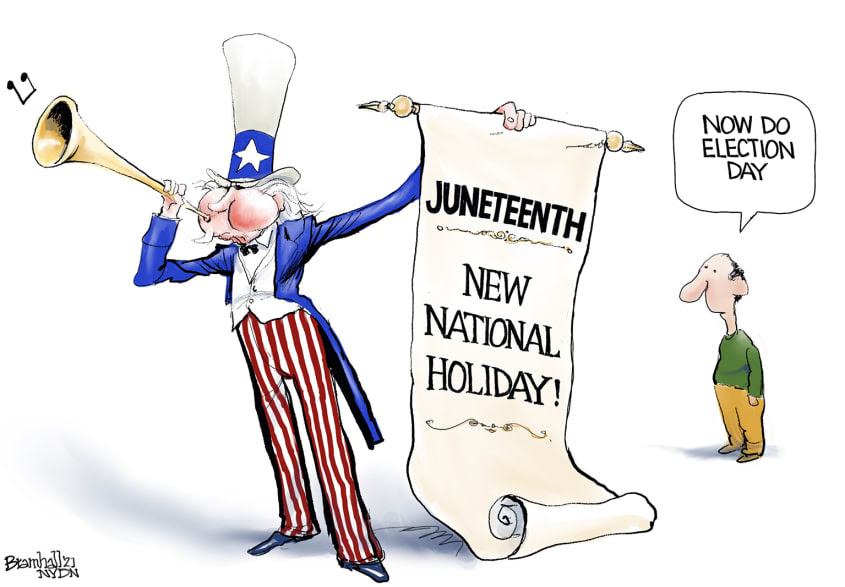 –By Kevin O'Hanlon/NDP Communications Director
NOTE: If you'd like to receive #NebDems News via email, just let us know by sending a note to: [email protected]
###

IMPORTANT DATES

June 18-19: Star City Pride Lincoln
July 8: NDP Trivia Night
July 9-10: Heartland Pride Omaha
July 24: NDP Burgers and Beer event in Gibbon

July 25: Campaign training: Crafting Your Campaign Strategy
July 28: NDP Burgers and Beer event in North Platte

August 14: NDP Burgers and Beer event in Scottsbluff
August 22: NDP Burgers and Beer event in Ft. Calhoun
Sept. 14: Salute to State Senators