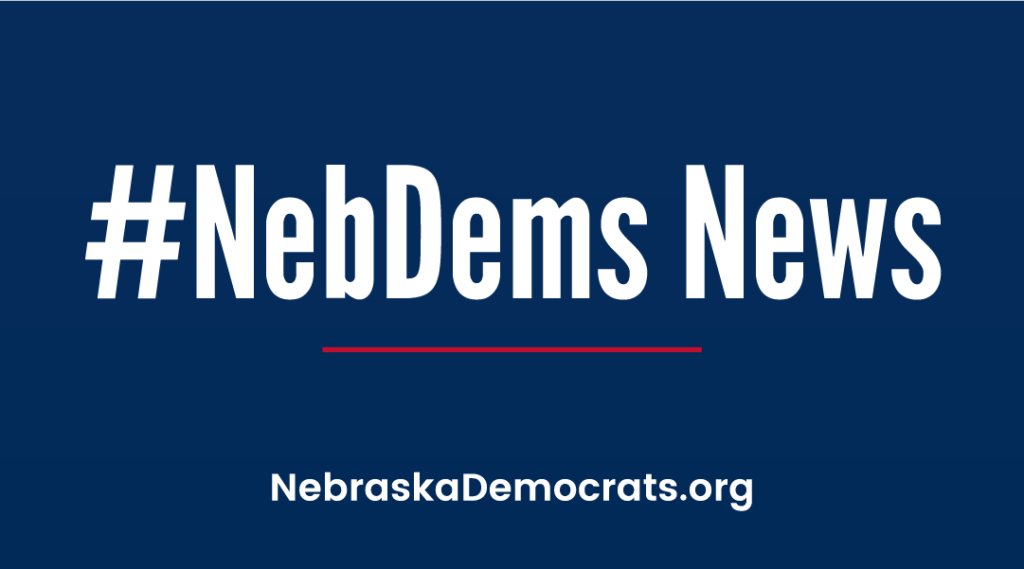 Gov. Pete "Gosh My Daddy's Rich" Ricketts doesn't like a lot of things of late.
He recently said that he didn't like the campaign to allow medical marijuana in Nebraska because doing so will "kill your kids."
This week, he came out against one of Nebraska's most cherished authors — Willa Cather. He is opposing a foundation from taking steps to protect the Cather legacy and ensure generations can experience her words of the land in real life.
He also said that Nebraskans support voter suppression efforts in other states, as if he speaks for the entire electorate, which he certainly does not.
Pete, you see, is parroting today's radicalized GOP, which, as the Washington Post's Jennifer Rubin points out, doesn't seem to like much of anything these days:
Republicans these days don't like the National Football League, the National Basketball Association or Major League Baseball. They do not like corporations such as Coca-Cola and Delta that, however belatedly, support voting rights (though they are fine taking their money). They don't like historians, climate scientists or statisticians. They do not like Anthony S. Fauci and other public health officials.
They don't like judges — even ones they appointed. They do not like book publishers, social media platforms, the mainstream media or Hollywood. They also think universities and tech companies are bad.
They do not like many local voting officials or people who take part in large-turnout elections.
They really do not like immigrants — even when they are legal. They do not like international organizations (e.g. NATO, the World Health Organization and the International Monetary Fund).
You get my point. Not only have Republicans jettisoned policy and governance for cultural memes, but they seem to have decided that what binds them together is a list — a really, really long list — of common enemies.
What's next, professional bowling?
***
Congrats to the Democratic Candidates who moved on this week to the city general elections next month in Lincoln and Omaha in May!
In Lincoln, City Council at-large candidates Bennie Shobe, Sändra Washington and Tom Beckius advanced.
As did Lincoln Board of Education candidates Kathy Danek in District 1, Barb Baier in District 3 and Don Mayhew in District 7.
In Omaha, R.J. Neary won the Democratic nomination for mayor.
Also advancing were City Council candidates Pete Festersen in District 1, Ben Gray in District 2, Juanita Johnson in District 2, Danny Begley in District 3, Vinny Palermo in District 4, Patrick Leahy in District 5, Naomi Hattaway in District 6 and Sara Kohen in District 7.
See important voting information and dates at the NDP Voting Center.
***
If you are interested in helping write a couple of Letters to the Editor — or even a guest op-ed — over the next year or so, please sign up here to help us support Democrats and our ideas.
The LTE Program is fairly new, but we've had some early success.
We can help give you pointers and show you how to submit your letter!
***
The Democratic Congressional Campaign Committee has named Nebraska's 2nd Congressional District as a possible pickup in the next general election. The DCCC named CD2 as one of its 22 competitive House districts that are either open or held by Republicans. The Nebraska seat is currently occupied by three-term U.S. Rep. Don Bacon.
The district, encompassing Omaha and most of its suburbs, is by far the most competitive in a state that's overwhelmingly Republican. It's also one of the most competitive districts nationally.
***
Help build the NDP and become a Monthly Donor!

Some 550 Democrats ran in races across Nebraska in 2020 and had a 71 percent win rate. Many of the services we offered those candidates were bolstered by our Monthly Donors.

***
Welcome to the Party calls have resumed! We are excited to cover topics like city elections, voter registration and the Legislature. We also will be giving our caucuses and councils the floor to talk about their goals and how you can get involved.
The next call is April 20.
If you have suggestions for topics to cover, please email [email protected].
***
Get your Biden and NDP swag at the NDP/Shirts 101 store!
The store now features some terrific Jomaha/Blue Dot swag!
***
We leave you this week with a rendering by Stuart Carlson.
–By Kevin O'Hanlon/NDP Communications Director
NOTE: If you'd like to receive #NebDems News via email, just let us know by sending a note to: [email protected]
###

IMPORTANT DATES
April 9: Block Captain Training

April 17: Candidate Training: Who are They?
April 20: Welcome to the Party call

April 23: Last day to request an early ballot by mail for the City of Lincoln general election

April 30: Last day to request an early ballot for the City of Omaha general election

May 4: Lincoln General Election

May 4: Welcome to the Party call

May 11: Omaha General Election

May 11: Welcome to the Party call