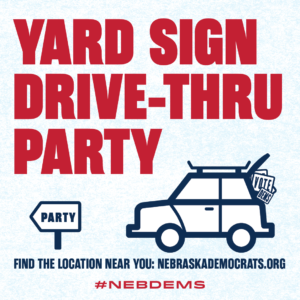 The NDP is hosting Yard Sign Drive-Thru Parties to distribute yard signs for Vice President Joe Biden and our strong Nebraska candidates. You can simply drive up and we will place the signs you want in your car. The drive-thru part of the event is meant to keep you and volunteers safe during Covid.
We welcome donations for the yard signs 🙂
Voters can also complete an application to Vote-By-Mail, register to vote and get a bag filled with candidate lit. We will even have bumper stickers.
Come get your yard signs to show support for Dems!
Also, fill out this form to order Biden yard signs and "farm signs (4×6 feet) and yard signs for other candidates.
Questions? Email [email protected]
UPCOMING YARD SIGN EVENTS:
More events are being planned for Douglas, Sarpy and Lancaster counties. Stay Tuned!
Sept, 19: Scottsbluff, (Hosted by Scotts Bluff County Dems) Time and location TBA
PREVIOUS YARD SIGN EVENTS:
Aug. 8: Ogallala, (Hosted by Keith County Dems)  10 a.m. to Noon MT, Spruce Street Station Visitor Center, 220 North Spruce Street 
July 25: Omaha, 11 a.m. to 2 p.m.  OSBN Parking Lot, 2505 N. 24th St.
July 25: Papillion, 3 p.m. to 6 p.m., 1124 Rawhide Road
July 26: Lincoln, 11 a.m. to 2 p.m., NDP parking lot, 3701 O St.
July 26: Wayne, 5 p.m. to 7 p.m., Victor Park Campground
July 30: Norfolk. 5:30 p.m. to 7 p.m., Central Park, 705 South 6th Street
Aug. 1: Hastings, 11 a.m. to 2 p.m., Old Middle School Parking Lot, 714 W. 5th St.
Aug. 1: Grand Island, 4 p.m. to 6 p.m. College Park parking lot, 3180 US-34
Aug. 2: Kearney, 11 a.m. to 1 p.m., MONA 2401 Central Ave.
Aug. 2: North Platte, 4 p.m. to 6 p.m., 2619 W Philip Ave.