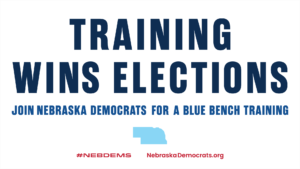 The NDP would like to thank and the candidates, campaign staff, presenters and vendors who attended our first Vendorfest and Candidate Briefing on Sunday in Lincoln.
Vendors participated in "best practices panels" facilitated by NDP staff and officers. We also reviewed the Candidate MOU, VAN, Coordinated Campaign and other information needed to run a strong campaign.
Also, state Sen. Wendy DeBoer, City Councilman James Michael Bowers and 2018 CD1 candidate Jessica McClure gave a presentation on their first campaigns, entitled "'I Wish I Had Known." 
Veteran political strategist/fundraiser Kate Wolfe joined the NDP's Jessica Lathrop for a session on the dos and don'ts of fundraising and campaign finance compliance.
And the NDP's Ron Rivera and former campaign staffers Deena Keilan and Taylor Bickel talked about field operations. 
Vendors who participated:
BCom Solutions: "BCom bridges digital divides by providing innovative digital consulting to disconnected parts of our world. From rural communities to national political campaigns, the BCom team builds long-lasting partnerships that deliver results."
Deliver Strategies:  "In a competitive campaign, your direct mail consultant must do more than just mail. As former managers and campaign staff, we've been in your shoes, and we know that you have limited time, people and resources. You need everyone on the team to provide their specific service plus a great deal more." 
Unionist Printing Company: "Unionist Printing Co. began in 1925 as the official Labor Newspaper for the state of Nebraska, originally located in the heart of Downtown Omaha, Nebraska. Nearly 95 years later, the Unionist Printing is the premier working family friendly candidate print shop offering print, mailing and promotional product services to the entire midwest, specializing in USA and Union-made goods."
Bergman Incentives: "Promoting your business is our business. Born in 1888 from an expertise in building brands, we offer unique, quality promotional products, excellent service and customer-focused marketing. From our office in Omaha, Nebraska, we are your premier source for branding solutions! We present our Signature Collection, carefully selected promotional items that we refresh daily with the newest, hottest and trendiest products."
Midwest Video: "Since 1984 we have been working in the video production industry. We produce commercials, documentaries, training and orientation videos."
We plan similar events down the road as we head toward 2020 and will post on the NDP website and our Facebook page.
In the meantime, plan on attending our Big Blue Weekend and Morrison Exon fundraiser in Omaha, Oct. 25-27, 2019. The weekend is filled with meetings, fundraisers and trainings with the National Democratic Training Committee. Speaker Nancy Pelosi is our special guest at the Morrison Exon event on Oct. 26, 6-9pm. Get your tickets here.

We are proud to be partnering with the National Democratic Training Committee to provide a full day of training on Saturday, Oct. 26. You can read about the training here.