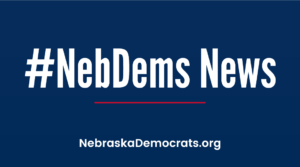 What transpired at the U.S. Capitol on Wednesday was horrifying. It was the culmination of Trump and many GOP lawmakers repeatedly questioning the legitimacy of the Nov. 3 election.
A mob of thugs fomented by President Trump and his GOP enablers (who have largely turned a blind eye to his disgusting antics for the past four years — we see you Reps. Bacon, Fortenberry and Smith and Sens Sasse and Fischer) — breached security, broke into the Capitol and sent lawmakers scurrying to safety. One rioter was fatally shot and a Capitol police officer later died of injuries he received.
The certification of the Electoral College vote for President-elect Joe Biden and Vice-President elect Kamala Harris resumed after an hours-long delay and was completed Thursday.
No one was more furious about the ugly Capitol spectacle than Esquire's Charles Pierce, who lit into Trump and his GOP allies.
The president*'s incitement to riot was just the last of it. Between his worthless spalpeens, Michael Flynn, crackpot preachers, and Rudy Giuliani, there was more evidence Wednesday morning to charge the lot of them with conspiracy to riot than there ever was against Abbie Hoffman and that crew in Chicago in 1968.
I have watched American conservatism, and the Republican Party that is its primary political vehicle, sliding inevitably toward Wednesday's events.

And Senator Josh Hawley is going to regret that picture from Wednesday morning in which he is shown outside the Capitol throwing the power-fist up for the protestors.

Ted Cruz needs to be shunned by decent people, and most domestic animals, for the rest of his sorry-ass life.
Trump has 12 days — perhaps less — left in office. Tick tock.
***
Presidential Elector Precious McKesson and NDP Chair Jane Kleeb hailed the vote Thursday certifying the Electoral College victory of Biden and Harris, who will be sworn in on Jan. 20.
"Today the electoral votes have been certified, and we now move forward to building back our country and restoring the faith of democracy. We have to remain strong even when we have those who are sworn to uphold our democracy but challenged it with false allegations and no proof of voter fraud," McKesson said. "I hope all voters remember those who voted against our democracy in the next election cycle; those are the ones we no longer need leading our country."

***
You can help us celebrate the Biden-Harris inauguration in several ways.
On Jan. 18, were are joining the Biden-Harris team's Day of Service by coordinating a food drive across the state as a way to give back on Martin Luther King Jr. Day.
On Jan. 19, The NDP is joining with the Biden-Harris team in a national day of remembrance for those who have died because of the COVID-19 pandemic.
On Jan. 20, you can join us and watch the livestream of the inauguration.

***
The Capitol riot CANNOT erase the historic wins by Democrats and soon-to-be Sens. Raphael Warnock and Jon Ossoff in their Georgia runoff elections against GOP incumbent Sens. Kelly Loeffler and Sen. David Perdue — giving Democrats control of the U.S. Senate.
A special thanks to those of you who helped make calls on their behalf or gave money to support them.
***
Time is running out to get your hands on this limited-edition commemorative bottle of red wine celebrating Joe Biden and Kamala Harris' historic inauguration!
Hailed as one of the best winemakers in Nebraska, Miletta Vista Winery in Saint Paul has been recognized all over the country for its top-notch selection of Nebraska-made wine.
Don't miss out on this incredible opportunity!
***
Welcome to the Party calls will return starting on Jan. 12! We are excited to cover topics like city elections, voter registration and the Legislature. We also will be giving our caucuses and councils the floor to talk about their goals and how you can get involved.
January dates are listed at the end of this blog under "Important Dates."
If you have suggestions for topics to cover, please email [email protected].
***
Check out our slate of great Democratic Candidates for the 2021 city elections in Lincoln and Omaha!
And see important voting information and dates at the NDP Voting Center.
***
Join the nearly 14,000 Nebraskans urging Gov. Pete Ricketts to institute a mask mandate to save lives!
***
Get your Biden and NDP swag at the NDP/Shirts 101 store!
The store now features some terrific Jomaha swag!
***
We leave you this week with a rendering by Clay Jones.
–By Kevin O'Hanlon/NDP Communications Director
NOTE: If you'd like to receive #NebDems News via email, just let us know by sending a note to: [email protected]
###

IMPORTANT DATES
Jan. 9: SCC meeting

Jan. 12: Welcome to the Party call
Jan. 18: MLK Food Drive
Jan. 19: COVID Remembrance
Jan. 20: President-elect Joe Biden and Vice President-elect Kamala Harris inauguration

Jan. 26: Welcome to the Party call