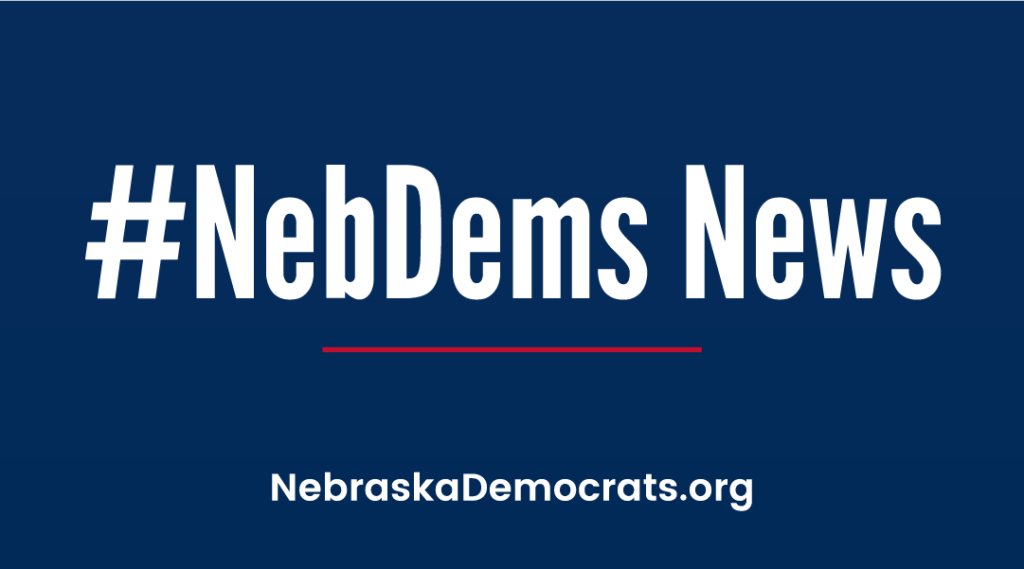 ---
If you were able to avoid the terribly torturous rally last Sunday as former President Trump stumped for Republican gubernatorial candidate Charles Herbster, count yourself fortunate.
The seven-hour event, capped by nearly two hours of one of Trump's patented stream-of-consciousness "speeches," was truly horrifying.
It will be interesting to see how much of the radical Trump-Herbster base remains supportive in Tuesday's primary election.
On the Democratic side, we are beating the drum for our gubernatorial candidate, state Sen. Carol Blood, who will focus on working for all Nebraskans — unlike Herbster, who is consumed with denying accusations that he engaged in sexual misconduct.
***
A a draft opinion circulated indicating the Supreme Court's intent to overturn Roe v. Wade. Given the additional powers this anticipated decision will yield to state and territorial legislatures, the listed State Parties signed on to jointly offer the following statement:
"The shockwaves of Donald Trump's presidency are neither gone nor forgotten. We are heartbroken – but not surprised – to see the draft opinion of the United States Supreme Court indicating it intends to overturn a half-century constitutional jurisprudence in Dobbs v. Jackson Women's Health Organization.
***
Monday is the LAST day you can vote in person at your county election office.
***
And see a list of all of our great Democratic candidates!
***
Join the Democratic Congressional Campaign Committee for a series of CD2 Volunteer Leader Training workshops! We will learn the fundamentals of how to become a volunteer leader, conduct in-person voter registration activities, and the best practices of our Direct Voter Contact operations as part of our organizing plan for NE-02.
The NDP, Douglas County Democrats and Sarpy County Democrats are helping sponsor the events.
The next session is July 7. SIGN UP HERE.
***
The Nebraska Democratic Party's Executive Committee voted to submit a letter of intent to the Democratic National Committee to enter Nebraska as one of the early states in the presidential nominating calendar in 2024.
Iowa and New Hampshire have been the first and second contests since 1972. The DNC recently adopted a resolution to require states or territories to make the case for themselves to be included in a batch of five states to hold official presidential primaries ahead of Super Tuesday in early March.
***
Register now for the 51st Annual National Federation of Democratic Women Convention, which will be held via ZOOM! Early Bird registration is open now.
***
Help build the NDP and become a Monthly Donor to help us help Dems win in 2022 and beyond! We need your help!
***
Join us on a Welcome-to-the-Party call!! We cover topics such as voter registration and redistricting.
The next call is May 10. SIGN UP HERE.
If you have suggestions for topics to cover, please email gina@nebraskademocrats.org.
***
Sign up for an NDP Phone Bank! We will be calling folks who we sent a Vote-by-Mail Application.
We are also going to call/text folks to return their VBM ballots when it arrives. This will be going on monthly up until election Day (May 10 and November 8).
***
Get your NDP swag at the NDP/Shirts 101 store!
There are lots of designs, including some terrific Jomaha/Blue Dot swag!
***
We leave you this week with a rendering by Clay Jones.
–By Kevin O'Hanlon/NDP Communications Director
NOTE: #NebDems News will not be published the next two weeks due to vacation.
###

IMPORTANT DATES
May 7: NDP Phone Bank
May 9: South Omaha Weekly Canvass
May 10: Going Blue in '22 Election Watch Party in Omaha
May 10: Lancaster County Democrats Election Watch Party
May 10: Primary election
May 10: Weekly Tuesday Phone Bank to register voters in CD2
June 10-11: The National Federation of Democratic Women 51st Annual Convention via Zoom
June 18: Omaha Branch NAACP Juneteenth parade
June 25: Salute to State Senators
June 28: CD1 Special Election
July 1: Deadline for application to the NDP Women's Caucus for the Helen Boosalis Scholarship
Aug. 6: NDP Yard Sign Drive Thru in Grand Island
Aug. 6: NDP Yard Sign Drive Thru in Lincoln