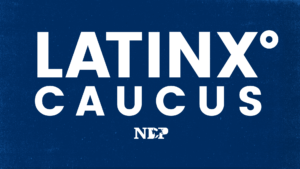 Queridos compañeros latinos de Nebraska, necesitamos asegurarnos de que nuestras voces y nuestros votos cuentan en las venideras elecciones primarias del 12 de mayo.  En las elecciones primarias vamos a determinar a quiénes queremos para candidato a la presidencia y para los cargos públicos de manera que podamos escoger a los mejores políticos que ejecutaran las políticas que afectan nuestra comunidad y el país.
Simplemente llene la forma para votar en su casa y devuelva la forma por correo, después le enviaran por correo a su casa la boleta de votación.  No tiene que salirse del trabajo ni esperar en cola en los centros de votación. Es la manera más segura de que su voz cuente, para nosotros, para nuestras familias, y para los demócratas en el 2020.
Gracias.
***
A Message from NDP Latinx Caucus Chair Dulce Sherman
Fellow Latino Nebraskans, we need to make sure our voices and votes are counted for the upcoming primary election on May 12. The primary will determine who we want as candidates for president and other offices so we can ultimately choose the best policy makers for our community and country.
Simply fill out this form to vote from home, return the form by mail and a ballot will then be sent to your home. No more leaving work and waiting in line at the polls  to vote! It's the safest way to ensure that your voice counts for us, our families and Democrats in 2020)
Thank you.