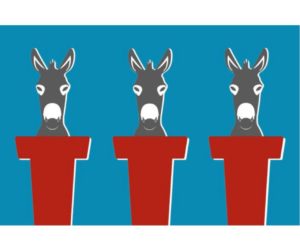 Nebraska Democrats are planning TV Watch Parties for the fifth Democratic presidential primary debate, which will be held Wednesday, Nov. 20th in the Atlanta, GA area. This debate will be co-hosted by MSNBC and The Washington Post and will be carried live by Urban One.
Grand Island
Hall County Democrats
7:30 to 10 p.m.
Community Room at Francis Villa, 1405 W. Koenig St.
Parking in back on Charles Street.
Potluck — bring your beverage of choice and snack to share.
Doors open at 7:30 p.m.
Kearney
Buffalo County Young Democrats
8 to 10 p.m.
3618 Avenue M, Kearney, NE 68847
Snacks provided.
Lincoln
Lancaster County Democratic Party
7:45 to 10 p.m.
Brewsky's, 201 N. 8th St.
Cash bar. Order food from the menu.
There's no charge to attend, but help us plan for space, reserve your seat.
Omaha
Greater Omaha Area Democrats and Nebraska Democratic Party
7:30 to 10 p.m.
B. Bar, 4330 Leavenworth St.
Food provided.
Papillion
Sarpy County Democrats
7 to 10 p.m.
Carpenters Union, 10761 Virginia Plaza, No. 102
Snacks and drinks provided.  However, all are welcome to bring their own snacks and drinks (alcohol is permitted) as well.