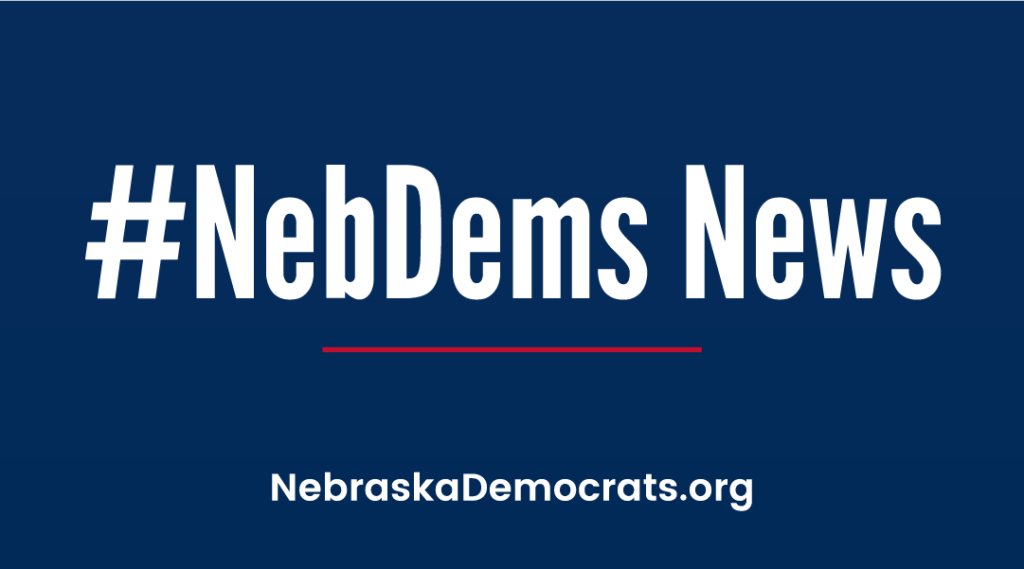 The 2022 election is past, and though we're relieved the pundit-predicted, Trump-led Republican "Red Wave" across the country never materialized, every race did not turn out like our fellow Dems and like-minded Independents hoped, it is time to invoke a signature maxim of the late Frank LaMere, former vice chair of the NDP and a chair of the National Native American Caucus: "There is work to be done."
Indeed.
The outcome of two important races for the Nebraska Legislature may not be known for at least two weeks, as outstanding votes are still being tallied. But we have a legal team in place working to monitor results. We may have an indication in a few days on the trajectory.
Nebraska Democrats John Fredrickson in Omaha's District 20 and George Dungan in Lincoln's District 26 are on track to win their seats, which will determine the future of abortion access and other critical issues where Democrats are able to utilize a filibuster to get radical Republicans' bills in check.
Incumbents Wendy DeBoer, Megan Hunt and Machaela Cavanaugh all won their re-elections. New state senators include Jane Raybould and Danielle Conrad.
Democratic gubernatorial candidate Sen. Carol Blood promised to carry on that fight in the Legislature.
"Election Day is over," Blood said in a statement to supporters. "Our fight for a better Nebraska has not ended. Although we did not win the governor's race, our spirit and determination has not been extinguished. I remind you that I have two years left in the Nebraska Legislature and my plan is to continue to cause some good trouble in support of our friends, family members and neighbors who need their voices to be heard across Nebraska."
Senator Vargas also has two years left in the Legislature. We are confident both Vargas and Blood return to the body with even more power and more fight in them to get things done for the people.
We know Sen. Pansing Brooks punched way above her weight and we look forward to her next steps. David Else never gave up on our rural CD3 voters and we appreciate all of the work candidates put into this cycle.
And as our old friend, Esquire's Charles Pierce, penned this week:
It's the job of the Democrats to continue to make this Republican contempt for self-government and personal autonomy a driving issue in our politics, the way that the Dobbs decision made reproductive choice a driving issue in Tuesday's election.
The work awaits.
***
President Biden issued the following proclamation for Veterans Day:
"Today, we honor generations of patriots who have earned the title of 'American veteran' — a badge of courage that unites the finest group of former service members the world has ever known. With their selfless sacrifice, our Armed Forces have forged and defended the very idea of America — a promise of freedom and equality, democracy and justice, possibility and hope. We owe them an incredible debt that can never be fully repaid."
***
If you are ready to defend our healthcare and privacy rights in the Legislature, please sign up to be notified when there are actions to take. We plan on sending postcards to senators who voted against critical issues and work with allied groups.
***
Will you help protect our voting rights? We have a chance to shape how lawmakers shape the Voter ID measure approved by voters Tuesday. We also will help people get an ID if needed before the 2024 election.
***
If you want to keep up on NDP happenings and get our weekly blog as well as our daily News Clips and Talking Points, just send an email to kevin@nebraskademocrats.org
***
Help build the NDP and become a Monthly Donor to help us help Dems win! We need your help!
***
Get your NDP swag at the NDP/Shirts 101 store! There are lots of designs from which to choose.

***
We leave you this week with a rendering by Drew Sheneman.
–By Kevin O'Hanlon/NDP Communications Director
NOTE: If you'd like to receive #NebDems News via email, just let us know by sending a note to: info@nebraskademocrats.org
###
See NDP events here.

IMPORTANT DATES

Nov. 22: Welcome to the Party Call
Dec. 12: Cocoa, Cookies, and Conversations Tri-Cities
Dec. 13: Cocoa, Cookies, and Conversations Lincoln
Dec. 14: Cocoa, Cookies, and Conversations Omaha
Dec. 17: Cocoa, Cookies, and Conversations Virtual (after SCC meeting)
Jan. 4: Nebraska Legislature convenes