Democratic Leaders Decry Racist Facebook Post by Millard School Board Member Mike Kennedy
Nebraska Democratic leaders on Sunday decried as racist a Facebook post by Millard school board member Mike Kennedy that demeaned U.S. Sen. Elizabeth Warren — who has been been referred to by President Trump as "Pocahontas" because of her Native American heritage.
Kennedy posted a photo Friday of an Iowa highway exit sign for the towns of Rockwell City and Pocahontas and wrote "Looks like Elizabeth Warren is already stumping in Iowa for 2020."
Warren is mulling a run for president in 2020.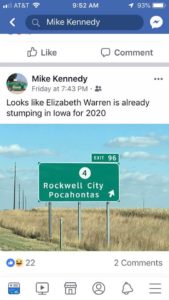 "Racism has no place in our state," said Nebraska Democratic Party Chair Jane Kleeb. "Mike Kennedy's post about Elizabeth Warren is racist. He does not belong anywhere near the Millard Public Schools board."
Frank LaMere, vice chair of the Nebraska Democratic Party and a member of the Winnebago Tribe of Nebraska, said the post by the GOP board member was insulting.
"Almost two decades ago, students at Millard South High School called for the end and the retirement of their Indian mascot because of the stereotypes it perpetuated and because of the subtle and blatant racism it conveyed. Now this." LaMere said. "Mike Kennedy needs to end his run for school board and apologize to Native Americans across Nebraska and to their matriarchs and women he jokes about."
Democrat Dulce Sherman, who is running for a seat on the Millard school board, said: "The Millard schools student body consists of 22 percent minorities. Comments like that made on social media by Mike Kennedy demeans those students and sends the message that he doesn't care about them."
###