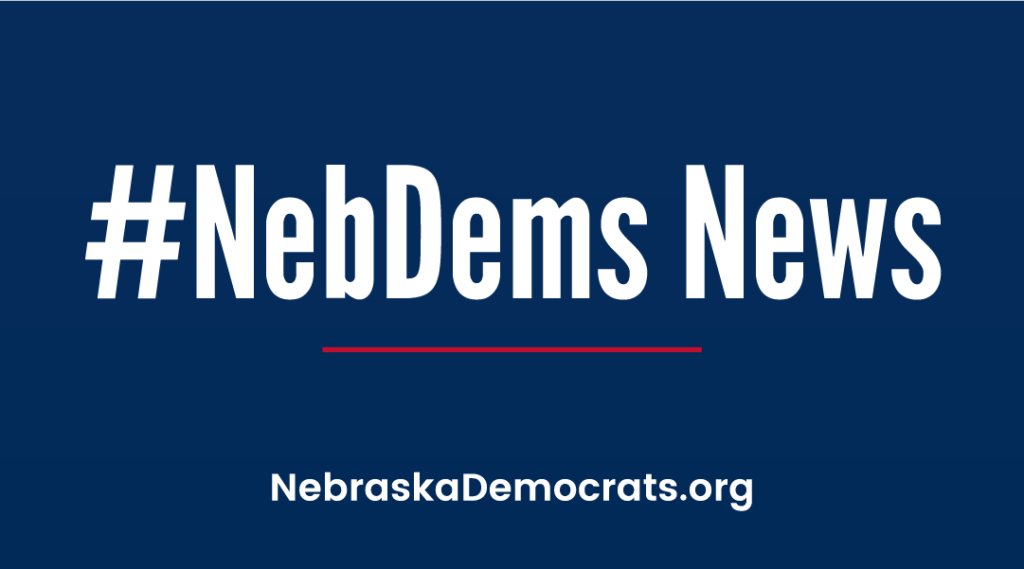 As we marked Earth Day on Friday, Gov. Pete Rickets assembled a clown car of speakers — including Colorado Rep. Lauren Boebert — in Lincoln for a conference deriding President Biden's "America the Beautiful" plan, which has a goal to conserve 30 percent of America's lands and waters by 2030.
The event caught the eye of former Sen. Ben Nelson, who penned a guest editorial in Friday's Lincoln Journal Star
As young boy growing up in McCook, my dad and I spent a great deal of time fishing in the Sandhills. And during summers I served on the staff of the Boy Scout Camp Opal Springs in Wellfleet. So I've always known what a treasure the Sandhills are for Nebraska.
I was recently thinking about Earth Day and these irreplaceable resources we have in our state. The Sandhills are the largest intact grassland in the world. The Platte River plays host to hundreds of thousands of cranes every year on their annual migration. And our lands and waters support a diverse and robust agricultural economy that helps feed the world.
It can be easy to forget that our own lives, economy and culture all depend on nature for clean air, drinking water and food. And it can be difficult to face that our natural world has been changing at a rapid rate.
With its "America the Beautiful" initiative (or 30×30 for shorthand), the government expressed a "commitment to supporting the voluntary conservation efforts of farmers, ranchers, and fishers; and honoring of Tribal sovereignty and private property rights."
Unfortunately, there has been a lot of disinformation about the initiative. I would agree with critics who say the administration should have been clearer about the proposal. Regardless, I believe its objectives are good, entirely voluntary and that Nebraska would be wise to embrace it.
America the Beautiful aims to give more resources to farmers and ranchers to help them meet accelerated food demand without sacrificing the lands, water and wildlife we all value and need.
Some politicians, though, have been spreading false messages about the America the Beautiful initiative, calling it a "federal land grab." In fact, on Earth Day, Friday, Gov. Pete Ricketts is hosting a summit to build opposition to the initiative. If their portrayal of it were accurate, I would never advocate for it.
But I truly believe America the Beautiful provides the opportunity of a lifetime for collaborative conservation action that works with private landowners rather than restricting their rights.
So this Earth Day, please help me push back against extremist and divisive rhetoric. Learn more about the voluntary America the Beautiful initiative.
Amen
***
It is with great sadness that we note the death of former state senator and U.S. Rep Brad Ashford, who passed away after a battle with brain cancer.
"Representative Brad Ashford was a hero to many," said NDP Chair Jane Kleeb. "He served the people of the state with pride, skill and grace. Brad was a rare public servant who had a true, unselfish heart. May we all strive to build bridges in order to find common ground just like Brad did every day."
Said NDP Executive Director Precious McKesson: "Brad Ashford was a great representative of Nebraska. The work he did for our veterans and underserved communities will always be remembered. Brad was loved by many and will be missed."
The funeral will be held at Christ the King Catholic Church, located at 654 S. 86th St., at 10 a.m. Saturday, with burial services to follow at Forest Lawn Cemetery in north Omaha.
Livestream details are still being finalized, according to a Facebook post from the family.

***
A tip of the hat to our 17 Democratic lawmakers, who finished a grueling legislative session Wednesday. And farewell to Sens. Steve Lathrop, Patty Pansing Brooks,  Matt Hansen and Adam Morfeld, who marked their last session.
Thank you, all.
***
Speaking of state lawmakers, it's time to get your tickets and tables for the Salute to State Senators in June 25 in Lincoln!
***
Nebraska's county election commissioners are mailing out Vote-by-Mail ballots for the May 10 primary! Make sure you fill yours out and mail it in.
Also, in-person early voting at county election commissioner offices has started.
***
Register now for the 51st Annual National Federation of Democratic Women Convention, which will be held via ZOOM!
Early-Bird registration is open now.
***
Convicted Rep. Jeff Fortenberry (R-NE) punctuated his plunge from political grace with a campaign finance report for the ages, taking out a home loan and selling his own campaign vehicle for quick cash after legal expenses torched hundreds of thousands of dollars of his donors' money, according to The Daily Beast.
A federal disclosure submitted last week shows the Fortenberry campaign chucking nearly a million dollars into a legal sea over the first three months of the year, about $100,000 more than it had in the bank to begin with. The vast majority of that money vanished into costs associated with the Republican's failed legal defense, including nearly $600,000 in attorney's fees in the months before his March trial.
***
Join the Democratic Congressional Campaign Committee for a series of CD2 Volunteer Leader Training workshops! We will learn the fundamentals of how to become a volunteer leader, conduct in-person voter registration activities, and the best practices of our Direct Voter Contact operations as part of our organizing plan for NE-02.
The NDP, Douglas County Democrats and Sarpy County Democrats are helping sponsor the events.
The next session is June 7. Sign up here.
***
Register to vote and more at the NDP at the NDP Voting Center.
***
Help build the NDP and become a Monthly Donor to help us help Dems win in 2022 and beyond! We need your help!
***
Join us on a Welcome-to-the-Party call!! We cover topics such as voter registration and redistricting.
The next call is April 26. Sign up here.
If you have suggestions for topics to cover, please email gina@nebraskademocrats.org.
***
Sign up for an NDP Phone Bank! We will be calling folks who we sent a Vote-by-Mail Application.
We are also going to call/text folks to return their VBM ballots when it arrives. This will be going on monthly up until election Day (May 10 and November 8).
***
Get your NDP swag at the NDP/Shirts 101 store!
There are lots of designs, including some terrific Jomaha/Blue Dot swag!
***
We leave you this week with a rendering by Drew Sheneman.
–By Kevin O'Hanlon/NDP Communications Director
NOTE: If you'd like to receive #NebDems News via email, just let us know by sending a note to: info@nebraskademocrats.org
###

IMPORTANT DATES
April 23: EQUALITY FOR ALL – Nebraska Women's March-Grand Island
April 23: Douglas County Democrats Yard Sign/Candidates West Omaha event
April 23: Douglas County Democrats Yard Sign/Candidates South Omaha event
April 24: Patty Pansing Brooks for Congress Yard Sign event in Lincoln
April 24: Democratic gubernatorial candidate Sen. Carol Blood meet and greet in McCook
April 24: Democratic gubernatorial candidate Sen. Carol Blood meet and greet in Imperial
April 24: Democratic gubernatorial candidate Sen. Carol Blood meet and greet in Ogallala
April 25: Democratic gubernatorial candidate Sen. Carol Blood meet and greet in Lexington
April 25: Democratic gubernatorial candidate Sen. Carol Blood meet and greet in Holdrege
April 25: Democratic gubernatorial candidate Sen. Carol Blood meet and greet in Aurora
April 26: Democratic gubernatorial candidate Sen. Carol Blood meet and greet in Geneva
April 26: Weekly Tuesday Phone Bank to register voters in CD2
April 26: Welcome-to-the-Party call
April 28: Weekly Thursday Phone Bank to register voters in CD2
April 30: Lancaster County Patriots Dinner
May 3:  CD2 Volunteer Leader Training workshop
May 7: NDP Phone Bank
May 10: Primary election
June 10-11: The National Federation of Democratic Women 51st Annual Convention via Zoom
June 18: Omaha Branch NAACP Juneteenth parade
June 25: Salute to State Senators
June 28: CD1 Special Election
July 1: Deadline for application to the NDP Women's Caucus for the Helen Boosalis Scholarship
Aug. 6: NDP Yard Sign Drive Thru in Grand Island
Aug. 6: NDP Yard Sign Drive Thru in Lincoln