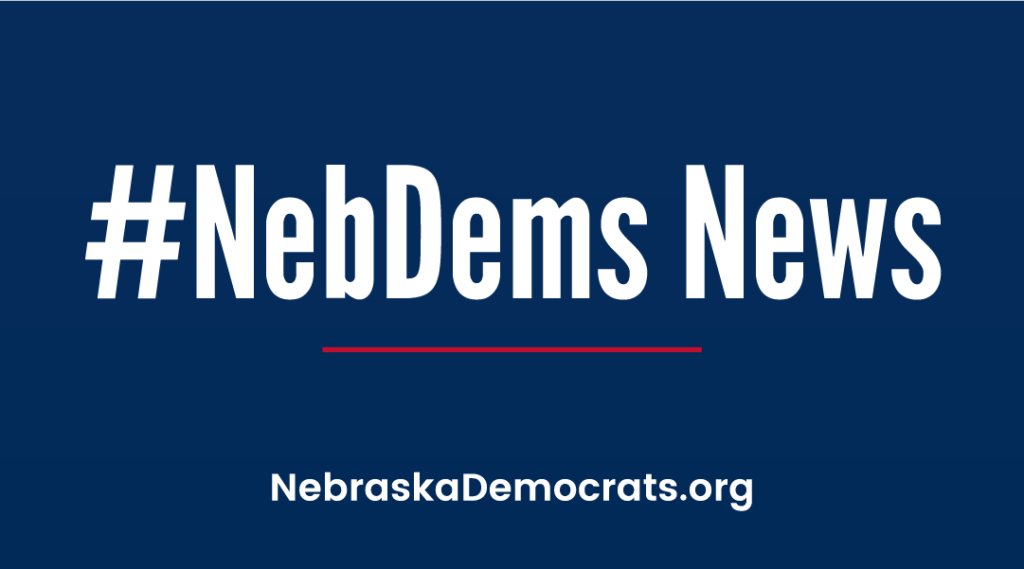 Gov. Pete Ricketts and University of Nebraska Regent Jim Pillen, who is running for the GOP gubernatorial nomination, made buffoons of themselves this past week by huffing and puffing and pitching hissy fits over the playing of "Lift Every Voice and Sing" before University of Nebraska basketball games.
The playing of the song, often referred to as the Black national anthem, began last season when the National Association of Basketball Coaches encouraged schools to play it, along with "The Star-Spangled Banner" before games "as a show of unity and education."
Ricketts and Pillen would have none of that.
"There is only one national anthem for the United States: It's the 'Star-Spangled Banner,'" said Ricketts in a statement. "It's a symbol of our national unity and it's the only anthem for America that should be played before Husker games. If athletic programs are going to play other 'anthems' before games, what has historically been a moment of patriotic pride will become nothing more than a series of political gestures that will divide Nebraskans based on their identity rather than bringing us together."
Ricketts' statement came one day after Pillen released a similar statement.
"I just heard about another 'National Anthem' being played before games — and like most Nebraskans, I'm asking what the heck?" Pillen's statement read. "Having another "national anthem" that drives division is wrong. The National Anthem is the song of our country. It celebrates the ultimate sacrifice by thousands in defense of our constitutional freedoms, and it unites us as Americans. I'll always stand up for our liberties and freedoms for which generations of Americans have sacrificed."
The Nebraska basketball team has 10 Black players, as well as athletes from Japan, Lithuania, England, Australia and 10 U.S. states, and a staff member from Italy.
"For us, we feel sport can hopefully help be an example," said NU men's coach Fred Hoiberg. "We have players from all over the country, all over the world, that have to come together and play for each other, and be one, and come together. And obviously, we need to be better in our country in that area."
But Ricketts and Pillen and people of their ilk just don't give a damn.
,***
Our Morrison-Exon event, our annual fundraiser where we celebrate the volunteers and party leaders who build and grow the Nebraska Democratic Party, is tomorrow, Nov. 13 and will be held virtually.
There is still time to get tickets to the Morrison-Exon event here.
Speakers include:
Sen. Amy Klobuchar
Sen. Ben Nelson
Rep. Ro Khanna
Sen. Carol Blood
Sen. Patty Pansing Brooks
Sen. Tony Vargas
Alisha Shelton
Cornelius Williams
***
In case you missed it, NDP Chair Jane Kleeb had an article published this week in "The Nation" about the struggle by Democrats to win rural votes.
"No matter how much you try to dress it up, last week's election results make it clear that Democrats have a rural problem. The failure to even seriously contest—let alone win—statehouses and congressional seats over so much of the electoral map leaves the party perpetually behind. Our party has relied on suburban moms and black women to save the day repeatedly. They have capes—don't get me wrong—but they also need a coalition of voters to step up to save democracy alongside them."
***
Union workers at the Kellogg's plant in Omaha and across the country remain on strike against cuts to benefits earned by hard work and years of service to the company, threats to move jobs to Mexico, and treatment of new hires.
– Fourteen John Deere factories, mostly in the midwest, are on strike to protest union workers' shrinking pay and benefits while the company's bottom line continues to increase.
– The National Farmers Union continues its campaign to fight corporate consolidation that has forced small ranchers to sell cattle at a loss, while the four major meatpacking corporations hike up prices at the grocery store.
Will you stand with them? Add your name to the petition now.
***
The "Blood Drives … across Nebraska" tour last week was a huge success. Sen. Carol Blood was joined by NDP Chair Jane Kleeb for a drive across the state as part of Blood's gubernatorial campaign.
There were stops in Kearney, North Platte, Ogallala, Scottsbluff, Hastings and York. There was plenty of local press coverage in newspapers, TV and radio.
***
If you want to get our daily compilation of the top news and DNC talking points PLUS our weekly blog, just send an email to kevin@nebraskademocrats.org
***
Help build the NDP and become a Monthly Donor!
You can help us help Dems win!

***
Our series of training for campaigns, led by state Sen. Carol Blood, continues.
The next session is Nov. 28: Participatory Democracy in Campaigns
***
Join us on a Welcome-to-the-Party call!! We are excited to cover topics such as voter registration and redistricting. We also will be giving our caucuses and councils the floor to talk about their goals and how you can get involved.
The next call is Nov. 16 Sign up here.
If you have suggestions for topics to cover, please email gina@nebraskademocrats.org.
***
Get your NDP swag at the NDP/Shirts 101 store!
There are lots of designs, including some terrific Jomaha/Blue Dot swag!
***
We leave you this week with a rendering by Stuart Carlson.
–By Kevin O'Hanlon/NDP Communications Director
NOTE: If you'd like to receive #NebDems News via email, just let us know by sending a note to: info@nebraskademocrats.org
###

IMPORTANT DATES

Nov. 11: Ron Hug re-election kickoff for Metropolitan Community College Board
Nov. 13: Morrison-Exon event
Nov. 15:  An exciting announcement from Sen. Patty Pansing Brooks!
Nov. 16: Welcome to the Party
Nov. 23: Greg Gonzalez For Douglas County Sheriff campaign kickoff
Nov. 28: NDP Training — Participatory Democracy in Campaigns
Nov. 30: Welcome to the Party
Dec.6: Jay Pitts for Lancaster County Sheriff campaign kickoff