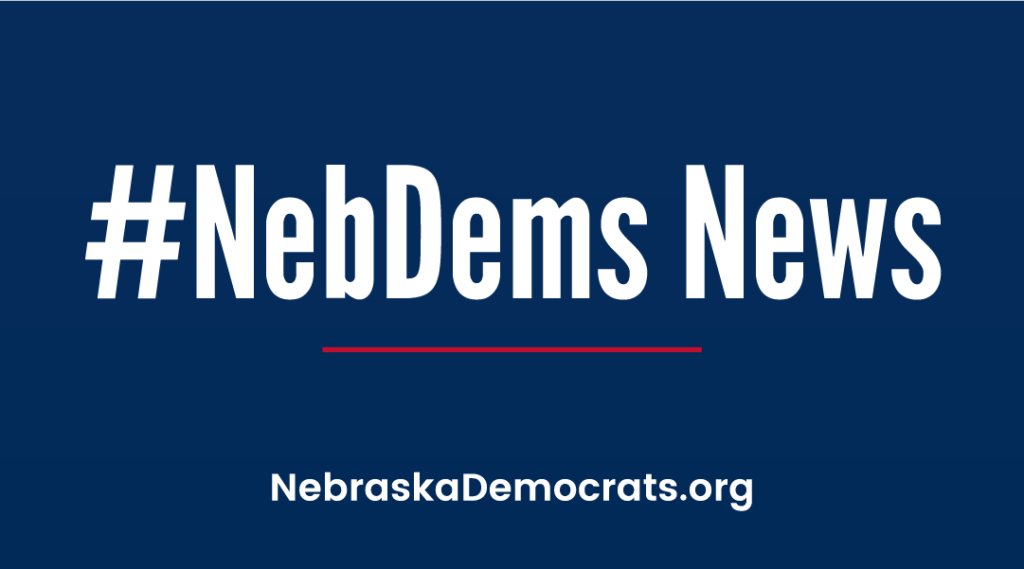 Well, well, well. The races for Nebraska's 1st and 2nd congressional districts just got a lot more interesting. Intriguingly interesting.
Sen. Patty Pansing Brooks came oh-so-close to beating then Sen. Mike Flood in the CD1 special election to fill the remaining term of Jeff Fortenberry, who resigned after being found guilty of lying to the FBI about illegal campaign donations.
The special election came soon after the U.S. Supreme Court overturned Roe v. Wade and women's abortion rights. And now it appears the rage over that ruling and efforts by the Republican Party to erode reproductive rights is getting more intense.
That was apparent Tuesday, when Kansas voters rejected an effort to strip away their state's abortion protections, sending a decisive message about the issue's popularity in the first political test since the Roe v. Wade ruling.
NDP Chair Jane Kleeb said she believes the voters of Kansas sent a clear message to candidates and political parties to protect abortion rights and that the outcome has impacted the election battleground in Nebraska. "The message is loud and clear to the national (Democratic) party and to national donors that red states (like Nebraska) are worth investing in," Kleeb said.
This not only spells bad news for 2nd District Rep Don Bacon, who's left to defend his dangerous anti-choice positions in his race with Sen. Tony Vargas, but national pundits like Simon Rosenberg took notice of how it will help Pansing Brooks against Flood in the November general election.
Stay tuned, folks.
***
Speaking of congressional races, there was big new earlier today when the Cook Political Report moved the Tony Vargas-Don Bacon race to "toss-up" status.
***
Join us this Saturday, Aug. 6, in Lincoln, Omaha, Grand Island and Hastings for our Yard Sign Drive-Thru Parties!
Get yard signs for candidates and information on voting by mail and registering to vote.
Sign up here:
***
Please join us in welcoming Jordan Smith as an NDP Coordinated Campaign Field Organizer.
Jordan , who lives in Gretna, is a graduate of Nebraska Wesleyan University.
She has extensive political experience, including stints with the Borgen Project in Seattle — a nonprofit organization that is addressing poverty and hunger — Christa Yoakum campaign for County Commissioner, the Sen. Kate Bolz campaign, Sen. Carol Blood and as a Democratic staff intern for the U.S. Senate Committee on Rules and Administration.

***
In case you missed it, the Nebraska Examiner had an interesting story this week on the confusion over congressional districts caused by redistricting. Voters in limbo: Who's in 1st? What's in 2nd? And, 3rd, I don't know which House member to call.
WAHOO, Nebraska — Residents of this Saunders County town 45 miles west of Omaha and 30 miles north of Lincoln are living in something of a congressional limbo these days. Until early next January, Congress considers them part of Nebraska's 1st Congressional District, as they have been since the 1960s. But they have had no say in who represents them in Congress from now until then. Meanwhile, just to the east in Sarpy County, residents in Papillion and La Vista got to vote in the June 28 special election to choose the 1st District representative through the end of the year. But Papillion and La Vista residents can't get help from newly elected U.S. Rep. Mike Flood with any federal issues, because a House rule considers them still part of the 2nd Congressional District.
***
You can now request to vote by mail for the Nov. 8 election! Fill out this form and we'll help you get a ballot.

***
And speaking on the general election, see all of our great Democratic candidates!
***
The NDP has launched a "Flip that Bacon" website to target Rep. Don Bacon's 2nd District congressional seat this year.
The Democratic Congressional Campaign Committee has CD2 as one of its 22 competitive House districts that are either open or held by Republicans.
Click here to go to the Flip that Bacon site.
At the bottom of the home page is a timeline slider listing Bacon's gaffes and horrible votes and positions during his time in office.
Also, click here to download and share Flip that Bacon graphics on social media!

***
It's county fair, festival and parade season, and the NDP has launched a Mobile Office project designed to help our party better communicate with and serve our communities across the state.
The Mobile Offices will allow us to provide our local parties with a comprehensive and professional kit that can be used for fairs, parades, voter registration drives and more.
They are available to county parties, affiliated caucus and policy councils and other Democratic operatives across the state.
Each Mobile Office contains a canopy tent for outdoor use, parade banner, table, comprehensive collection of literature, a wide range of basic tabling items, first aid kit and optional display components upon request.
Fill out the NDP Mobile Office request form!

See our Rural Outreach page.
***
The NDP Coordinated Campaign is hiring Organizers to work in the Second Congressional District area (Douglas, Saunders, part of Sarpy).
Please send your resume and cover letter to info@nebraskademocrats.org. #NebDems
***
Join Senator Blood on Aug. 30 for another great NPD training! Subject: Measure What We Treasure; How we can use certain metrics and data to better reach voters and budget campaign expenses.
***
Help build the NDP and become a Monthly Donor to help us help Dems win in 2022 and beyond! We need your help!
***
Join us on a Welcome-to-the-Party call!! We cover topics such as voter registration and redistricting.
The next call is Aug. 9. Sign up here.
If you have suggestions for topics to cover, please email gina@nebraskademocrats.org.
***
Sign up to serve as a Block Captain — you get assigned 50 voters in your neighborhood. We provide the training and materials. You provide about two hours in September and two hours in October to help elect Dems!
Sign up here for an NDP Block Captain Training!
The Block Captain program is our neighborhood organizing program.
***
Get your NDP swag at the NDP/Shirts 101 store! There are lots of designs from which to choose.
***
We leave you this week with a rendering by Mike Luckovich.
–By Kevin O'Hanlon/NDP Communications Director
NOTE: If you'd like to receive #NebDems News via email, just let us know by sending a note to: info@nebraskademocrats.org
###
See NDP events here.

IMPORTANT DATES
Aug. 5-7: York County Democrats at the York County Fair
Aug. 6: NDP Yard Sign Drive-Thru in Lincoln
Aug. 6: NDP Yard Sign Drive-Thru in Omaha
Aug. 6: NDP Yard Sign Drive-Thru in Hastings
Aug. 6: March with Blood for Governor at the Czech Festival Parade
Aug. 6: March in the Sarpy County Grand Parade with Sen. Patty Pansing Brooks
Aug. 9: Welcome to the Party call
Aug. 9: Weekly Tuesday Phone Bank
Aug. 9: Douglas County Democrats Candidate Meet and Greet
Aug. 9: Welcome to the Party call
Aug. 11: NDP Block Captain Training
Aug. 12: Helen Boosalis Inspiring Women Luncheon
Aug. 12: Sarpy County Democrats Legacy Dinner
Aug. 14: Blood For Governor General Election Kick-Off Celebration and Fundraiser
Aug. 16: Weekly Tuesday Phone Bank
Aug. 20: March with Blood for Governor At The Arrows to Aerospace Parade
Aug. 23: Welcome to the Party call
Aug. 30: NDP Campaign Training with Sen. Carol Blood
Oct 14: Morrison Exon event
Sept. 22: NDP Block Captain Training
Nov. 8: General Election