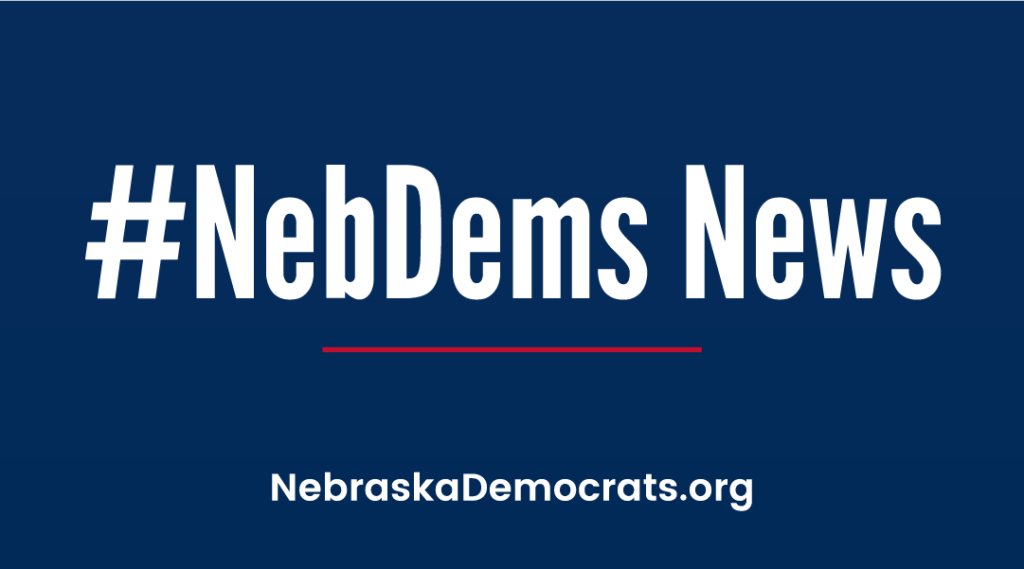 Those who follow the Nebraska Legislature have noticed that recently elected Republican Rep. Mike Flood — a former state senator — has changed. Morphed into something he once was not.
Flood barely beat Democratic state Sen. Patty Pansing Brooks in a special election to fill the CD1 seat vacated after Rep. Jeff Fortenberry was convicted of lying to the FBI about illegal campaign donations. (Flood and Pansing Brooks will face off again in the Nov. 8 general election.)
Flood's transformation was noted in the Daily Kos.
During his first eight years in the Nebraska legislature between 2005 and 2013, Mike Flood conducted himself as a moderate who worked across party lines to get things done. During his second stint in the legislature during 2021 and 2022, Flood morphed into a hardcore, right wing GOP partisan. Similarly, Flood has campaigned as a bitter partisan for the U.S. House in 2022.
The extreme partisan version of Mike Flood is the one who was elected to the U.S. House on June 28, 2022. Under the law, it is House Speaker Nancy Pelosi who administers the oath. But that wasn't good enough for Flood. The new Nebraska CD1 incumbent was also sworn in by House Minority Leader Kevin McCarthy to show his fealty to his party bosses, Donald Trump and the radical elements in the GOP base.
Mike Flood followed up that partisan start with initial votes that were extreme and out of the mainstream. Flood voted against an Amber Alert-type warning system for active shooters and an amendment to monitor white supremacy in the military and law enforcement.
Subsequently, Flood voted against a bill that would've codified Roe and protected a women's constitutional right to travel to another state to receive an abortion. The bill that Flood opposed also contained a provision that would protect people from frivolous lawsuits who assist family members and friends to obtain an abortion in a state where they do not reside. Flood even voted against allowing the interstate mailing of abortion pills that have been approved by the FDA.
These votes in the U.S. House are 100% consistent with Flood's recent record in the legislature. As a state senator, Mike Flood co-sponsored an abortion ban without any exceptions for rape and incest. If it was up to Flood, the 10-year-old rape victim would've been denied an abortion and forced to give birth to her rapist's child.
We can do better than Mike Flood in Nebraska CD1. We can all vote for Patty Pansing Brooks on November 8.
And as if the above was not enough, Flood this week voted against a bill sanctifying same-sex and mixed-race marriages and another enshrining the right to use contraceptives into law.
***
You can now request to vote by mail for the Nov. 8 election! Fill out this form and we'll help you get a ballot.

***
And speaking on the general election, see all of our great Democratic candidates!
***
Join us Aug. 6 in Lincoln, Omaha, Grand Island and Hastings for our Yard Sign Drive-Thru Parties!
Get yard signs for candidates and information on voting by mail and registering to vote.
Sign up here:
***
The NDP has launched a "Flip that Bacon" website to target Rep. Don Bacon's 2nd District congressional seat this year.
The Democratic Congressional Campaign Committee has CD2 as one of its 22 competitive House districts that are either open or held by Republicans.
Click here to go to the Flip that Bacon site.
At the bottom of the home page is a timeline slider listing Bacon's gaffes and horrible votes and positions during his time in office.
Also, click here to download and share Flip that Bacon graphics on social media!

***
If you want to keep up on NDP happenings and get our weekly blog as well as our daily News Clips and Talking Points, just send an email to kevin@nebraskademocrats.org
***
It's county fair, festival and parade season, and the NDP has launched a Mobile Office project designed to help our party better communicate with and serve our communities across the state.
The Mobile Offices will allow us to provide our local parties with a comprehensive and professional kit that can be used for fairs, parades, voter registration drives and more.
They are available to county parties, affiliated caucus and policy councils and other Democratic operatives across the state.
Each Mobile Office contains a canopy tent for outdoor use, parade banner, table, comprehensive collection of literature, a wide range of basic tabling items, first aid kit and optional display components upon request.
Fill out the NDP Mobile Office request form!

See our Rural Outreach page.
***
The NDP Coordinated Campaign is hiring Organizers to work in the Second Congressional District area (Douglas, Saunders, part of Sarpy).
Please send your resume and cover letter to info@nebraskademocrats.org. #NebDems
***
Help build the NDP and become a Monthly Donor to help us help Dems win in 2022 and beyond! We need your help!
***
Join us on a Welcome-to-the-Party call!! We cover topics such as voter registration and redistricting.
The next call is July 26. Sign up here.
If you have suggestions for topics to cover, please email gina@nebraskademocrats.org.
***
Sign up here for an NDP Block Captain Training!
The Block Captain program is our neighborhood organizing program.
***
Get your NDP swag at the NDP/Shirts 101 store! There are lots of designs from which to choose.
***
We leave you this week with a rendering by Bill Bramhall.
–By Kevin O'Hanlon/NDP Communications Director
NOTE: If you'd like to receive #NebDems News via email, just let us know by sending a note to: info@nebraskademocrats.org
###
See NDP events here.

IMPORTANT DATES

July 23:  Democrats Defend Choice attend "Rise Up 4 Abortion Rights"
July 23: Gretna canvassing event with Angie Lauritsen for Legislature

July 23: Sen. Tony Vargas for Congress Weekend of Action
July 24: Coffee and Cards postcard event in Gretna
July 26: Welcome to the Party call
July 26: Weekly Tuesday Phone Bank
July 28: George Dungan for Legislature General Election Kickoff
July 28: Lancaster County Dems at the Lancaster County Super Fair
July 28: Saunders County Fair (Wahoo) parade with Tony Vargas for Congress
July 28: March with Carol Blood for Governor at the Saunders County Fair parade
July 30: Walk with Patty Pansing Brooks for Congress in the Hickman Hay Days Parade
July 30: March with Blood for Governor at the Otoe County Fair Parade
July 30: Walk With Angie Lauritsen for Legislature at Gretna Days
July 30: DCDP Lit Drop for state-wide candidates
July 30: Benson Days Unity Parade with Team Tony
Aug. 2: CD2 Volunteer Leader Training Workshop Series
Aug. 2: Weekly Tuesday Phone Bank
Aug. 4-7: York County Democrats at the York County Fair
Aug. 6: NDP Yard Sign Drive-Thru in Grand Island
Aug. 6: NDP Yard Sign Drive-Thru in Lincoln
Aug. 6: NDP Yard Sign Drive-Thru in Hastings
Aug. 6: NDP Yard Sign Drive-Thru in Omaha
Aug. 6: March with Blood for Governor at the Czech Festival Parade
Aug. 9: Weekly Tuesday Phone Bank
Aug. 9: CD2 Candidate Meet and Greet
Aug. 11: NDP Block Captain Training
Aug. 16: Weekly Tuesday Phone Bank
Aug. 20: March with Blood for Governor At The Arrows to Aerospace Parade
Oct 14: Morrison Exon event
Sept. 22: NDP Block Captain Training
Nov. 8: General Election