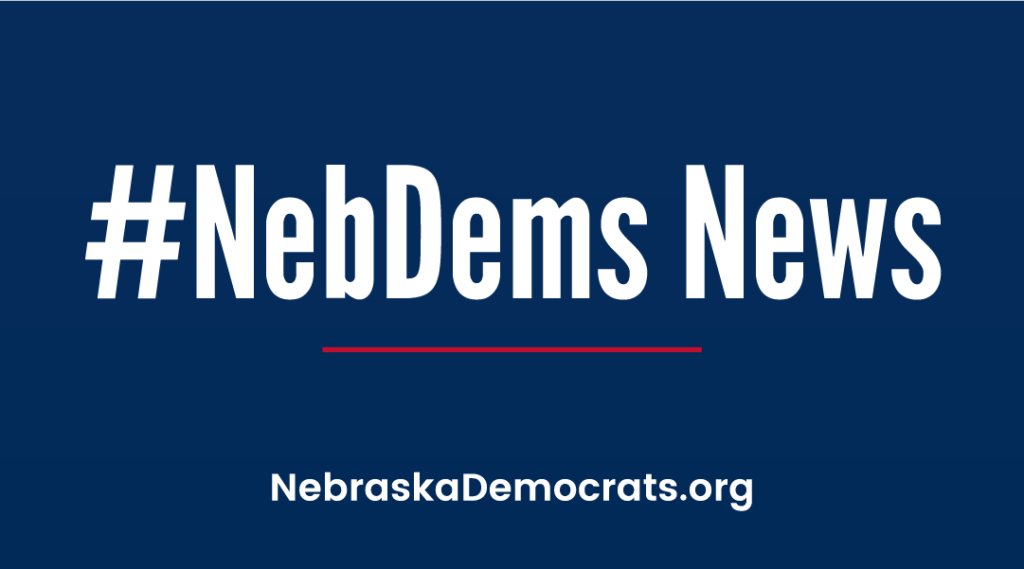 Well, Gov. Pete "Gosh My Daddy's Rich" Ricketts made another bone-headed utterance this week, this time in a full "Reefer Madness" rant about efforts to legalize medical cannabis in Nebraska.
"This is a dangerous drug that will impact our kids," Ricketts said. "If you legalize marijuana, you're gonna kill your kids. That's what the data shows from around the country."
Yes, he actually said that.
And Pete Wade took issue with Ricketts in Rolling Stone.
Ricketts held a press conference this week to rail against a bill that would only make marijuana legal if it were recommended by a health care practitioner, come in oil form, pills, or tinctures. Additionally, the legislation would not make smoking marijuana, even in the privacy of a patient's home, legal.
Ricketts said the legalization movement is "big industry" trying to skirt federal regulations at the state level.
But Ricketts doesn't seem to have the same concerns about alcohol that he does marijuana. Just two days ago, as USA Today pointed out, he endorsed a bill that would make permanent new regulations allowing customers to order alcoholic beverages with their take-out orders. And according to the CDC, "excessive alcohol use is responsible for more than 95,000 deaths in the United States each year." But you won't hear Ricketts yelling about how big take-out is killing our kids.
***
The American Rescue Plan, President Biden's historic COVID relief bill, will:
Send $1,400 direct payments to 85% of American households
Provide funding to safely reopen schools
Scale a national vaccination program to get shots into people's arms
Cut homelessness by helping about 80,000 households get permanent housing
Give direct payments to families to cover the costs of school meals that 30M kids are missing
Create a $10B Small Business Opportunity Fund to leverage even more funding, helping small businesses access risk capital
Make the largest investment in our history in Tribal governments and Native communities
Include $28B in funding to save America's public transit and protect transit workers from layoff
***
Shout out to Representative Deb Haaland of New Mexico, who made history on Monday when the Senate confirmed her as President Biden's secretary of the Interior, making her the first Native American to lead a cabinet agency.
Haaland in 2018 became one of the first two Native American women elected to the House. But her new position is particularly redolent of history because the department she now leads has spent much of its history abusing or neglecting America's Indigenous people.
***
There are several Women's Marches this month across the state. Make sure you check them out:
March 7-21: Omaha Virtual March (Ongoing)

March 20: Lincoln Women's March with U.S. Rep. Nikema Williams of GA

March 20: Tri-Cities Women's March
***
Nebraskans have been hit hard by the COVID-19 crisis. Our governor should be doing everything he can to get more shots in more Nebraskans' arms, especially those people with critical jobs and professions like our public school teachers.
Right now, Nebraska is one of the worst-ranked states in vaccinations.
The Nebraska Democratic Party is conducting a 1-question-poll in order to gauge what people all over the state think about Gov. Ricketts' leadership throughout the COVID-19 crisis.
Please let us know what you think and share with fellow Nebraskans.
***
If you are interested in helping write a couple of Letters to the Editor — or even a guest op-ed — over the next year or so, please sign up here to help us support Democrats and our ideas.
The LTE Program is fairly new, but we've had some early success, such as this letter by Virginia Fahnestock published in the Grand Island Independent:
"In typical Republican fashion, Sens. Ben Sasse and Deb Fischer, along with Reps. Don Bacon, Jeff Fortenberry and Adrian Smith, all voted against President Biden's $1.9 trillion COVID relief package, aka the American Rescue Plan (ARP)."
We can help give you pointers and show you how to submit your letter!
***
Check out our slate of great Democratic Candidates for the 2021 city elections in Lincoln and Omaha!
And see important voting information and dates at the NDP Voting Center.
Remember, early ballots for the April Primaries will be mailed out starting Monday!
***
The Republicans have launched an attack on our voting process in Nebraska at the Legislature.
As reported by the Omaha World-Herald, state Sen. Julie Slama has introduced bills requiring voters to show ID in order to cast a ballot and another measure to change the way Nebraska allocates its five Electoral College votes — which helped President Joe Biden and Vice President Kamala Harris win the White House
Both measures had hearings this week before the Government, Military and Veterans Affairs Committee.
Click here to see what you can do to help fight the measures.
Click here to read Preston Love, Jr.'s op-ed on the legislation.

***
Help build the NDP and become a Monthly Donor!
Some 550 Democrats ran in races across Nebraska in 2020 and had a 71 percent win rate. Many of the services we offered those candidates were bolstered by our Monthly Donors.
***
Welcome to the Party calls have resumed! We are excited to cover topics like city elections, voter registration and the Legislature. We also will be giving our caucuses and councils the floor to talk about their goals and how you can get involved.
The next call is March 23, with Lincoln and Omaha city candidates.
If you have suggestions for topics to cover, please email [email protected].
***
Get your Biden and NDP swag at the NDP/Shirts 101 store!
The store now features some terrific Jomaha/Blue Dot swag!
***
We leave you this week with a rendering by Ann Telnaes after Senate Minority Leader Mitch McConnell threatened a reciprocal "scorched-earth" response if the Democrats eliminate the filibuster.
–By Kevin O'Hanlon/NDP Communications Director
NOTE: If you'd like to receive #NebDems News via email, just let us know by sending a note to: [email protected]
###

IMPORTANT DATES
March 7-21: Omaha Virtual March (Ongoing)
March 20: Lincoln Women's March with U.S. Rep. Nikema Williams of GA

March 20: Tri-Cities Women's March
March 26: Last day to request a mail-in ballot for the Lincoln and Omaha city primary elections
April 6: Lincoln and Omaha Primary Elections April 6
April 6: Welcome to the Party call

April 20: Welcome to the Party call

April 23: Last day to request an early ballot by mail for the City of Lincoln general election

April 30: Last day to request an early ballot for the City of Omaha general election

May 4: Lincoln General Election

May 4: Welcome to the Party call

May 11: Omaha General Election

May 11: Welcome to the Party call