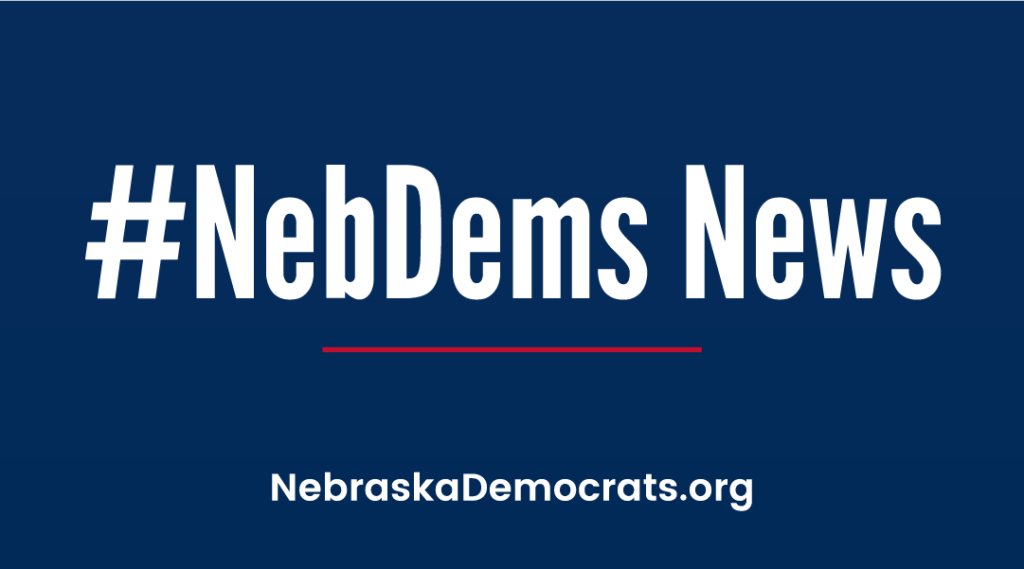 Nebraska's GOP gubernatorial race has become a nasty, slimy affair of political cannibalism and vitriol.
I mean what else can you expect when you mix oil (term-limited Gov. Pete Ricketts), gasoline (billionaire Charles W. Herbster) and fire (former president* Donald Trump)?
It's gotten sleazy enough that national media has taken notice, as did Politico this week with a fascinating read: Trump, the billionaire family and the bull semen baron who divides them.
"The monthslong saga of Herbster's rise — and Ricketts' efforts to halt it — represents the latest unusual twist in a complicated relationship at the center of Republican politics.
"The ties between the former president and the billionaire, Chicago Cubs-owning Ricketts family.
"Most of all, the episode illustrates Trump's primacy in the GOP and his willingness to spurn the party hierarchy, rebuffing a prominent governor in his own state to elevate one of Trump's original political backers, a dyed-in-the-wool loyalist who was at both Trump's 2015 presidential campaign launch and the Jan. 6 rally that preceded the deadly riot at the Capitol."
Add GOP gubernatorial candidate University of Nebraska Regent Jim Pillen and a potential candidate in former Gov. Dave Heineman to the mix and one thing becomes painfully obvious:
There ain't enough lipstick on the planet to pretty up this political pig.
***
Our Morrison-Exon event, our annual fundraiser where we celebrate the volunteers and party leaders who build and grow the Nebraska Democratic Party, is Nov. 13 and will be held virtually.
Get tickets to the Morrison-Exon event here.
Speakers include:
Sen. Ben Nelson
Rep. Ro Khanna
Sen. Carol Blood
Sen. Patty Pansing Brooks
Sen. Tony Vargas
​
***
Help build the NDP and become a Monthly Donor!
You can help us help Dems win!
***
Our series of training for campaigns, led by state Sen. Carol Blood, continues.
The next session is Nov. 29: Participatory Democracy in Campaigns
***
Join us on a Welcome-to-the-Party call!! We are excited to cover topics such as voter registration and redistricting. We also will be giving our caucuses and councils the floor to talk about their goals and how you can get involved.
The next call is Nov. 16 Sign up here.
If you have suggestions for topics to cover, please email gina@nebraskademocrats.org.
***
Get your NDP swag at the NDP/Shirts 101 store!
There are lots of designs, including some terrific Jomaha/Blue Dot swag!
***
We leave you this week with a rendering by Mike Luckovich.
–By Kevin O'Hanlon/NDP Communications Director
NOTE: If you'd like to receive #NebDems News via email, just let us know by sending a note to: info@nebraskademocrats.org


IMPORTANT DATES

Nov. 6: RuralVote.org National Rural Strategy Session
Nov. 6: Lancaster County Democrats Tailgate with Candidates
Jan. 6 Sarpy County Veterans Parade
Nov. 7: Angie Lauritsen for Legislature Campaign Kick-Off

Nov. 9: Wayne Hudson for Douglas County Sheriff Kickoff
Nov. 11: Ron Hug re-election kickoff for Metropolitan Community College Board
Nov. 13: Morrison-Exon event

Nov. 21: Welcome to the Party — Interfaith Council
Nov. 29: NDP Training — Participatory Democracy in Campaigns