We're not sharing anything new here, but let's just remind ourselves how out-of-touch Ben Sasse is. Here's the latest headline about the Senator:
From the Omaha World-Herald: Watch now: Sasse ridicules people named Jeremy (trying to joke), rips 'thugs in China' in Fremont High grad speech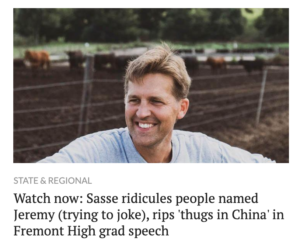 Even Fremont School Board Members were frustrated by the Senator's disgusting remarks.

On his public Facebook page, Fremont School Board Member Michael Petersen congratulated the Class of 2020 and said, 
"You deserved better than the graduation remarks from Senator Ben Sasse. The racism, implying that our graduates are fat and lazy, disparaging teachers, and attacking the mental health profession are despicable." He told Sasse in the post, "You owe the graduating students of Fremont High an apology."
We've had enough of Ben Sasse. Chip-in today and help Chris Janicek beat Sasse in November.