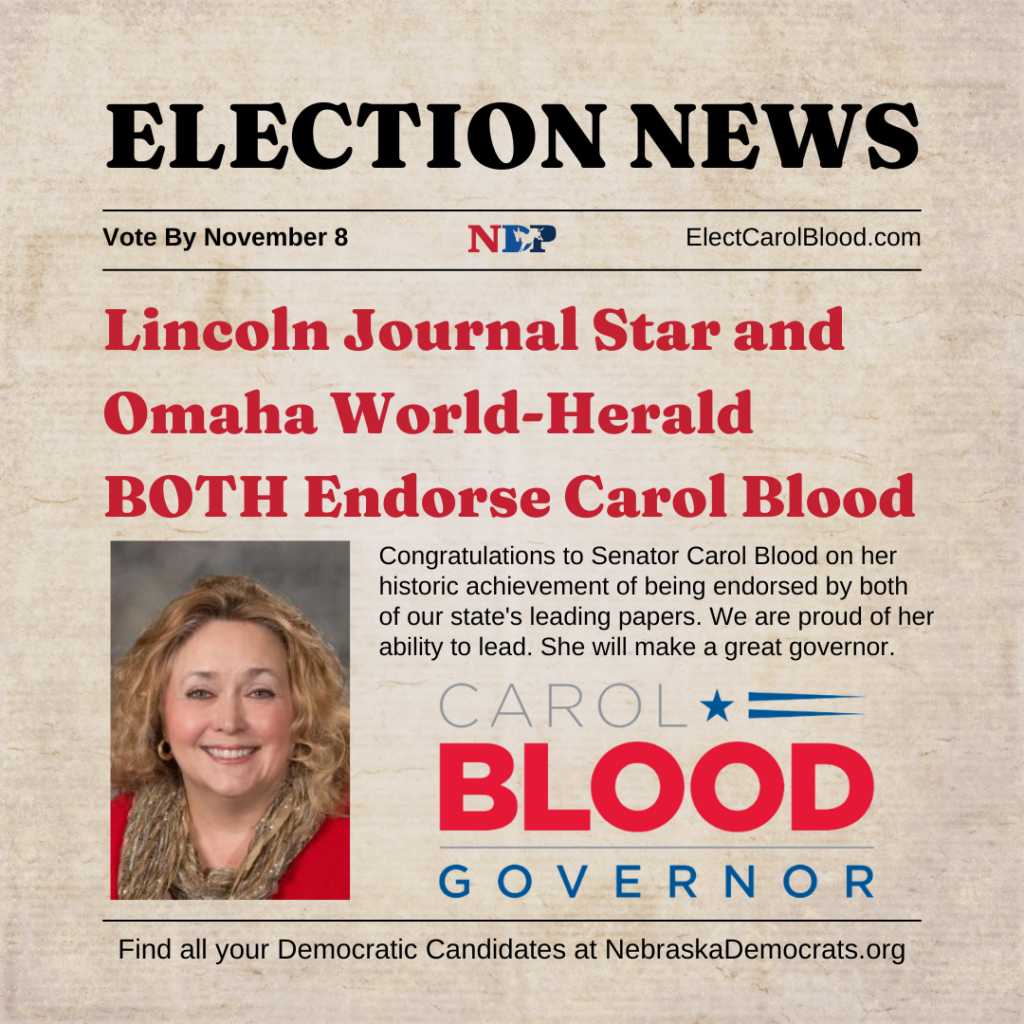 Carol Blood just accomplished something no other a Democratic candidate has in years — she was endorsed by both the Lincoln Journal Star and Omaha World-Herald.
While her Republican opponent, Jim Pillen, is too scared to debate her, Blood has been telling her story and laying out how she will govern for all of Nebraska, not just a select few at the top.
Here is what the Journal Star said:
Pillen, who was Ricketts' candidate in the hotly contested GOP primary, would largely continue the Ricketts style of governance, which along with fiscal conservatism has included attacking Democrats in Washington on many issues state government has little impact on and using the conservative majority in the Legislature to try to push through bills.
Blood, in her work on the Bellevue City Council and in her eight years in the Legislature, has taken the opposite tack, building coalitions to address issues. In fact, her initial priority would be to develop a strategic plan for Nebraska, aimed at determining statewide priorities on issues and creating a metric to evaluate success in reaching those goals.
Blood's positions on the state's most pressing issues – the need for criminal justice reform rather than simply building a new prison, addressing property tax relief through state funding of schools, leaving the state's abortion law unchanged and protecting the state's water resources align more closely to those held the editorial board.
Those positions, the opportunity to move toward a more bipartisan style of governance and her desire to represent and work with all Nebraskans earn Blood our endorsement.
Blood met with us. But Pillen rebuffed us, something that major candidates rarely have done. His no-show wasn't entirely surprising, given that Pillen also refused to debate with Blood or, before the May primary, with his fellow Republican candidates.
But we're pleased to endorse Carol Blood, a state senator from Sarpy County. We were impressed with her knowledge of issues, her thoughtful perspective and her commitment to bringing people together to solve problems.
As a Democrat in a legislative body dominated by Republicans, Blood has by necessity learned how to work with others to get anything done. She understands that successful solutions come from keeping the focus on people and policy, not party.
She's right that Nebraska needs to go beyond rhetoric and platitudes.
You can help elect Carol Blood:
–Donate to her campaign.
-Use the NDP Voter Guide to get your vote counted.
-Share this news on social media.
–Sign up to make calls to get every registered supporter to the polls