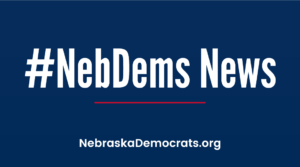 Millions of Americans await their stimulus checks as part of the federal government's effort to mitigate the economic Armageddon from the Trump administration's abysmal handling (mishandling) of the coronavirus pandemic.
Many of those people are among the 22 million thrown out of work due to Trump's coronavirus buffoonery — so it's only fitting that the president insisted that his signature appear on the stimulus checks. Yes, yes he did.
The New Yorker's Andy Borowitz explained the situation:
… Trump vehemently defended his decision to have his name printed on millions of I.R.S. checks being issued to the American people, telling reporters on Wednesday, "I want my name to be synonymous with the coronavirus."
Lashing out at critics of his decision, Trump said, "I have been working on this pandemic day in, day out, and I deserve total credit for it."
He said that, by putting his name on the checks, "Whenever the American people hear about the coronavirus, the first thing they'll think of is me."
Asked about Trump's decision to sign the checks, Dr. Anthony Fauci said, "I don't think it was really necessary, since most people already associate the coronavirus with him."
Former President Barack Obama said that he was "surprised" by Trump's statement, remarking, "I had no idea that he knew what the word 'synonymous' meant."
Just 200 days until the election, folks. You can take that to the bank.
***
The NDP urges you to participate in your Democratic County Convention!
The NDP and local county parties need your voice. All conventions will be conducted on the phone due to the coronavirus.
***
There are more than 550 Democrats running for office in Nebraska for the May 12 Primary!
You can see the whole list here.
We have created Voting Cards for the four largest counties that list all the Democratic candidates:
***
The Nebraska Democratic Party is focused on making sure our elections are accessible and that the public is safe during the pandemic. We are shifting the majority of our resources to assist candidates to campaign in a new virtual world and to assist voters to Vote By Mail.

Click here to sign up to make calls and send texts for candidates.
***
The NDP has called on Secretary of State Bob Evnen and Governor Pete Ricketts to consider moving entirely to Vote-by-Mail ballots for the May 12 Primary Election in light of the coronavirus pandemic.
They recently said that Nebraska will have in-person voting on May 12, but that ALL Nebraska counties will be sending Vote-by-Mail applications to all voters.
The NDP is circulating a petition to demand that Nebraska go to an all Vote-by-Mail Primary Election for the safety of all.
The NDP has launched an online portal for Nebraskans to request that a Vote-by-Mail application be sent to them.
Simply fill out this form.

Simplemente llene la forma.
***
We have an update for NDP Block Captains for contacting voters now that door-knocking is out.
You can read it here. TONS of great information.
***
We leave you this week with a rendering by Mike Luckovich, on attempts by Wisconsin Republicans to suppress the vote in the recent election.
–By Kevin O'Hanlon/NDP Communications Director

NOTE: If you'd like to receive #NebDems News via email, just let us know by sending a note to: [email protected]
NOTE: All of the NDP's in-person events have been postponed until further notice. Check our Facebook page and website for updates. If you had planned to attend any non-NDP events, we urge you to check with the organizers on the status.
April 24: Last Day to mail in your voter registration application, it must be postmarked by this date
April 27: Last day to register to vote online

May 1: Deadline for Vote By Mail Applications to be received by your county election office

May 12: Primary Election