Our NDP Officer team–Chair Kleeb, First Associate Chair LaMere, Second Associate Chair Tilden, DNC Committee Members Patty Zieg and Ron Kaminski–all look forward to seeing fellow Democrats at the State Convention.
Scroll down to see the schedule for the State Convention and a FAQ section if this is your first time experiencing county and state conventions!
If you have questions, please contact Jacob Denniston, jacob@nebraskademocrats.org.
Critical Links
Facebook Event: https://bit.ly/2s4YwbV
Lunch Tickets for Saturday (you must purchase lunch ahead of the convention): https://bit.ly/2LmTOij
Fun things to do while in Lincoln: https://www.lincoln.org/visit
State Convention Hotel
Graduate Hotel (official NDP Convention hotel)
141 N 9th St, Lincoln, NE 68508
402-475-4011
https://www.graduatehotels.com/lincoln/
NDP rate at the Graduate Hotel is $124 per night. The online promotion code for this rate is: 180622NEBR. Click here to make reservations with the online promo code and rate. If you call to make a reservation, please say you are with the Nebraska Democrats.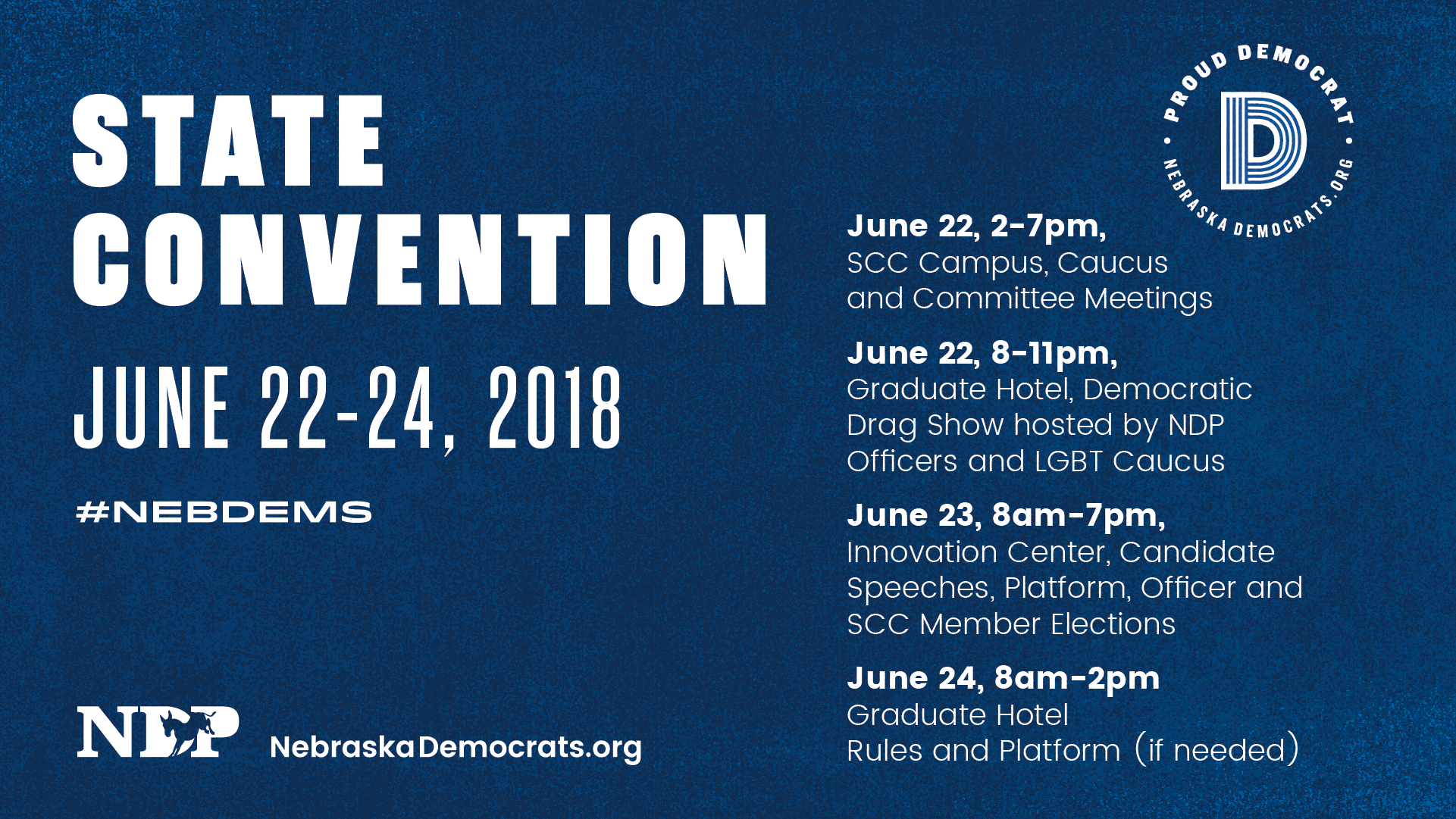 Schedule of the State Convention

June 22, 2:00 – 7:00pm
*SCC Campus, 8800 O St, Lincoln, NE 68520
Caucus and Committee Meetings
June 22, 8:00 – 11:00pm
*Graduate Hotel, 141 N 9th St, Lincoln, NE 68508
Democratic Pride event hosted by NDP Officers and LGBTQIA Caucus
June 23, 8:00am – 7:00pm
*Innovation Center, 2021 Transformation Dr, Lincoln, NE 68508
Candidate Speeches, Platform, Officer and SCC Member Elections
June 24, 8:00am – 2:00pm
*Graduate Hotel, 141 N 9th St, Lincoln, NE 68508
Rules and Platform (If needed, we may finish committee business on Saturday and then this meeting will not take place)
June 22, Schedule
All meetings on June 22nd, take place at the Southeast Community College, 8800 O St, Lincoln, NE 68520
2:00 – 7:00pm
Check In (get name badge, meeting materials)
3:00 – 7:00pm
Platform Committee
Rules Committee
3:00 – 4:00pm
Nominations Committee
Rural and Agriculture Caucus
Latinx Caucus
LGBTQIA Caucus
4:00 – 5:00pm
Veteran's Caucus
Climate Caucus
Women's Caucus
5:00 – 6:00pm
Credentials Committee
County Chairs
Young Democrats
Black Caucus
6:00 – 7:00pm
Disability Caucus
Interfaith Caucus
Native Caucus
7:00 – 8:00pm
Dinner in Haymarket (On your own, explore downtown!)
8:00 – 11:00pm
Welcome Reception hosted by NDP Officers and LGBTQIA Caucus at Graduate Hotel
June 23, Schedule
All meetings on June 23, take place at the Innovation Center, 2021 Transformation Dr, Lincoln, NE 68508
8:00 – 9:00am (South Entrance Hallway)
Registration
Working Families Caucus

9:00am (Auditorium)
Convention Call to Order
Presentation of Colors
Pledge of Allegiance
Invocation
9:15am (Auditorium)
Convention Business
Confirmation of Credentials Committee
Reports of Convention Committees
Report of the Credentials Committee
Seating of Delegates and Roll Call

Adoption of Convention Agenda and Rules
Report of State Convention Committee
Election of Convention Officers (Positions only for Convention)
10:30am (Auditorium)
Welcome and Remarks by Candidates and Special Guest Mike Lux
11:30 (Auditorium)
Instructions for Congressional District Meetings
11:45pm
Break Into CD Meetings and Lunch During CD Meeting:
CD1 (Banquet Hall)
CD2 (B1-B2-B3)
CD3 (A1-A2-A3)
Agenda for CD Meetings includes:

Boxed Lunch
Elections of each CD Chair and Vice Chair
Elections of Central Committee Members
Term begins directly after State Convention during the SCC meeting Saturday night for two years
One Female and One Male Delegate per LD
One Female and One Male Alternate per LD
Other CD Business
1:15pm (Auditorium)
Reconvene Entire Convention Body
Approval of State Central Committee Members
1:30pm (Auditorium)
Report of the Nominations Committee
Elections of NDP Officers (Chair, First Associate Chair, Second Associate Chair)
2:30pm (Auditorium)
Remarks from Candidates
3:30pm (Auditorium)
Rules Committee Report
Adoption of NDP Constitution and Bylaw Amendments
4:30pm (Auditorium)
Platform and Resolutions Committee Report
Presentation and Adoption of 2018 Platform
Presentation and Adoption of Resolutions
6:00pm
Remarks from Candidates
6:30pm (Auditorium)
Other Business and Convention Recess or Adjournment
6:30 – 7:00pm (Auditorium)
SCC Meeting with New Members
June 24, Schedule
If we do not complete party business on Saturday, these committee meetings will take place at the Graduate Hotel, 141 N 9th St, Lincoln, NE 68508

9:00 – 1:00pm
Platform and Rules Committee Reports (if needed)
When business concludes
Convention Adjournment
How to Submit any By-Law change or Resolutions
Anyone desiring to submit By-Law change recommendations to be considered by the Convention should submit them to the Rules Committee at least 10 days in advance of the convention, so that the Rules Committee may consider their impact on the overall organizational structure, and make recommendations accordingly.
The link to the current Constitution and By-laws is here:
https://nebraskademocrats.org/NDP_Constitution-Bylaws_Revised-6-10-17.pdf
If you have any questions about the process for amending our governing documents, please contact, NDP Rules Chair, Pam Hopkins at Pamela.Lynn.Hopkins@gmail.com
Resolutions must be submitted in a writable format. For example: a google document or word document rather than a PDF file. The resolutions can be submitted to info@nebraskademocrats.org or jennie.lynn.butler@gmail.com
Platform
There will be at least meeting in each Congressional District to discuss platform changes. Below is the purposed Platform from the Platform and Resolutions committee and the schedule of the meetings. To make an edit or a branch to the Platform contact Jennie.lynn.butler@gmail.com .
CD1 will meet on Wednesday June 13th from 7:00-10:00 pm at Lancaster County Democrats office, 830 L St. Lincoln, NE 68508.
CD2 will meet on Thursday, June 14th at the Communication Workers of America Hall, 1920 S. 44th St. Omaha, NE 68108 from 4:00-6:00 pm and at the Carpenters Union Training Center at 10761 Virginia Plaza, Suite 101, Papillion NE 68128 from 7:00-9:00 pm.
CD3 will meet on Saturday June 16th from 12:00 to 4:00 pm at the IBEW Hall, 3302 W. Capital Ave., Suite B , Grand Island, NE 68803.
The Purposed Platform will be updated as suggestions come in and as each Congressional District holds it's meeting.
View the Purposed 2018 Platform here
View the 2nd Draft of the 2018 Platform
#NebDemsCare Collection
At each meeting we collect items to give back to the community. As the State Convention, we ask that you bring school supplies, a backpack or a teddy bear. We are collecting these items all Summer so we can distribute to schools with a focus on children in the foster care system. We will have bins by the registration desk for you to drop in your item. You can also purchase an item on our Amazon Wish List:
http://a.co/9YOVTJT
Nominate a volunteer for a Morrison Exon Award
Guest Speaker: Mike Lux
Mike Lux was born and raised in Lincoln, Nebraska, where he met his wife, Barbara Laur, and where most of his family still lives. Lux is a co-founder of Democracy Partners, an innovative, full-service national consulting firm launched in 2011; and has been the CEO of his own consulting firm, Mike Lux Media, since 1999. Clients have included many of the most important institutions in the progressive community, including the League of Conservation Voters, Planned Parenthood, Moveon.org, the NAACP Voter Fund, Center for Community Change, DailyKos, and Democracy Alliance. Another client was the Nebraska Democratic Party, for whom he wrote a comprehensive strategic plan in 2013. He has also been featured on various news outlets, including CNN, MSNBC, and the Thom Hartmann show; as well as being a frequent front-page contributor to The Huffington Post and regular blogger at DailyKos and Crooks & Liars. He is also the author of the widely praised 2009  book The Progressive Revolution: How the Best in America Came to Be, and his second book, How To Democrat In The Age Of Trump just came out in May, 2018.
Mike served as a senior staffer or adviser on six different presidential campaigns. He was the national constituency director for the 1992 Clinton campaign and the Special Assistant to the President for Public Liaison in the Clinton White House from 1993-1995. During his time in the Clinton Administration, Mike worked closely with a wide range of constituency groups, as well as on health care and budget issues. He served in the 1992 campaign war room, the 1993 budget war room, and the 1994 health care war room, being one of only two people to serve in all three. In the late 1990's, Mike was the Senior Vice-President for Political Action at People For the American Way and the PFAW Foundation, and the founder of the PFAW PAC. A member of the Obama-Biden transition team in 2008-2009, Mike was its liaison to the progressive community.
Mike currently serves on the boards of several important organizations, including the Arca Foundation and Netroots Nation, and is also a co-founder of The Canter for American Progress, the Ballot Initiative Strategy Center, Progressive Majority, and Women's Voices/Women Vote. He is the chair of the board of Progressive Caucus Action Fund. Mike founded American Family Voices in 2000 and remains the chair of the board.
FAQ About County and State Convention

What happens at the County Conventions?
All registered Democrats are welcome to participate at County Conventions. At the County Conventions, local party business is conducted, as well as the election of County Party Leadership. Elections also are held at each County Convention for Delegates and Alternates to the Nebraska Democratic Party's State Convention.
What happens at the State Convention?
The elected state delegates then attend the State Convention and vote on critical aspects of the party including some of the State Officers, Congressional District Chairs, State Central Committee Members and some Caucus Leaders.
The positions of Chair, First Associate Chair and Second Associate Chair do not assume the role until Nov. 30, 2018 at the State Central Committee Winter meeting. The State Central Committee members elected and Caucus officers all assume their roles after the State Convention.
At the State Convention, we conduct party business of updating rules, bylaws, resolutions and the NDP issue platform.
How do I become a Delegate to the State Convention?
In order to be a Delegate to the State Convention, you must be elected to serve as a State Convention Delegate or Alternate at your County Convention.
If I am not a Delegate or Alternate to State Convention, can I still attend the State Convention and Caucus meetings?
Yes, you can attend State Convention. However, you may only vote in any Caucus meetings, for which you meet their requirements. You MUST be a Democrat to vote in Caucus meetings and abide by any other Caucus rules. See Caucus rules here: https://nebraskademocrats.org/affiliated-caucuses-by-laws/
You can not vote at State Convention if you are not a Delegate or an Alternate standing instead of the delegate. But you can observe the State Convention as a guest as long as you are a Democrat or Independent.
How much does it cost to attend the State Convention?
There is no cost for elected delegates and alternates. There is a $15 dollar optional lunch onsite that you can purchase. Guests that are Democrats and Independents are welcome to attend for free but seating is limited. Everyone must register on site and party registration will be checked.
If you have questions, please contact Jacob Denniston, jacob@nebraskademocrats.org.