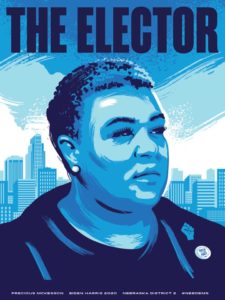 The NDP Elector for the Second Congressional District, Precious McKesson, on Monday became the first woman and the first African American to cast an Electoral College ballot for a Democrat in Nebraska.
McKesson joined Nebraska's four other presidential electors to cast their votes during a ceremony at the Capitol.
"I am beyond thrilled to have cast the electoral vote for President-Elect Joe Biden and Vice President-Elect Kamala Harris," McKesson said. "Hard work and dedicated supporters assisted in electing Joe Biden and Kamala Harris as our new leadership. I am confident we will see the change that is needed to heal our nation."
Said NDP Chair Jane Kleeb:
"Nebraska stands out as one of the states that had the largest swing from Trump to Biden — Precious McKesson is one of the big reasons we were successful. Our party works every day to ensure we are earning the trust of voters, standing up for what is right and working to end the one-party rule that has strangled progress in our state for too long."
Nebraska and Maine are the only states to award electoral votes based on the winner of each congressional district. President-elect Joe Biden and Vice President-elect Kamala Harris won the Second Congressional District "Jomaha Blue Dot." 
The only other time a Democrat won the CD2 electoral vote was in 2008, when then-Sen. Barack Obama, with Biden as his running mate, won the district on their way to the White House.