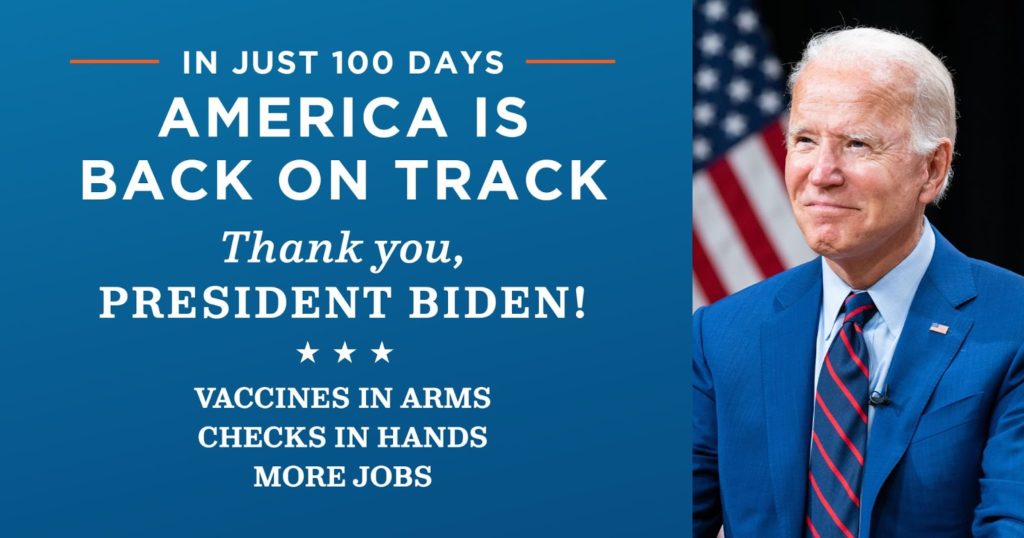 In his first 100 days in office, President Biden and Democrats have delivered on a number of promises to the American people, including a major and consequential victory: successfully passing the American Rescue Plan (ARP), a bold and historic legislative package that has provided much-needed relief to millions of working people across the country. 
Because of Democrats, working families bearing the brunt of this crisis have received up to $1,400 direct checks in the mail, thousands more in individual benefits, and access to more affordable health care. The American Rescue Plan also provides funding to get more Americans vaccinated, the resources to get our kids and teachers safely back to school, and so much more. 
PRESIDENT BIDEN'S ACCOMPLISHMENTS – BY DAY 100!
COVID-19:

The Biden administration has administered over 200 million shots in less than 100 days. More than half of U.S. adults have gotten one shot; two-thirds of all seniors fully vaccinated. Daily deaths are now down 75% since January 20.

Checks:

The Biden administration has delivered 160 million relief checks of $1400/person, with 85% of all Americans receiving one.

Jobs:

President Biden and the administration created more new jobs in the first 100 days than any president in history, and is the first to create more than 1 million new jobs in that timespan. Additionally, the administration extended – on a bipartisan basis – the loan program for small businesses hard hit by the pandemic and provided relief to 4 million small businesses struggling to keep their doors open.

American Rescue Plan:

President Biden and Democrats passed the American Rescue Plan, to fund vaccine deployment and economic rescue payments, which many called "the most significant legislation" in a generation. Experts say it will cut child poverty in half by next year.

Tax Cuts:

President Biden cut taxes for families with children, so that families – starting in July – will get a $3,600 tax credit for each child under 18.

Health Care:

The Biden administration cut premiums for those who get health coverage from the Affordable Care Act; four in five now can get plans for $10/month. 500,000 people signed up for coverage during special enrollment.

Guns:

President Biden ordered the strongest actions on gun safety in 20 years, including the first-ever regulation of so-called ghost guns.

Diversity:

President Biden has the most diverse Cabinet in history, including the first openly LGBTQ cabinet secretary, first Native American cabinet secretary, first woman Treasury Secretary, first African American Secretary of Defense, first Latino Secretary of Health and Human Services, and first Asian American U.S. Trade Representative.

Afghanistan:

President Biden ordered the end of 20 years of U.S. military involvement in Afghanistan.

Climate:

The Biden Administration rejoined the Paris Climate Accords, and for the first time ever, the US is hosting a virtual global climate summit for world leaders to make commitments to reduce their emissions.

Infrastructure:

The Biden administration launched the American Jobs Plan, a once-in-a-generation investment in infrastructure to make America more competitive, and help create millions of jobs.
See how the American Rescue Plan impacts Nebraska.
See how the American Jobs Plan impacts Nebraska.