NOTE: If you'd like to receive #NebDems News via email, just let us know by sending a note to: [email protected]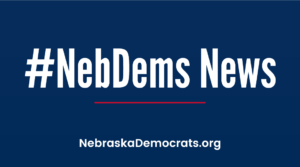 Wednesday's impeachment proceeding in the U.S. House was like a Hallmark holiday movie: We all knew how it would end. But we watched anyway.
The Republicans huffed and puffed and howled and yowled in protest.
As the old legal aphorism says: "If you have the facts on your side, pound the facts. If you have the law on your side, pound the law. If you have neither on your side, pound the table."
And pound the table Republicans did
After the House eventually voted to impeach President Trump, venerable Esquire scribe Charles Pierce weighed in — as only he can:
It was not a debate. It was a discussion. Its conclusion was a foregone conclusion. But the comprehensive view that we got of the scalded wasteland that is the modern conservative and Republican political mind was breathtaking.
We speak often in the shebeen of the prion disease, but Wednesday's proceedings was the most vivid diagnostic look at it that we ever had.
Not a single one of them fashioned the completely arguable case that, yes, the president* did what we all know he did, but it was a foreign-policy blunder and not an impeachable offense under the Constitution. I wouldn't agree, but at least the argument would track. Instead, we got howling and yowling, yet another performance from tobacco-auctioneer Doug Collins, an afternoon full of the impassioned defense of a lecherous grifthound who pays off porn stars and who almost nobody in the Republican Party wanted to be the nominee in 2016. It was completely astonishing. 
The Founders and the Savior, both marshaled in defense of an irreligious fiend as some kind of political avatar. Goats, and Jehovah.
***
Speaking of impeachment, hundreds of people participated in Impeach Trump rallies Wednesday in Lincoln, Omaha and Grand Island to send a message to Reps. Don Bacon, Jeff Fortenberry and Adrian Smith to support the impeachment vote in the U.S. House of Representatives.
The rallies were part of a nationwide effort. The non-partisan Nebraska rallies were organized by Not Above The Law Omaha, Indivisible Nebraska, the Nebraska Resistance Calendar and Central Nebraska Peace Workers, a chapter of Nebraskans for Peace.
***
Tomorrow in Papillion is the first in a series of NDP Delegate 101 trainings for people to learn how to become a delegate to the Democratic National Convention. The delegate process is a bit complicated at first glance, but we want you involved and to understand the steps.
The NDP will send 33 delegates to the national convention in Milwaukee.
More information can be found here.
***
And another worthy event tomorrow.
***
Thinking about becoming a candidate? The NDP can help!
The Nebraska Democratic Party is here to help you navigate all the forms you need to file if you are running for office. Our team can meet with you to answer questions and help you get started.Just email [email protected] and a team member will get back to you.
***
Programming note: #NebDems News, like all of you, is taking time off and will not be published next week. It will return on Jan. 3.
Enjoy your holiday!
***
We leave you this week with a rendering on the rot in Washington D.C. by Mike Luckovich.
–By Kevin O'Hanlon/NDP Communications Director
###
IMPORTANT DATES
Dec. 21: Delegate 101 Training in Papillion
Jan. 7: Delegate 101 Training in Hastings
Jan. 11: Delegate 101 Training in Fremont
Jan. 11: Delegate 101 Training in Omaha
Jan. 15: Buffalo County Young Democrats with NDP Chair Jane Kleeb
Jan. 17-19: SCC Meeting in Norfolk
Jan. 21: Chair Jane Kleeb's new book "Harvest the Vote" book release​
Feb. 9: Delegate 101 Training in Lincoln
Feb. 29: Block Captain Training: Leap into the 2020 Elections!