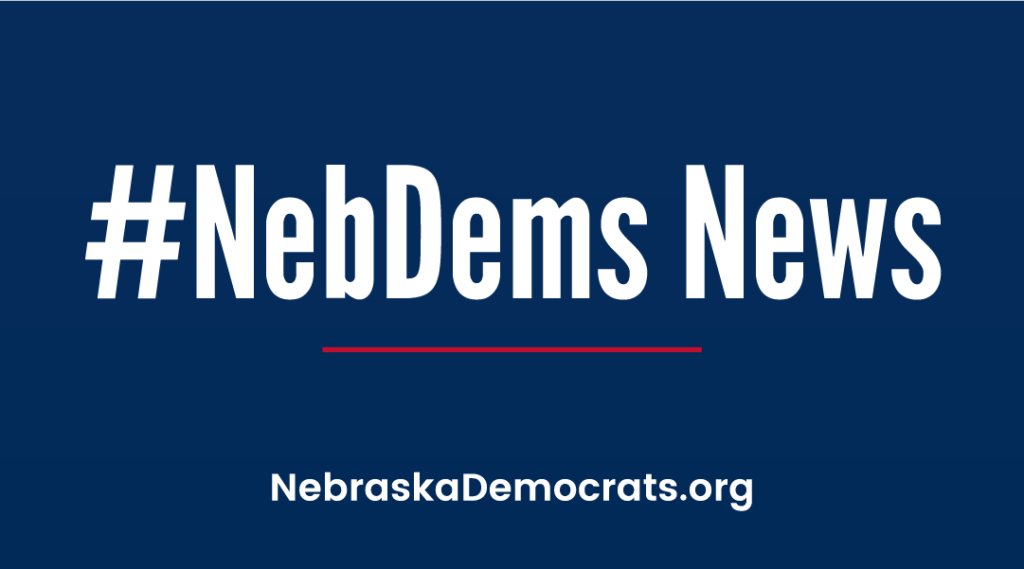 A funny thing has happened since Joe Biden moved into the White House. The president, unlike his predecessor, Ol' What's His Name, is actually keeping promises he made before or soon after taking office.
Not the least of which was Biden's announcement this week that there would be enough Covid-19 vaccine to all U.S. adults by the end of May. Biden had promised to have at least 100 million covid vaccine shots into the arms of the American people in the first 100 days. We already are at 80 million or so.
This caught the satirical eye — and pen — of The New Yorker's Andy Borowitz:
After Joe Biden announced that there would be enough vaccine for all adult Americans by the end of May, leading Republicans accused the President of trying to score political points by ending the pandemic.
Leading the charge was the House Minority Leader, Kevin McCarthy, who called Biden's anti-pandemic measures "partisan politics at its worst."
"So now we learn that the pandemic will be ended by a White House that is a hundred per cent controlled by Democrats," he said. "Where's the so-called unity, President Biden?"
Senator Ted Cruz concurred. "After vowing that there would be enough vaccine in July, Joe Biden broke his promise and is now saying May," the Texas lawmaker said. "I think the American people will see right through this."
Finally, Senator Ron Johnson called Biden's actions to bring the pandemic to a close "blatant," adding, "This is just another attempt to undo Donald Trump's legacy."
***
Nebraskans have been hit hard by the COVID-19 crisis. Our governor should be doing everything he can to get more shots in more Nebraskans' arms, especially those people with critical jobs and professions like our public school teachers.
Right now, Nebraska is one of the worst-ranked states in vaccinations.
The Nebraska Democratic Party is conducting a 1-question-poll in order to gauge what people all over the state think about Gov. Ricketts' leadership throughout the COVID-19 crisis.
Please let us know what you think and share with fellow Nebraskans.
***
Save the date!
From Jim Hightower's Facebook page: When you think of a locus of progressive innovation and action, do you think of … Nebraska? Jane Kleeb does, and Hightower will sit down to chat with her about how she's taken the Democratic Party there — and nationwide — by storm! Her recent book, "Harvest the Vote: How Democrats Can Win Again in Rural America," maps out inclusive and intersectional grassroots strategies for winning not just for the sake of winning, but for actually making change.
***
We are multilingual!
We have had a translation option for some time to allow Spanish-speakers to read the NDP website.
This week, we added translate buttons for Vietnamese, Arabic and Sudanese to further engage our vibrant immigrant communities.
Spread the word!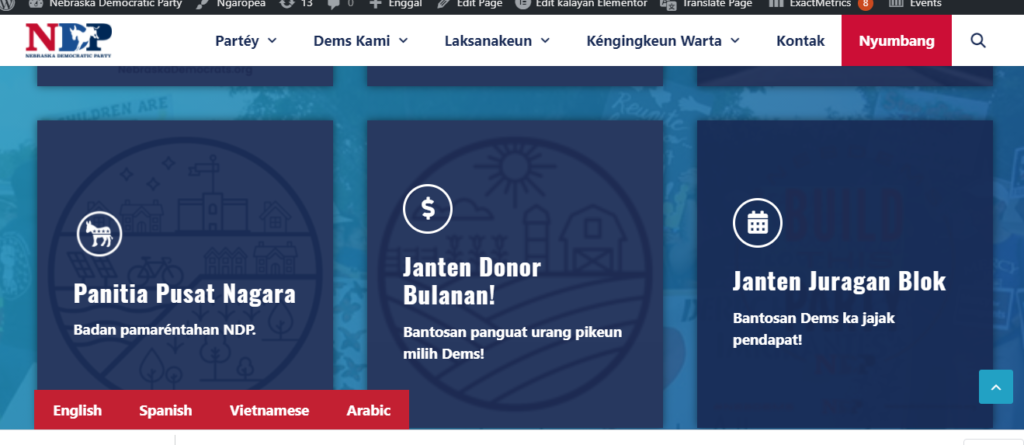 ***
Candidate Training: I Wish I Knew.
Join Sen. Carol Blood and other elected officials for a training to learn about the best practices candidates and elected officials put in place for their campaign. Key lessons, learned the hard way, will be shared. Plenty of time will be left for Q+A.
We will go over a number of topics with panelists, who will provide feedback and examples of their own campaign strategies.
Our panelist will include: Sens. Jen Day and Terrell McKinney, 2020 Legislative candidate Allison Heimes, Lancaster County Commissioner Christa Yoakum, Lincoln City Councilman James Michael Bowers and Learning Community Board Member Lisa Schoenberger.
Saturday, March 6 at 10 a.m. CT, 9 a.m. MT.
If you are interested in helping write a couple of Letters to the Editor — or even a guest op-ed — over the next year or so, 
please sign up here.
We will send you an email when there is a pressing issue that would be good for an LTE or guest op-ed and ask for volunteers. We will provide assistance and encouragement.
***
Check out our slate of great Democratic Candidates for the 2021 city elections in Lincoln and Omaha!
And see important voting information and dates at the NDP Voting Center.
***
The Republicans have launched an attack on our voting process in Nebraska at the Legislature.
As reported by the Omaha World-Herald, state Sen. Julie Slama has introduced bills requiring voters to show ID in order to cast a ballot and another measure to change the way Nebraska allocates its five Electoral College votes — which helped President Joe Biden and Vice President Kamala Harris win the White House
Both measures had hearings this week before the Government, Military and Veterans Affairs Committee.

Click here to see what you can do to help fight the measures.
Click here to read Preston Love, Jr.'s op-ed on the legislation.
***
Help build the NDP and become a Monthly Donor!
Some 550 Democrats ran in races across Nebraska in 2020 and had a 71 percent win rate. Many of the services we offered those candidates were bolstered by our Monthly Donors.

***
The NDP is hosting Donors and Grassroots Volunteer Briefings. We will focus on the success of 2020 and looking forward to 2021-2022.
We hope you will join us. Each meeting should take about 1 hour (30 minutes presentation, 30 minutes Q&A). Please share that with your contacts and members.
If you have any questions, please feel free to reach out to Finance Director Precious McKesson at [email protected]
The events begin at 6 p.m. Central Time/5 p.m. Mountain Time.
–March 8: Donors and Grassroots Volunteer Briefing
***
Welcome to the Party calls have resumed! We are excited to cover topics like city elections, voter registration and the Legislature. We also will be giving our caucuses and councils the floor to talk about their goals and how you can get involved.
The next call is March 9 with Omaha and Lincoln city election candidates.
If you have suggestions for topics to cover, please email [email protected].
***
Sign up here to join Amanda Gorman, Hillary Clinton, Speaker Nancy Pelosi and Chrissy Teigen for this International Women's Day event to help elect women candidates. Hope to see you on March 8!
It's at 6 p.m. CT and 5 p.m. MT.
***
Get your Biden and NDP swag at the NDP/Shirts 101 store!
The store now features some terrific Jomaha/Blue Dot swag!
***
We leave you this week with a rendering by Ann Telnaes titled "Lights are out again in Texas" in response to Texas Gov. Greg Abbot's announcement to end mandatory wearing of masks.
–By Kevin O'Hanlon/NDP Communications Director
NOTE: If you'd like to receive #NebDems News via email, just let us know by sending a note to: [email protected]
                                                                   ###

IMPORTANT DATES

March 6: Candidate Training: I Wish I Knew
March 6-7: State Central Committee phone meeting

March 8: Donors and Grassroots Volunteer Briefing
March 14: 2021 LCDP Patriots Celebration
March 26: Last day to request a mail-in ballot for the Lincoln and Omaha city primary elections

April 6: Lincoln and Omaha Primary Elections April 6

April 6: Welcome to the Party call

April 20: Welcome to the Party call
April 23: Last day to request an early ballot by mail for the City of Lincoln general election
April 30: Last day to request an early ballot for the City of Omaha general election
May 4: Lincoln General Election

May 4: Welcome to the Party call

May 11: Omaha General Election
May 11: Welcome to the Party call