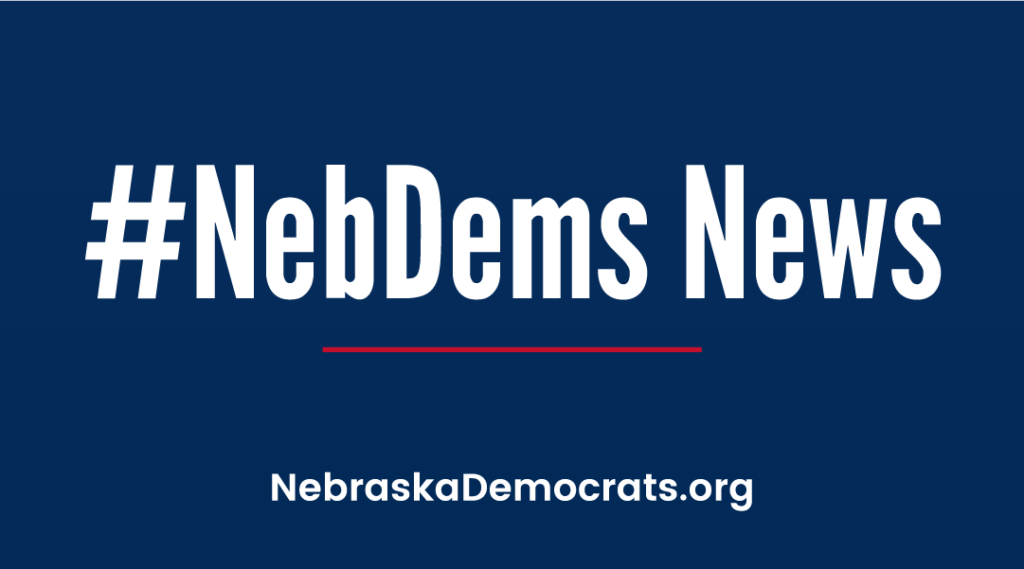 We have no clue what time Gov. Pete Ricketts gets his daily talking points from the GOP, but by GAWD he wastes no time — zero, zilch, nada — regurgitating whatever tripe the party sends him.
Lately, ol' Pete has lost it — along with most of the rest of the GOP — over the so-called threat to our dear children if we do not purge Critical Race Theory from our curriculums.
Enter the indomitable — and lucid — Eugene Robinson of the Washington Post

Republicans' hissy fit over critical race theory is nothing more than an attempt to rally the party's overwhelmingly White base by denying documented history and uncomfortable truth.
This manufactured controversy has nothing to do with actual critical race theory, which, frankly, is the dry and arcane stuff of graduate school seminars. It is all about alarming White voters into believing that they are somehow threatened if our educational system makes any meaningful attempt to teach the facts of the nation's long struggle with race.
The Republican state legislators falling over themselves to decide how history can and cannot be taught in schools — and blowhards such as Sen. Ted Cruz (R-Tex.), who warn that children are being taught "every White person is a racist" — know exactly what they're doing. They seek to create a crisis where none exists in hopes of driving up GOP turnout in next year's midterm elections.
It's a cynical ploy. But a party willing to pretend — even now — that Donald Trump might somehow have won an election he lost clearly embraces cynicism as its core identity.
… This nation can be redeemed — but not without first acknowledging the need for redemption. The Republican Party is trying to prohibit that acknowledgment, and is doing so for short-term political gain. The flap over critical race theory is just another scam from a party that believes in nothing except the unprincipled pursuit of power.
***
The NDP has launched a "Flip that Bacon" website to target Rep. Don Bacon's 2nd District congressional seat in 2022.
The Democratic Congressional Campaign Committee has CD2 as one of its 22 competitive House districts that are either open or held by Republicans.
"We are building a winning coalition of voters to flip the CD2 seat red to blue," said NDP Chair Jane Kleeb. "Rep. Bacon pretends he is a moderate using all sorts of fake talking points. Bacon's voting record reflects his true values of turning his back on assistance to small businesses and families as well as women experiencing violence. Nebraskans do not like fake bacon and we intend to keep Don accountable."
Click here to go to the Flip that Bacon site.
At the bottom of the home page is a timeline slider listing Bacon's gaffes and horrible votes and positions during his time in office.
Also, click here to download and share Flip that Bacon graphics on social media!

***
The White House announced the 30×30 proposal called America the Beautiful — putting 30 percent of the nation's land and water in conservation status by 2030.
And to counter the tripe about the plan being spread by Ricketts and others, the NDP has launched a series of "Burgers and Beers" sessions to talk truth about the America the Beautiful plan.
See where the next meetings are or request one in your area!
Read NDP Chair Jane Kleeb's blog about the plan here.
***
Save the date for our annual Salute to Senators! Sept. 14.
***
The NDP is launching a Mobile Office project designed to help our party better communicate with and serve our communities.
The offices will allow us to provide our local parties with a comprehensive and professional kit that can be used for fairs, parades, voter registration drives, and more.
These offices are available to county parties, affiliated caucus and policy councils, and other Democratic operatives across the state.
As a grassroots initiative, the project relies on the leadership and participation of local leaders, and persons and groups looking to request a Mobile Office should be prepared to return the office or help deliver it to its next location.
A Mobile Office will contain a canopy tent for outdoor use, parade banner, table, comprehensive collection of literature, a wide range of basic tabling items, first aid kit, and optional display components upon request.
Fill out the NDP Mobile Office request form!
***
Our series of training for campaigns, led by state Sen. Carol Blood, continues.
Sign up for the next session on July 25: Crafting Your Campaign Strategy. Learn how to set your campaign goals for ultimate campaign success.
***
You think you know your stuff? Join the NDP for a night of fun and trivia! Five rounds of trivia questions ranging from current politics, past politics, Nebraska history and so much more. Grab your team of six, or if you are solo, we will match you with other solo players.
When: Nov. 7, 2021
Time: 6:30 p.m. to 8:30 p.m. CT
Via Zoom
***
The House has already passed the Equality Act, and now it's up to the Senate to take a stand for equal rights and dignity, no matter who you love or how you identify. Add your name here and take a stand for what's right.
***
If you are interested in helping write a couple of Letters to the Editor — or even a guest op-ed — over the next year or so, please sign up here to help us support Democrats and our ideas.
We can help give you pointers and show you how to submit your letter!
***
Help build the NDP and become a Monthly Donor!
Some 550 Democrats ran in races across Nebraska in 2020 and had a 71 percent win rate. Many of the services we offered those candidates were bolstered by our Monthly Donors.

***
Welcome to the Party calls have resumed! We are excited to cover topics like, voter registration and redistricting. We also will be giving our caucuses and councils the floor to talk about their goals and how you can get involved.
The next call is July 13.
If you have suggestions for topics to cover, please email [email protected].
***
Volunteer with the NDP!
Fill out this form and we will help you find an area that fits your talents and time. We need volunteers for everything from data entry to knocking doors, from proofreading to public speaking. If you have any special skills that you would like to use to build the party please add that in the comments.
If you want to help, we can put you to work.
***
Get your Biden and NDP swag at the NDP/Shirts 101 store!
The store now features some terrific Jomaha/Blue Dot swag!
***
We leave you this week with a rendering by Pat Bagley on the attacks by Fox News "pundit" Tucker Carlson on Gen. Milley, chairman of the Joint Chiefs of Staff.
–By Kevin O'Hanlon/NDP Communications Director
NOTE: If you'd like to receive #NebDems News via email, just let us know by sending a note to: [email protected]
#NebDems News will be on vacation until the week of July 19
###

IMPORTANT DATES
July 9-10: Heartland Pride Omaha

July 24: NDP Burgers and Beer event in Gibbon

July 25: Campaign training: Crafting Your Campaign Strategy

July 28: NDP Burgers and Beer event in North Platte

Aug. 4: NDP Burgers and Beers even in Grand Island

Aug. 14: NDP Burgers and Beer event in Scottsbluff
Aug. 22: NDP Burgers and Beer event in Ft. Calhoun
Sept. 14: Salute to State Senators