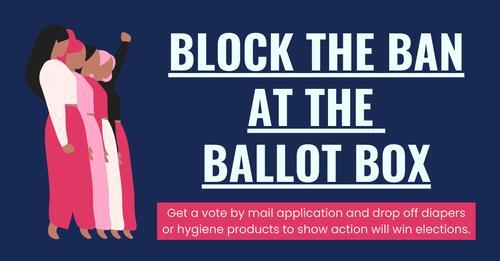 In response to the U.S. Supreme Court overturning Roe v Wade, we invite you to join us at the following events:
Block the Ban at the Ballot Box Events
June 24 in Lincoln and June 27 in Omaha and Kearney
5:30-7 p.m. CT
Planned Parenthood is planning rallies in early July. We will post that information when it is available.
Across the state, the NDP, county parties and candidates will hold drive-through events so you can register to vote, get a vote-by-mail application, and grab some yard signs.
We are asking you to bring diapers and feminine products that we will then donate to local nonprofits to show that Democrats care about women and babies.
This is our plan of action to stand up to Republicans radical stance to ban access to legal abortions.
We hope you will join us at the Block the Ban at the Ballot Box events to show Democrats care, Democrats are engaged and Democrats vote!
And share these great graphics on social media: